No Liberté in France as demonstrations are banned
Here in Europe's capital of human rights, I cannot demonstrate in support of the people of Palestine, that is forbidden throughout France. 
On Saturday, I tried to attend a protest against austerity outside a shopping centre. The square was full of police, and the protest, along with others in other parts of the country, had been banned. 
This week saw the launch of an international campaign for the Freedom of Abdullah Öcalan that specifically stresses his importance for a peaceful political solution to the hundred-year oppression of Kurds by the Turkish state. Actions took place in 74 countries. However, the organisers of the central four-day event planned for outside the Council of Europe, which was founded to preserve human rights, were told the evening before that permission had been withdrawn.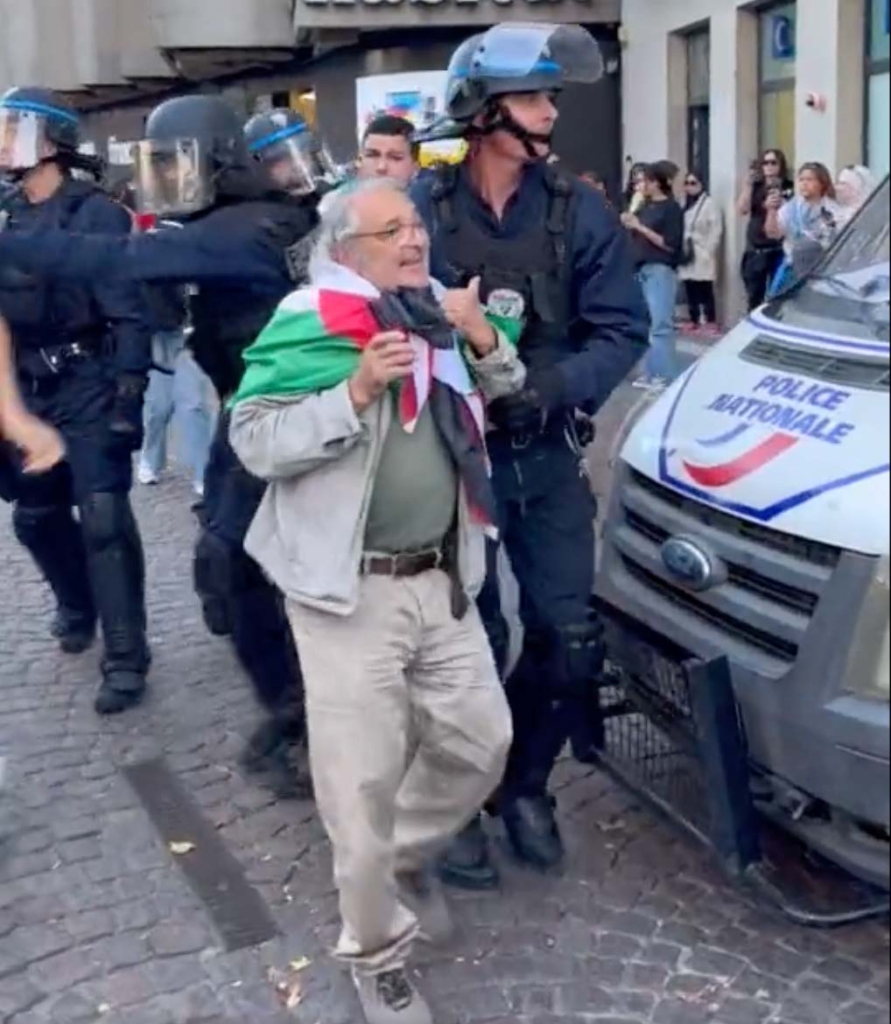 On Friday, people who had defied the state ban and protested against the genocide in Gaza were arrested. Among the thirteen people detained in Strasbourg was a member of the Jewish Union for Peace. A protest outside Strasbourg's commissariat de police on Saturday, in support of the detainees, was itself attacked by the police, who demanded that the protestors disperse and  arrested two anti-fascists, one who was detained again, for half an hour, for taking out his Palestinian flag. 
This all follows a summer of brutality by the French state in response to the mass protests over raising the pension age; brutality that has received international condemnation and that was the subject of criticism just this week in the Parliamentary Assembly of the Council of Europe. What is happening here in France is part of a general rise in authoritarianism across western 'democracies', and every loss of freedom in one country makes it easier for other countries to further restrict their citizens, putting basic freedoms in peril everywhere. 
Every happening – including, of course, the war in Israel/Palestine – is used by the state as a pretext to close down dissent, even in areas that are totally unrelated. On Friday, prospects for protest were further reduced when France was put on highest alert after a young Muslim man, originally from Ingushetia, carried out a knife attack in a school in Arras, fatally stabbing a teacher and wounding others. 
The main reason given for cancelling the long-planned Kurdish event – the reason that was highlighted on Twitter by the préfacture, the local representative of the French state – was a claim that one of the organisers had shared something by 'leaders of the Kurdish movement' that supported Hamas. Anyone who knows the Kurdish Freedom Movement would know how absurd a suggestion this is. Like other progressive movements, they are supportive of the Palestinians' struggle for freedom; at the same time, they are resolutely critical of both Hamas' methods and their intolerant patriarchal Islamism. Hamas is a friend of the Turkish government and praised Turkey's invasion of Afrîn, the westernmost canton of Rojava, and Palestinian Islamist charities have helped Turkey's project for demographic change in this former Kurdish region by funding new settlements. To suggest a link with Hamas is not only absurd, it also demonises the Kurdish community.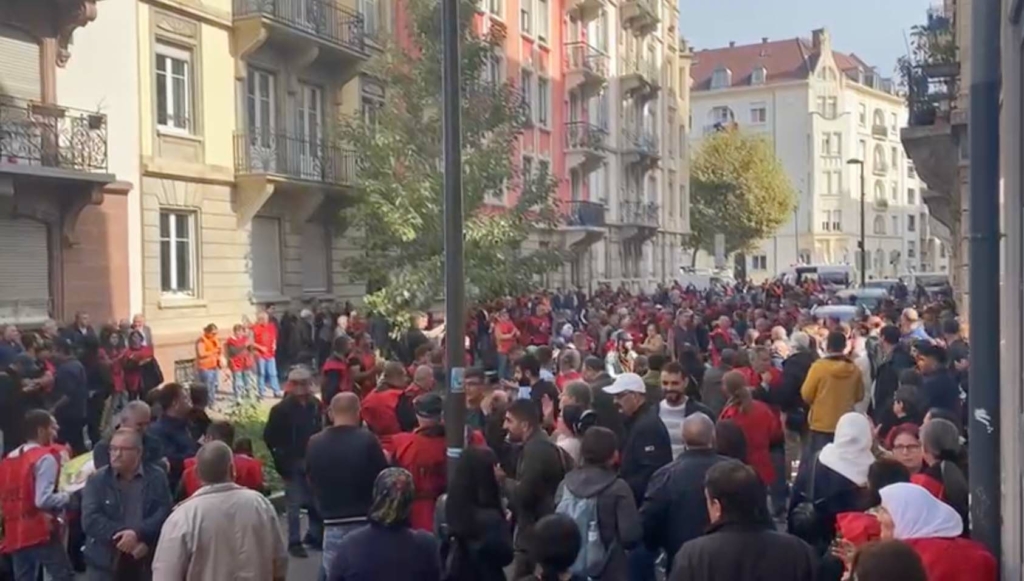 On the basis of this absurd allegation, hundreds of Kurds who had come to Strasbourg for demonstrations centred around the need for peace and dialogue had all their plans nullified; and speakers brought from around the world – including STUC president Mike Arnott – were restricted to speaking in a small side street. Statements from politicians attending the Parliamentary Assembly were hastily rearranged to take place inside the Council building, where our local deputy from La France Insoumise, Emmanuel Fernandes, described the préfecture's accusations as outrageous. 
Fernandes has been kept busy this week. On Friday evening, he exercised his right to visit the detainees from that afternoon's protest for the people of Palestine. Afterwards, in a video posted on Twitter, he told of his shock at finding seventy-year-old Jewish peace activist, Jean-Claude Meyer, having to sleep on the hard ground without a mattress in overcrowded cells smelling of stale urine. 
We are lucky to have a significant and genuine left party here in France, but most other politicians are on the right or far-right, and the left faces an uphill struggle. The call by La France Insoumise for peace and a political solution for Palestine should be incontrovertible, but when the President of the National Assembly spoke of France's 'unconditional support for the State of Israel', their deputies were alone in refusing to join the standing ovation. The party has consistently called for war crimes to be condemned whoever has committed them – avoiding the term 'terrorist' and the false 'good versus evil' distinctions it carries. And they have been getting dog's abuse from establishment politicians and media. They claim that 'More airtime is devoted to the construction of false controversies against LFI than to the situation in Gaza.' For their political enemies, this is an opportunity to slander the left as antisemites and apologists for terrorists – which may sound a bit familiar to anyone who observed the strangulation of Corbyn's Labour Party. Fernandes told me that his party is using every opportunity to denounce the ban on showing support for the Palestinian people and to stop the attack on 'fundamental rights', and are coordinating locally with other left parties.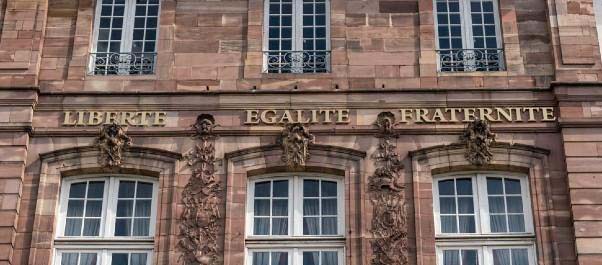 France has a large alienated Muslim population. Solidarity with the Palestinian people and denunciation of Israel's war crimes should not depend on religious affiliation, but if the government and mainstream media condemn that solidarity, while Muslim leaders call for it, this will only boost anti-French feeling on one hand, and Islamophobia on the other. This is a country where 'Islamo-leftist' has become a favourite term of abuse for anyone who tries to protest mistreatment of Muslim minorities. 
As President Macron should know by now, suppression of protest doesn't get rid of the underlying anger. Quite the contrary. But there is no guarantee that when that anger does escape it won't boost the reactionary forces that have been spared the constant negative propaganda aimed at discrediting the left.