The world reveals itself to those who travel on foot
"Is this the way to Dean Village?"
It was the third person that morning who had asked me for the location of this 'tranquil village of picturesque charm'.  There's no doubt it is appreciated by all who plunge into its prettiness. It is, however, just one of a mere handful of places visitors are habitually directed to. As a result, those locations are often heaving and queue-ridden, while much of the city remains unexplored. Those wanting to discover the city need to branch out.
Even 'alternative' guides (such as the Skinny Guide to Edinburgh) which look beyond the tourist cliches understandably recommend those areas (such as Leith) with cultural venues, cafes, eateries etc. Such guides can sometimes give the impression that nothing else exists beyond these fashionable, instagrammable spots. The proximity of cardamom buns is not the only measure of a place. 
There's also a tendency for visitors to go directly to these locations, missing out on the serendipity that exploring an area on foot can provide. As the writer and filmmaker Werner Herzog has put it, "the world reveals itself to those who travel on foot." But where to walk? Too often the same tired routes are suggested. In his book on Old Town, Maxwell Wright justly notes that exploring the area involves 'walking through history'. In truth, this is true of every place – though in some places you'll have to look harder to find the traces. Is that a bad thing? 
Edinburgh offers many fantastic paths for those who like to explore, unhindered by traffic.  Again, visitors are often directed towards the, admittedly fantastic Water of Leith Walkway, the Union Canal or perhaps the better known of the ex-railway paths around Trinity, Roseburn etc. Even in the numerous books and blog articles devoted to 'secret' or 'hidden' Edinburgh the recommendations rarely extend beyond the well known and well trodden (Warriston Cemetery, Dr Neil's Garden etc) . 
Jumbled liminality
One area of relatively unexplored paths is in and around Gorgie. Soon this area will be better connected to the path network via a new link between the Union Canal towpath and the path junction at Russell Road. At present, work is ongoing at Sauchiebank; earthmovers carving out new territory in this 'liminal' area, hemmed in by a mesh of roads and railines. This new route will become a funnel for 'active travel' and perhaps promote Gorgie as more of a destination. The jumbled liminality of the area is best viewed from the top of the No. 22 bus as it careers along the West Approach Road, past slices of modernity flecked with disused units and unkempt embankments.  The fleeting glimpses this afford only whets your appetite to explore on foot. 
This wedge of the city most closely resembles a modern metropolis: busy roads, glass towers (at Haymarket) and general sense of dislocation. Different transport eras (canal, train, tram, car, 'active travel') battling for primacy. Can they coexist or will one version of the future win out? At present, this area is a manifestation of messy compromise. 
While Dalry has attracted a reputation as a 'foodie Mecca', Gorgie (and especially those areas beyond the main road) are rarely mentioned. Here lie vast swathes of the city where thousands of Edinburgh inhabitants live. While primarily residential, there is much of interest, including remnants of the past. There is still industry here (e.g. the North British Distillery), but it is just a small portion of what once existed. An old family friend Derek Walker, now in his late 70s, talks of his school days in Gorgie. The classroom windows at St Nicholas School had to be tightly closed to keep out the fumes coming from nearby factories and breweries which surrounded it. As he daydreamed at his desk, he looked forward to his walk home (to the children's home at Redhall House) along the relatively bucolic Water of Leith, where he could inhale freely.
Gorgie Green Lane
Gorgie has many remnants of its past, including numerous rail lines – some of which have become footpaths. Gorgie Green Lane is one of these, providing a passage into unconsidered parts.  Like the other ex-railway paths in the city, this is lined by trees and foliage; you can gently reconnoitre, unhurried and unharried.  The path starts with squat concrete pillars found down Hutchison Crossway, just a couple of minutes from Saughton Park. From there, you roll towards Gorgie past the trim greens of Bainfield Bowling Club and then reach Hutchison House and Moat House,  two ten-storey blocks from the late 1950s. Though 'quietly situated within a popular area close to excellent local amenities and transport links', these blocks are not what springs to mind when people think of the architecture of Edinburgh. Not the sort of thing which has given the centre of Edinburgh its Unesco status as an area with 'exceptional historic and architectural interest'. This may be a different Edinburgh but it is still Edinburgh. I first walked this path on a dismally wet day, the sort when the rain penetrates everything, even darkening Edinburgh's tenements. The path had a glossy sheen of water across it but still felt welcoming, comforting. 
The path was captured in the 1980s by Graham Macindoe who, camera in hand,  walked the streets of Edinburgh. His stark photos document the everyday sights in the capital's 'schemes' and 'lesser-trod enclaves'. In contrast to the scruffy barren path of the 1980s, nature has healed the scar.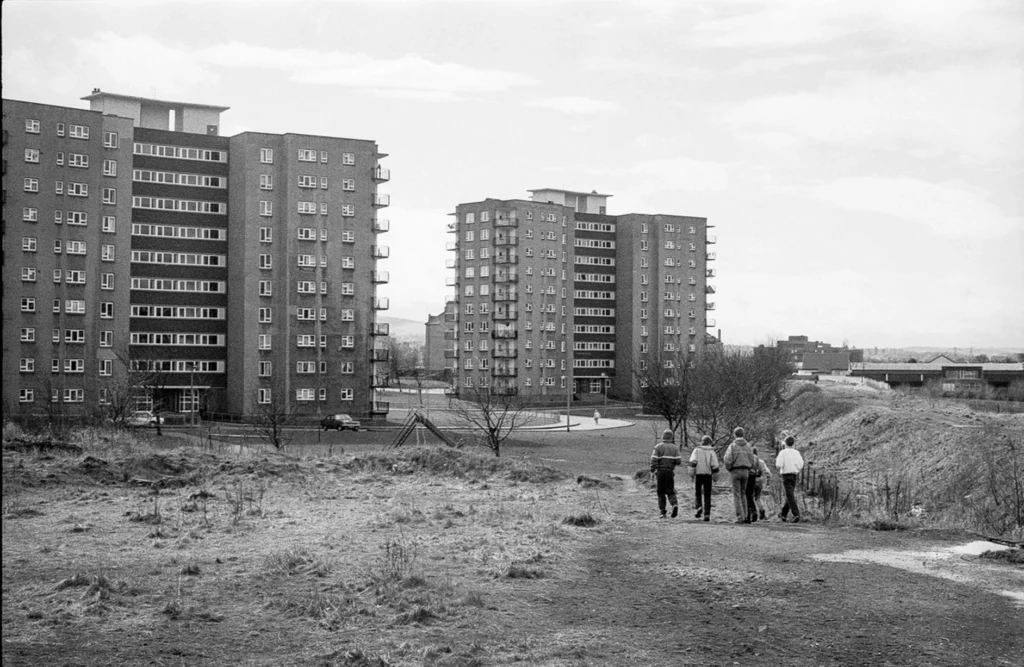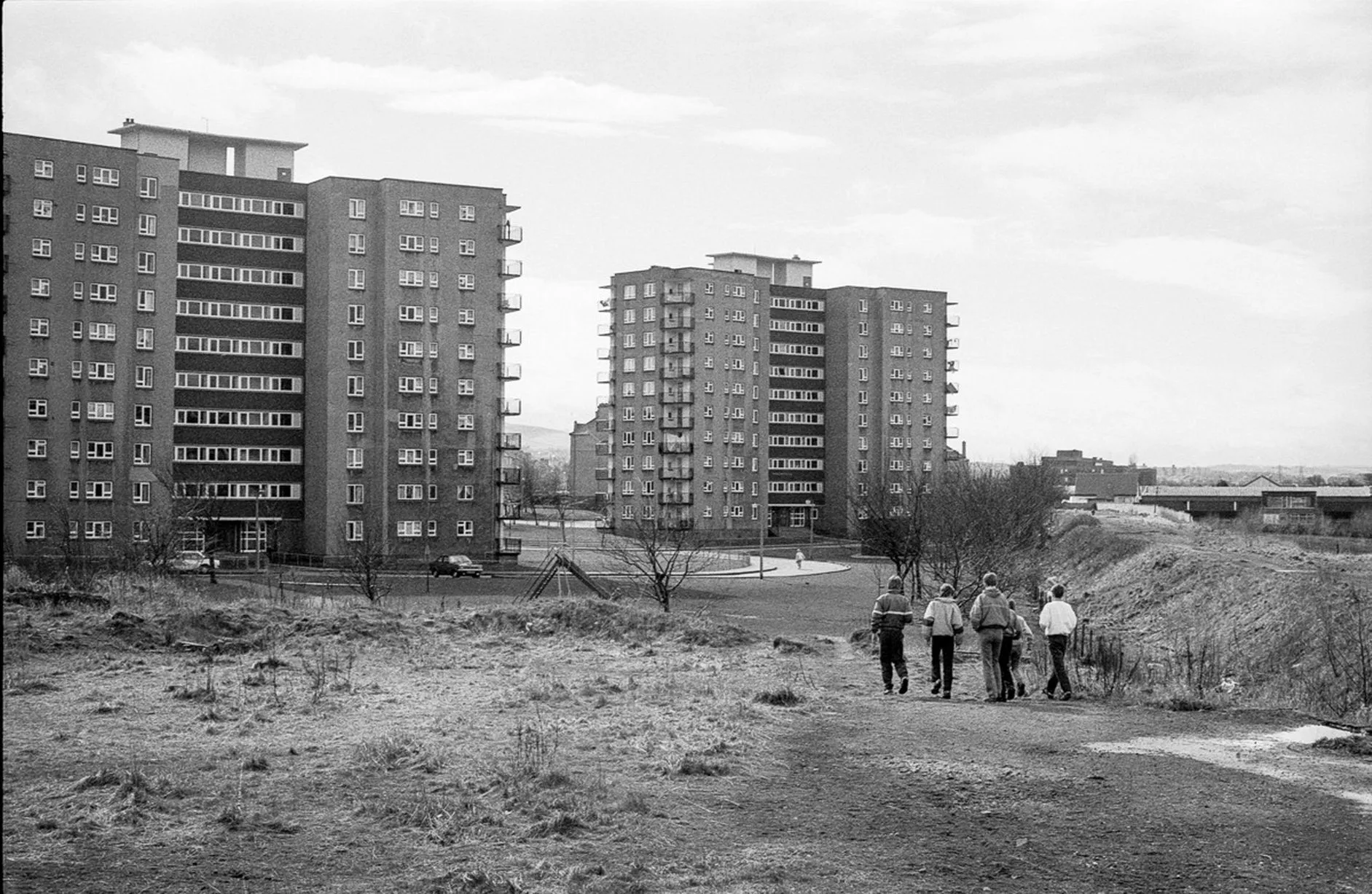 Gorgie Green Lane (along the top of embankment on the right) in the 1980s (photo by Graham Macindoe). Now a sliver of greenery. 
I wasn't sure where the path finished; where I would return to the recognisable. I walked the final yards with some trepidation until the path ended at the circular flats at Slateford Green. From there Gorgie Road is less than 50 metres away. You are, in Edinburgh, never truly far from the familiar. Does this breed contempt,  reassurance, or what?  Gorgie Green Lane is a slice of Edinburgh, unseen by almost every visitor and rarely visited by long-term residents. It is in such places that you can get a better idea of the city as a whole. It is, if less than most, multifaceted, and not just a collection of douce suburbs and leafy little villages.
Other paths in the area include the appropriately named Coffin Lane, which runs between Dalry Road and Dundee Street, intersecting Dalry Cemetery.  Dark and narrow it's like a path you encounter in a nightmare without knowing where it is.  As is typical of this area, this path feels  somewhat dislocated, cut off from the mainstream. Where is it leading you? 
Another underused section of pathway is to be found nearby, stretching through Shandon and Polwarth. This surprisingly rustical route is accessed via a half-hidden entrance at the corner of Dundee Terrace and West Bryson Road. Traffic thunders past this point but that clangour is soon curtailed. The path here is thick with vegetation, with a real sense of enclosure, especially when it dips under Harrison Road. At Harrison Place you have the choice to either step into Harrison Park – or continue on. The final section through Shandon is particularly quiet, as it is effectively a dead end; members of the public can't go past the gate into the railway siding at Meggetland. Three railway lines cross here, again attesting to the segmented character of the area, full of inaccessible, orphaned islands of land. 
Hinterlands
It sometimes feels as if Edinburgh is in denial about being a city. Perhaps the wondrous paths help cultivate this self-image, allowing you to traverse large segments of the city without coming into contact with traffic. Its residents often enjoy hearing it described as 'a large village', without many of the aspects usually found in a metropolis, such as a multitude of modern high-rise buildings. You sometimes feel that there are aspects of the city which Edinburgh wishes to forget.  This is particularly true of the 'schemes' such as Pilton, Murihouse, Wester Hailes, Niddrie – also captured in  Graham Macindoe's photos. The authors of Another Edinburgh (1976) talk of the way that residents of areas such as Dumbiedykes and Greenside were 'catapulted into the catastrophic concrete outbacks of high rise flats in large scale schemes'.  These hinterlands are far from middle class concerns, except perhaps on bonfire night. 
For those who really want to explore Edinburgh as it truly is, Herzog is right. You need to walk and take some risks and go off the beaten path, and look at those areas which are shaded in the guidebooks, the overlooked and underrated: Saughton, Slateford, Restalrig etc. They might not help you with Instagram likes but will help you gather a more genuine picture of the city.  Juxtaposing such areas with fashionable destinations such as Dean Village,  we might come to share the view of Hertzog's friend and collaborator, the writer Bruce Chatwin. For him,  'walking is a virtue, tourism is a deadly sin'. 
The author thanks members of the SICK Writing Group for their comments on an earlier draft of this piece.