Democracy 2.0
On the night of Scotland's greatest sporting achievement, I watched Scotland defeat World Cup finalists France in a bar in Burntisland. Due to the Sky connection failing frantic efforts to locate coverage of the game ended in us watching the match broadcast by Al Jazeera +1. At the end of the bar a man stood holding up a radio with David Begg's commentary blaring out. So the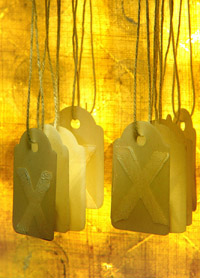 imagery lagged behind the commentary by a second. We heard the goal hit the net before we saw it. We knew how poor Landreau (the French goalie) must have felt. Of course, back home the BBC was broadcasting the England – Israel game.
As a metaphor for Scotland's position in the world this is perfect.
Self-determination is about new emerging forms of democracy. Forms that reflect the kind of society we might want to create, ones that might be inclusive, participative and creative. The potential remains for means and ends to be joined in a way that can engage with the many thousands of people entirely disenfranchised from politics by the wholesale merger of ideological outlook and policy that has taken place over the last twenty five years. The fragmentation we know is far wider and runs even deeper. Dislocation with the spaces we inhabit will define our age.This disenfranchisement takes multiple specific forms, from deep disillusionment, paralysing cynicism, to actual exclusion due to electoral incompetence. The opportunity to simply opt-out is most easily accepted because there is rarely any opportunity to 'opt in' other than to take part in facile exercises in pr and window-dressing: 'consultations', citizen juries and such facades. Britain is not alone in Western Europe but it is different.As Eric Canning has written:
"The British State itself is an anachronism even by comparison to the other major states within the European Union who have moved forward from old colonial forms. The British state structure is archaic in its monarchic and oligarchic forms of prestige, patronage, power and privilege. Its rituals are arcane and obscure, masking an autocracy of authoritarian control operating behind a democratic facade."
The idea is that we can move from cultural subjugation to active citizenship, from being the top end of a stagnant pool to the mouth of a free flowing river. To do so we need to draw on the traditions of republicanism and a socialism that are liberating and liberatory, contemporary and grassroots and abandon our statist past, be it the Whitehall or Strathclyde model of turgid centralism.A new republicanism can help shift us from the status of subject to citizen, from passive liturgent to active participant.And yet, despite the frequent cry of Dick Gaughan's 'No God and Precious Few Heroes', we exist in a state of voluntary servitude, a state loathed by many, blissfully ignored by more and even celebrated by some. Only if we can shift from meek acceptance of rule by an external authority can we hope to move forward out into the world. Part of this has got to be about rejecting the model offered by the British State which is intrinsically exclusive, hierarchical, militarist and secretive, and part of it has got to be about moving forward to a model where you can engage with the whole world. There's something too here about moving beyond the cult of personality, whether it be Michelle Mone, Tom Farmer, that guy out of Dragons Den who never invests in anything (easy to see why he's got loads of money) or Sean Connery. Is it a sacred projection or the sullying influence of celebratory culture? We need to move on from the idea that one poor soul /sod will come up with all the answers, and take collective responsibility. The world's a complex multi-dimensional place. But first we've got to be in it, not trying to find the Scotland game on Al Jazeera.
As Tom Nairn has put it: 'Parochialism is not just a state of mind, but a social structure.'In post-Sheridan Scotland old certainties have gone. The old meta-narratives of 'socialism' as a totemic solution have withered. A socialist Scotland will not be handed down, it will be co-created.
Dante, Nationhood and Selfhood
Prior to Dante politics was viewed as a necessity forced on man after the Fall. It is the only way of working, surviving in a Fallen state. Between Augustine and Dante there is a sacral tradition which denies will. Dante rejects this and instead celebrates Adam's breaking of the prime interdict. One can regret that as a fall from grace, or can celebrate it as the beginning of being human. He feels pain, but is now reflective, self-conscious, he is an agent of his own world, for good or evil.
The task of a republican movement for self-determination is therefore not just to stoke the flames of the old myths, or to present a better model of business as usual than the Tories or more efficient government than New Labour or even a more socialist programme than the SSP / Solidarity. The task is to create forums whereby a society used to the sophorism of bystander society can re-engage with politics.
This 'recovery of the political' is possible only in and through a republic and a socialist republic. But it might not be called that. It's as likely to be gained through unlikely or unexpected pathways. Last year when the stuffing was poking out of the sofa, and the entire banking system was challenged on the very legality of bank charges, was a chance. This year the first run on a bank for a century was another. People don' trust capitalism and it doesn't make them feel safe any more. In a world weary with infotainment and saturated in moron culture, bored cynicism is broken only by actions that impinge directly on peoples lives. Ideology won't sell.
But collective decisions about common futures won't be achieved through propaganda or the usual tactics of partial marginal consultation or flag waving. New forms and new forms of forming new forms are needed. Not ones disassociated or divorced from political movements but as the printing press, the photocopier and the radio were for Gutenberg, Yeltsin and B92.
The press and the wider media is still a major obstacle to political change as currently experienced by the vast majority of people.
Foot and Mouth, and Visceral Anti-Nationalism
Baron Foulkes of Cumnock is a spasm. But the wholesale and visceral reaction against the very notion of independence as a concept that unleashes a darker side of British culture is not. It's sustained, engineered and institutional. And it's wholeheartedly celebrated by the vast majority of conventional media's outlets.
So much so that you get the laughable, execrable, depression-inducing manifestation of farmers from the NFUS and the Scottish Government being treated with contempt for asking for compensation for an agricultural outbreak on an English site, in a state-run lab, in an area for which Westminister are responsible. This is reverse UDI. Here are policies, commitments, that London's not refusing to cede, it's refusing to do.
If positive disenfranchisement pace Douglas Alexander – or the descent into celebrity lobotimism whilst embracing the cheerful aspect of omnicide – represent one option – the only other is painful reconstruction. We should start by affirming McIlvanney's mongrel nation status, and thank him for it.
Any movement for asserting Scotland's nationhood needs to reassert this. We also need to say very clearly this is about who we want to be together.
The independence debate needs to be re-framed. It's about democracy.
Of course its motivational to point out that the illegal war in Iraq that resulted in 1.3 million dead has created a situation that we need to spend 3.75 billion on counter terrorism evoked by the war, a figure that is just less than half the budget that our Scottish Government will get to run our entire country.
Of course it's inspiring to point out that we have a 22 billion debt for PFI left by New Tory/Labour Governments, but what should be really motivational should be to offer some alternative ways of working.
What we need to do is a first: start Open Sourcing a Nation.
Meaningful involvement and participation can only come about from political change but political change can be enhanced and better articulated by new forms of communication. This is sharing, swapping and communication, the basis for Wikipedia, Flickr, Bebo, Facebook et cetera. But these tools could become tools for genuine collaborative work. It's what's formed the web and made it flourish and it can and should be utilised for political ends. Most of these forms are simply an expression of shared boredom, but why couldn't they be utilised to aid decision making?
Why not make the concept of the 'National Conversation' into a genuine dialogue, one that has depth and consequences? Could it extend beyond business and software, and into real politics?'
It already has. The idea has been discussed on Newsnight. Canadian writer Don Tapscott stated:
"Governments are now beginning to do this. In Canada in January, there's going to be something called CanadaJam, which will be a discussion over three days amongst the entire population of Canada – millions of people… And the topic may be something like energy, or how do we fight global warming. And this will catalyse new initiatives all across the country."
CanadaJam may sound superficial and rather dull. It sounds like most online forums and dialogues a mind-crushingly poor ways of communicating. But this misses the point. As Richard Thomson puts it:
"What the web has helped create and sustain in Scotland over the past few years is an anti-elitist movement, where there's little respect for past reputations and where credibility has to be earned. In the end, faced with a clunky website, those Scots who were paying the slightest attention simply gave a collective yawn, then just got on doing it all for themselves. It may not be much of a comfort right now, but perhaps most of YouScotland's work was already underway before the site even launched."
True but again, no cigar Ricardo.YouScotland has not so much failed as barely started. We really do need to keep thinking about how to use Web 2.0 or network enabled collaboration techniques to revive Scottish civic energies, and re-legitimate a Scottish politics of change. Pat Kane again:
"YouScotland's mistake might have been to apply old-fashioned forms of political activism to the new, much more emergent and amorphous citizenship, that comes through social software. If so, then Alan Smart and co deserve absolutely nothing but glory for their 'iteration' (as the techies say). Fail often, and better, should be the motto for the new Scottish politics."
Power is shifting. Hierarchies and the myth of their efficiency is collapsing. But clearly there are limits. And little of this is new. Writing in Red Pepper about the idea of 'devolution to the doorstep' Stephen Kingston questions a pilot participatory budget making project, whereby people can 'have a direct say' in how their taxes are spent, that's been running in Salford.Contrasting the projects with the grand daddy of participatory politics – the Porto Alegre experiment- inspiration for the original Salford project Kingston found, the right to decide how local public money is spent was demanded by the people and the popular Workers' Party, which swept to power shortly after the junta was sacked in 1985. The popular budget making there was radical, political and community led. At its height, around 20,000 people participated in deciding where 18 per cent of planned municipal investment was to be spent. And it has had real results in alleviating poverty.
Contrast this with the UK, where the 'participant friendly' budgets are puny, and the numbers involved are tiny. In Salford, 47 people got involved in the Claremont and Weaste sample project – and that was seen as a major breakthrough. Salford leads the country in putting money from the mainstream council budget into a PB process but it's still only around £100,000 per area from the highways kitty and £100,000 to support community and voluntary groups. Each area covers around 30,000 households, so that's the equivalent of less than £7 apiece.'A hundred thousand pounds might seem a lot of money but when you realise it might just resurface a short road or put in a couple of pedestrian crossings it brings it home how minor your involvement and impact can be,' Patten argues, 'Cynics would say it's a way of getting communities to slug it out between themselves and take the heat off the planners.'So it's not difficult to see how participatory budgeting can be used as whitewash or window dressing for the same old politics. But network enabled collaboration can be different.I feel your cynical eye. Maybe you think digital-dull? MySpace has 200 Million people and Wikipedia is vast and growing in credibility. These tools must be wedded to a new politics of renewal. Remembering James Kelman on Chomsky, who wrote:
"Chomsky sees 'libertarian conceptions (being derived) by Rousseau from Cartesian principles of body and mind', then being 'developed further in French and German Romanticism' and on through the 'libertarian social theory of Wilhelm von Humbeldt'.
But as Kelman points out this view underestimates the consequences of intellectual struggles going on in Britain at the time.
Kelman continues: "Rousseau was influenced by Andrew Fletcher who favoured the Greek ideal of the little nation whose 'seat of government (would) remain in a city small enough to contain a face to face community where people could be under one another's eyes most of the time."
Newly released research shows that the average person has 169 people in their social networks. Brian Birkhead, founding partner of Wildfire says: "People believe in social networks more than institutions; as a way of changing behaviour."
So what could we do and what are the limits? Let's start by outlining online the militarisation of the country and by mapping estate by estate the elite management and private ownership of land concentrated into a tiny minority. Community land ownership could be co-ordinated through online networks. Health, housing and education policies could be co-ordinated, assessed and decided by communities online, and face to face
This is a post-formal world. Bella Caledonia will be at the fore of not just arguing for a referendum but arguing for new forms of decision making and a process that allows not just for 'national conversation' or a plebiscite when and if politicians decide but open voices spoken on our terms, for international justice and liberty.
At last a memory that works forwards.