Baron Lang of Monkton Speaks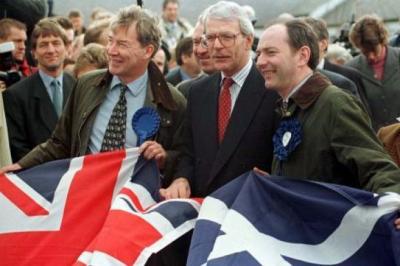 You've got to admire the sheer chutzpah of Barons and Lords pontificating on democracy. Today a whole parade of ermine will trumpet the need for less of it. But what many commentators seem to have forgotten is that Lord Lang, the former Conservative Scottish Secretary, has previous. Way back in 1991, the man who had just closed Ravenscraig said he was against a Scottish parliament because it would "create expectations which could not be met". Indeed. What a pickle.
He's not all bad. As chair of the Advisory Committee on Business Appointments, Lang insisted that Tony Blair's paid work for UI Energy Corporation, an oil firm with interests in Iraq, just 14 months after leaving office should be made public following a period when the committee agreed to keep it confidential due to "market sensitivity".
But the famously patrician Lord – is we think pushing at an open door here as the fabulously dysfunctional expression of British democracy will have them queuing up to air their views on the "implications for the UK of the Scottish independence referendum". Five hours have been set aside for this. Expect balanced shrewd analysis from their Lordships and Ladyships.
Anyway, here's the stellar line-up:
Lord Wallace of Tankerness (Liberal Democrat), the Deputy Leader of the Lords and current Advocate General for Scotland, will contribute on behalf of the government. Also down to speak are Lord Lamont of Lerwick, The Rt Hon. the Lord McAvoy, and Lord Robertson of Port Ellen.
Lord Langs crest is, apparently, a dove 'holding in the beak an Olive Branch slipped and leaved, all proper' and his motto is SOIS VRAI (be true). So truth and conciliation should dominate, right?

You can watch British style democracy "live" (ish) from 11.30 here.