Aperitivo!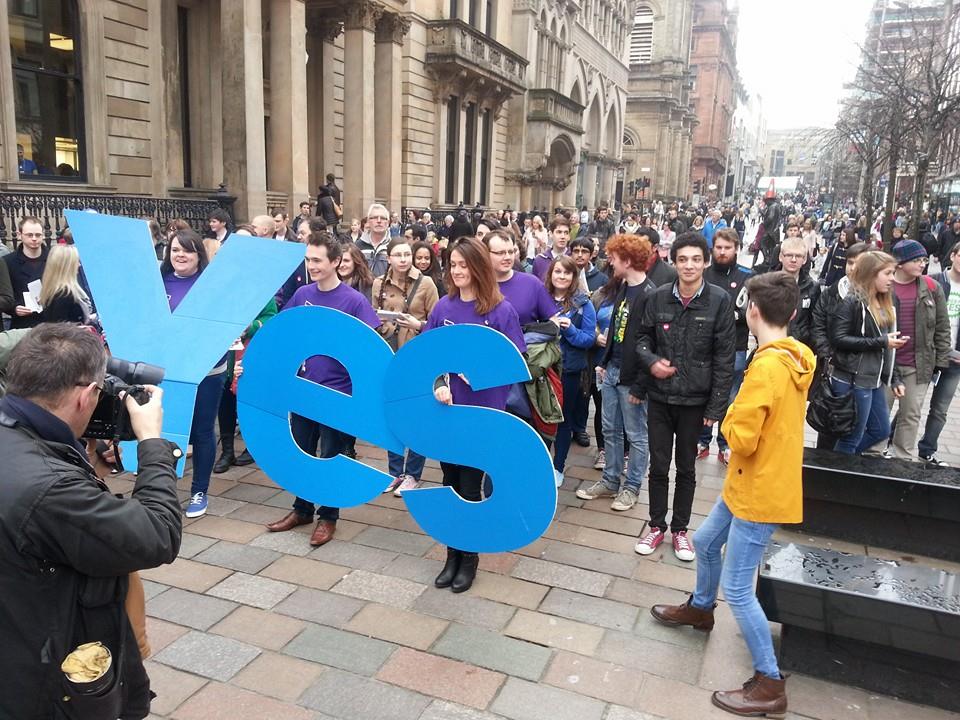 This has been a huge week for the Yes campaign (an even better one is coming up*) and a disaster for Better Together. But let's not dwell on the misfortune of others, even if Aperitivo! may just have got as famous as Granita – and focus instead on the good news instead.
Whilst the MoD are chipping-in to help out the floundering No campaign by bombing residents of Ardentinny  – lessons could be learned from the communities of Machrihanish, Cape Wrath, or the Solway Firth ('Solway's Silver Bullet') – there's a whole other new movement emerging. We will not be bombed into democracy, we will jump into it with zeal and relish. Witness the wonderful arrival on the streets of Glasgow of Generation Yes yesterday ('Generation Yes: they're young, they're fervent … and they're nudging Scotland closer to independence').
As Bella's Saffron says it:
"We're not established politically, we're not seasoned by it all, but our energy is just so vast, it's all so positive because it's all about the future. Young people are more informed than anybody thinks and ohmigod we just want to tell people don't be scared!"
As this surge of energy ramps up to a new level, in parallel, the No campaign (s) are in utter chaos. As Iain Macwhirter writes ('Why are Yes so confident?'):
"This is being recognised at least by the LibDems, the shattered remnants of which have been meeting this weekend in Aberdeen. Their ex-leader, Charles Kennedy, has condemned the negativity of the No campaign, and even their current leader Nick Clegg has called for a more "thrilling" unionist campaign – though thrilling and Nick Clegg don't sit well in the same sentence.
Regrettably, the Liberal Democrat leader then undid the good work by trying to equate Alex Salmond with Nigel Farage of Ukip – calling them "breast beating nationalists". No-one who knows anything about Scotland could possibly confuse Ukip with a social democratic, pro-Europe party that campaigns for open borders and increased immigration and is called the SNP. Oh, and which voted against the benefits cap last week Nick Clegg supports…The Liberal Democrats used to be guardians of the soul of civic Scotland: PR, home rule, Europe, human rights, gay marriage. They were responsible for many of the early achievements of the Scottish parliament, like free personal care, reform of local government, even the abolition of university fees.
But now locked into the Westminster system since 2010, they have had to capitulate to the logic of the London political elite. They are in many ways a metaphor for what has happened to Scotland. The Westminster connection has ensnared the Scottish parties into a political culture which is alien to Scotland's social democratic soul. Tax cuts for the wealthy, the bedroom tax for the poor. Hostility to Europe, stigmatisation of welfare, opposition to immigration. These are not the issues that decide how people vote in Scotland."
Indeed not. Is that really the quality of the Liberals debate, to compare the SNP with UKIP?
This week sees the ally to the energy of Generation Yes, with the launch of the Commonweal Symposium on Thursday. This movement has heart, hand and head, and the Commonweal Symposium will bring together more than 100 thinkers and policy makers to begin writing "a manifesto for a Common Weal Scotland". It's a light-bulb moment. It feels as if the dead hand of the old politics is being swept away. Confidence breeds confidence. Hope energises hope.
As Robin McAlpine puts it:
"Scotland is alive with ideas and this is a very significant gathering of people who have a very clear and carefully thought through vision of what Scotland could become."
It's interesting to note recent recognition for the sea-change we're living through in the media too ('More power to Glasgow's online journalists'.)  It's worth remembering that's a journey Kevin McKenna has gone through himself. It was only a few years ago Bella was castigating Mr McKenna.
A great week and a better one coming.
* top secret project to be revealed by Bella later