F!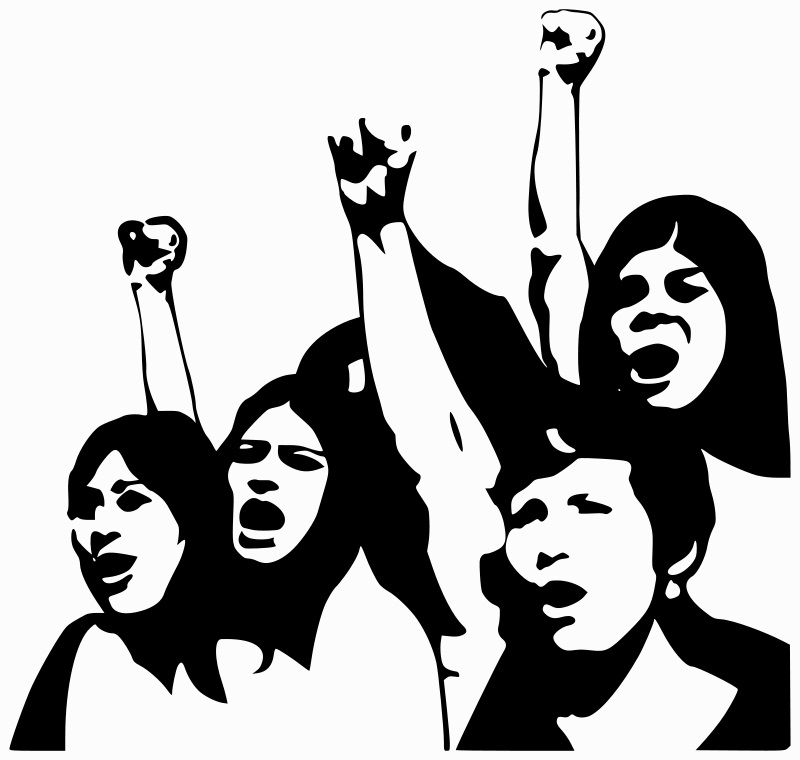 In this European Election, Sweden voted in Europe's first MEP from a feminist party, F!. Their manifesto says:
Power structures collaborate: It's about a dimension that problematizes and challenges gendered power structures, heteronormativity and their collaborations with other power structures which, combined, constitute the basis for the gendered order.

Anti-discrimination is not a special interest: In order to achieve our goal we must make anti-discrimination the focus of our political work. Structural discrimination runs through every component of our society and, thus, should not be seen as a "special interest." Norms and structures systematically subordinate certain groups while privileging others.

Class analysis isn't enough! Within traditional party politics class is the basic unit of analysis for understanding societal structures. The concept of class is far too limited and is not useful for illuminating the patriarchal, heteronormative and racist structures which distribute resources and influence in an unequal manner both within Sweden and globally."
(Taken from https://medium.com/@ChrChristensen/a3514f6d0ff0)
It appears that F! are a marginal, yet interesting and important voice to be reckoned with – "both within Sweden and globally". While Sweden, alongside other Nordic nations, is often portrayed as a haven of equality – gender and otherwise – from the inside women say that there is still work to do. Still, even the fact that a feminist party exists in Sweden, and that people voted for them in the European Elections, shows that the Swedes must be doing something right.
Here in Scotland, in case of a YES vote, a stronger anti-discrimination – or, in Freirean terms, anti-oppression – legislation which goes hand-in-hand with a cultural shift towards a more respectful society, should be high on the agenda to create a fairer, more equal society. Scotland, like the UK, doesn't fare particularly well in gender equality compared to some of its European neighbours ("Alright, hen?"). Some examples:
• Care gap: 62% of unpaid carers are women. Twice as many female carers as male carers receive benefits, at a rate of £1.70 per hour

• Freedom gap: Every 13 minutes a woman in Scotland experiences violence

• Income gap: Twice as many women as men rely on benefits and tax credits. Women are 95% of lone parents who receive income support

•Pay gap: Women earn 13% less than men as full time workers and 34% less than men part-time. Female-dominated occupational and industrial sectors are low-paid and undervalued

• Power gap: Only 15% of senior police and 25% of Senators of the College of Justice in Scotland, 10% of UK national newspaper editors and 8% of Directors of FTSE 250 firms are women

• Representation gap: Only 36% of MSPs, 17% of MEPs, 24% of councillors, 3% of council leaders, and 26% of trade union leaders are women."

(Source: ENGENDER)
Women mobilise through feminist groups and nightly anti-rape walks, but structural change is needed to bring about widespread, lasting change. The Scottish Government has a manifesto for more gender equality, importantly also naming the need to engage more with men. While this acknowledges that gender equality concerns men and women (and, may I add, those who self-identify as neither gender), there is another aspect to the connection between a more equal society and gender equality.
It is well known that while Scotland has the highest rates for premature death in Great Britain in all sexes, men's mortality appears to be affected disproportionately by economic inequalities:
"The difference in male life expectancy between the most and least socio-economically disadvantaged local government districts in Scotland was 7.6 years in 2001".
I don't know how to make sense of these statistics in the light of a relatively patriarchal society, but let's just say that unequal societies aren't helping people of any gender.
Today is a sad day for UK politics which once again showed that we're not 'better together'. Scotland's political climate has once again proved to be very distinct from England's landslide UKIP victory, but some of us still voted for one UKIP MEP.
As UKIP MEPs have voted against gender pay equality, and UKIP Hillingdon branch secretary Martin Shelvey writes openly about his opposition to gender quotas in employment (after a hilariously offensive description of "a female pilot who put us skilfully down on the tarmac despite awful cross winds and the bane of all nervous flyers such as myself"), the party which just came out first in England's European Elections does not exactly shine in its promotion of gender equality. Even the Telegraph, not exactly known for its left-wing progressive journalism, writes that UKIP wants to "turn the clock back on women's rights". No wonder that women campaigners have started their own online campaign against UKIP.
It appears that a popular vote for right-wing, authoritarian politicians implies a vote against anti-discrimination of all sorts – in other words, a vote for discrimination against women, immigrants and other minorities in an all-inclusive package. At the same time, a vote for UKIP, perhaps even more than for the Conservatives, is a vote for protecting the privileges of those who are already privileged.
It is therefore perhaps especially sore that in Scotland, Maggie Chapman from the Scottish Greens, a party with a manifesto in which campaigning "against discrimination on grounds of gender, race, sexuality, disability, age or religion" is high on the agenda, has lost the vote to UKIP's David Coburn.
He will be sitting in the European Parliament – claiming his high salary to operate within a system that he fundamentally opposes – and represent a party which walks over all our anti-discrimination efforts. We still have a long way to go in valuing anti-discrimination and equality beyond single-issue-campaigns, but as being crucial to building a fairer society.