With a Song in our Hearts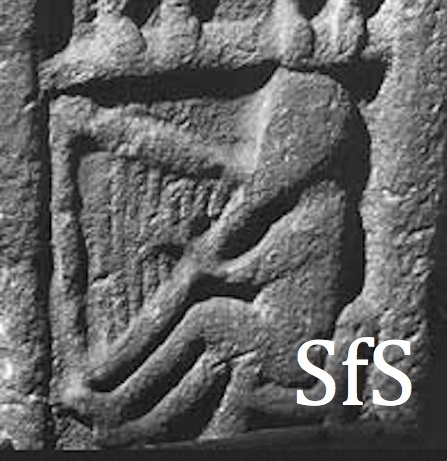 I am a freelance 'Yes' activist, and as well, a Canadian newcomer to Scotland with a fresh, outsider's perspective. This has granted me, I believe, abilities beyond the ordinary to read the tealeaves and to gaze into the future, even as far as into September.
In my travels I have spoken to many about their referendum voting intentions; while in my active online life I regularly read and ponder the (excellent) news reportage and analysis posted on Bella Caledonia, and similar online news sources.
It appears to me that there are two contending solitudes in this referendum debate, upon the outcome of which the future of this country and its people depends.
The inhabitants of these two solitudes are defined by the sources of their news, which to those steeped in this debate will be not at all surprising. Readers of the corporate tabloid, and other, newspapers (many with their tasteful 'page 3 girls') probably also supplement their informational diets with broadcast news. And so by definition they are relentlessly barraged by the cacophonous 'politics of no' emanating from Westminster: 'no' to a currency union, 'no' to Scotland's EU membership, 'no' to Dr. Who, 'yes' to border posts and mobile roaming charges… & etc. These voters – and many are voters, make no mistake – are being given every incentive to vote 'no' in September, because everything they 'know' tells them that this is the rational thing to do. 'No' to pensions, they are hearing, 'no' to… whatever else… and voters answering this description are many. I know this because I have spent time canvassing.
The second solitude is the one inhabited by people like myself, and probably by you because you are reading this: those who seek out alternative news sources, who can easily construct and understand a rational argument, and who can see through propaganda when it is ladled on thick. But here is the problem: we who inhabit this solitude sometimes seem to communicate mostly with each other, rarely speaking to those outwith the confines of our wee, circumscribed, online world. As the days count down to September 18th, we of this 'online intelligentsia' are entertaining each other with our beautifully crafted analyses of every aspect of the debate. But we are outnumbered — very outnumbered, I fear.
If this expression, 'two solitudes', has a familiar ring to it, then you may have Canadian connections yourself. In the lead up to the Quebec independence referendum there was much discussion about the 'two solitudes' of English versus French Canada, two nations who spoke only among themselves and rarely to each other. And the independentiste Parti Quebecois, lost its referendum bid by less than one per cent of the vote in 1995. Will we, by not paying enough attention to our own other nation, to our fellow Scots inhabiting that other, MSM sodden solitude, replicate the PQ's defeat here in Scotland? An interesting question.
What is to be done?
On a more cheerful note, much of what needs doing is being done, and done well and very actively. The growing army of  Yes supporters out canvassing door by door and face to face, through many a dreich day and a downpour, are incrementally wearing away the bluster and the absurdities of Better Together. Anecdotally, I spoke to a woman on a train about her voting intentions. Her opening position was that she was inclined to vote 'no' because she had recently been to Ireland, and her friends there 'so wished they could have Sterling back again instead of the Euro'. Three stations later, and after a thorough discussion, she had completely turned around and gladly accepted the 'Yes' badge I presented. Scratch many a 'north Briton', and you will find a proud Scot just beneath. We must continue this scratching relentlessly, and the more hands on deck to do it, the better.
What else? How else can we win over those many voters who cannot hear themselves think for the braying from Westminster retailed in the 'newspapers', with their tragic choruses of 'no' to a thousand things, industriously peddled in the expectation that fearful Scots will themselves vote 'no' to their innermost hearts desire?
Better Together is betting that Scots can once again be bought and sold for English gold; that if we can be convinced that remaining in the UK will make us £500 a year better off, then fifty-one per cent of us will turn our backs on our national destiny. But there is a critical flaw in this reasoning. It is based on the premise that we are as they are, the lords of creation in London: that we too live exclusively in a world dominated by balance sheets and profit and loss statements. And as George Gershwin famously wrote, 'it ain't necessarily so'.
To win in September will be to bring at least some from within this other solitude, those now shackled mentally by corporate media messaging, around to our way of thinking. To affect this we must continue the trench warfare of door to door canvassing; but we must also introduce other incentives into the game to motivate Scots to seize their destiny.
Now for more good news: other rich incentives are ready to hand, in the form of our past, our history, our songs and our national musical culture. We in Scotland have one of the great musical traditions on the planet, with some of the finest singers in the world working in that tradition. By bringing our songs into the referendum equation, we can introduce an emotional dimension into the debate that can help us to win. The strains of our national songs can inspire us to imagine a better future, and for some – maybe our margin of victory? – they can render the crass calculus of Better Together altogether irrelevant.
Listen to this song in Scots, and to this song in Gaelic, and then tell me that you are not stirred, moved – ready to set out bravely once again upon our journey.
We call on Scotland's singers and musicians to become fully engaged in the referendum debate, and to bring song and musical repertoire into prominent play. Leave it to our politicians, thinkers and journalists to refute in detail the relentless stream of propaganda emanating from the Better Together corporate media machine. By bringing our singers, our songs and our music into the debate, we can engage with voters in an elemental way: at the level of shared memories and the collective unconscious.
Sometimes a great title by itself can drive a creative project. 'Songs for Scotland' captures the spirit of ours perfectly (this the brainchild of TV producer Douglas Eadie who produced Transatlantic Sessions).
We have set up some online infrastructure: 'Songs for Scotland' is now a Facebook page, a Gmail and a Twitter account. If you are a singer, in an Indie band, a musicologist, or just a lover of Scottish songs, post your support for independence and a favourite song to Songs for Scotland's Facebook page. If you are one of our true star performers, a Yes canvasser, prime yourself for the day ahead by listening to a posted song or two before you set off into the rainstorm… And be of good heart!
We are at present putting the finishing touches to the Songs for Scotland Project. Watch Bella Caledonia for more on its evolution.
Contact: [email protected]
'Like' us on Facebook at Songs for Scotland
Follow us on Twitter @songs4scotland