End Games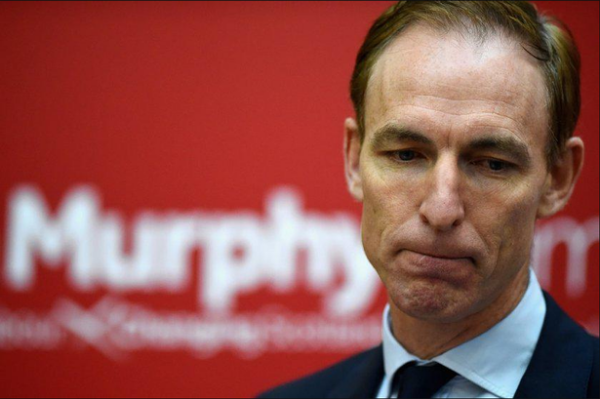 A month is a long time in politics. Lesley Riddoch on the Jim Murphy debacle.
So Jim Murphy has gone. Like the grinning cat from Alice in Wonderland, he will take time to disappear completely from the Scottish political scene. But no matter how long it takes for that trademark grin to disappear, there's no mistaking the utter humiliation of Saturday's vote.
The Scottish Labour leader actually won the backing of Scottish Labour's National Executive Committee (NEC) by a whisker (17-14) but finally realised – or was made to realise — that amounted to a vote of no confidence. Characteristically the former East Renfrewshire MP blamed others not his own right-wing, staunchly unionist political stance. He launched a scathing attack on Len McCluskey, accusing the Unite leader of "destructive behaviour" motivated by a political grudge and described his claim that Scottish Labour's disastrous performance was directly responsible for Ed Miliband's defeat as a "grotesque insult" to the party's membership.
Some might agree McCluskey was wide of the mark. Even if Scottish Labour had won every available seat, UK Labour still failed to clinch the English seats needed for an overall win – and that problem lies fairly and squarely at the feet of Messrs Miliband, Balls, Brown and a succession of unconvincing Labour leadership figures.
But Murphy also had a go at the NEC– attacking their decision to even accept a no-confidence motion : "The executive shouldn't take the opportunity to overturn a decision arrived at five months ago by thousands of Labour party members and thousands of trade unionists."
I think we can take it from this surly response, Jim expected to have won by a larger margin and thought he had steam-rollered his way into another term as Scottish leader. Nothing became Ed Miliband like the manner of his going – but nothing confirmed why Jim Murphy had to go like the content of his own bad-tempered exit speech.
Saturday's press conference by Scottish Labour's sixth leader in eight years contained far more detail on Murphy's plans for the future than his decision to go. He promised to lay before the next NEC meeting an exhaustive analysis of Scottish Labour's mistakes, the reasons for their catastrophic drubbing on May 7th and a reform agenda including a new leadership voting system based on one person, one vote. If this "reform package" is just window-dressing to disguise his sole intent – ending the influence of trade unions in Labour party elections – it will look transparent, desperate and vindictive, even if there is a case to be made for abolishing the "college" system that now operates only in Scotland.
If Murphy surprises everyone by going beyond his "Clause 4" moment to recommend a new totally autonomous Labour Party in Scotland – as surely the next leader must – he will go down in history as the man who could read the writing on the wall but didn't act on it till Labour were annihilated north of the border.
If he stays true to form, and produces a rehash of the election manifesto with more woolly promises about getting power out of Holyrood, Murphy will cement his reputation as the Labour leader who just didn't get it – twice. And – more importantly – he will saddle his successor with a "reform plan" that's likely to be completely unfit for purpose and thereby delay the moment reality kicks in by another few months or years. Perhaps that's what he plans. There's nothing else to gain from this slightly embarrassing and belated attempt to secure a legacy in Scotland. The only reason for delaying the moment of resignation a few more weeks should be for the sake of the party – giving leadership candidates the chance to decide whether to stand. Even then, it's not a great reason for hanging on and hanging over the process. It may seem tough to say to a guy when he's down but Murphy should just ditch the reform package, leave that to his successor to conduct on his/her own terms – and go. Now.
Whoever opts to try and win the poisoned chalice of Scottish Labour Leader Number Seven should be under no illusions. Anyone associated with the old Murphy regime is tainted – and that principally means Kezia Dugdale. Just as Nicola Sturgeon was too inexperienced to clinch the SNP leadership in 2004, so the time may not be right now for this thirty-something whose focus on the importance of early years is genuine and timely. It took courage to go after the deputy leaders' job but chumming Jim Murphy was a big mistake that required her to bury a lot of her own political instincts – that may be customary for Scottish Labour but looks bad from the outside
I've no idea what Scottish Labour's deputy leader really thinks about Trident renewal, austerity budgets, the welfare cap, Home Rule, or the branch office culture that will be revived after the UK leadership battle. It will be hard for Dugdale to claim political credentials that fit with Scottish attitudes after toeing Murphy's line so publicly. Especially when two of the candidates beaten by Murphy five short months ago have come out against the renewal of Trident.
Sarah Boyack and Neil Findlay may be back in the running – but they need to consider one tough question first. Are they big enough to "do a Murdo Fraser" and demand that the toxic brand of Scottish Labour is jettisoned in favour of a new stand-alone genuinely Scottish party? And are they imaginative enough to come up with a new formulation of the name? Nothing less will impress the toughest and most unforgiving electorate – Glasgow voters. Nothing less will demonstrate someone north of the border has finally "got it". The further Labour has moved from the people's evident desire for autonomy and a distinctively Scottish political agenda, the bigger the forfeit it must pay to be taken seriously again.
Of course, there might be a monumental shift to embrace the inevitability of independence. After all, Labour parties in Norway and Iceland backed their own independence campaigns during the last century. But that is probably too big a step for Labour to take nine months after Scots voted to give the Union one more chance.
And yet Scottish Labour's current predicament is all about the constitutional question. We know Ed Miliband vetoed the package demanded by Scottish Labour's Referendum Commission. We know it wanted substantially more powers for the Scottish Parliament and morale has been at rock bottom since that humiliating moment when the Conservatives and Lib Dems overtook the self-styled party of devolution with more far-reaching proposals. It's time for the new leader to improve the offer. Big time.
Labour north and south of the border is in search of new leaders. Down south the search is on for someone sufficiently right wing to satisfy Tory voters. In Scotland, the successful candidate must be sufficiently "left wing" to woo SNP voters, sufficiently connected to grassroots politics to attract activists and absolutely ready to defy the new British Labour leader and call for the establishment of a new Scottish party. With someone who realises the scale and necessity of that move, Labour in Scotland has the chance of rebirth.
No matter how satisfying the election of 56 SNP MPs, few voters relish the prospect of an SNP dominated Scottish Parliament with no opposition. But there are many other sources from which new parties might emerge to fill the hollowed out space where Labour used to be – Women for Independence, the Scottish left project, the Greens and the SSP to name a few. Time is ticking away.
Is there anyone left in Scottish Labour with the vision and will to do what has to be done?
If you like Bella Caledonia and want us to continue and develop we need you support – please donate to our appeal fund here – and if you can share the link on Facebook. Thank You.