The White Stuff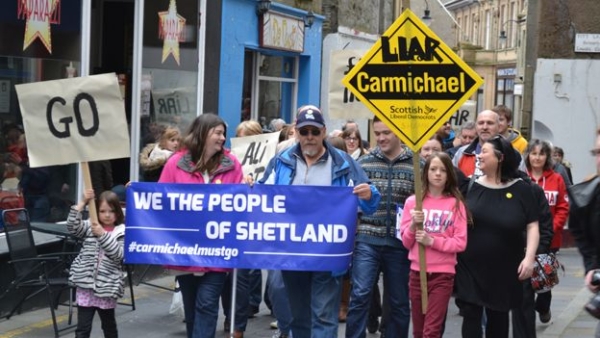 By Mike Small
Michael White of the Guardian yesterday gave us all a master class in elite media condescension. In a piece dripping with contempt for anyone outwith his known circle of approved candidates, chums and accredited political figures he managed to stoke the Carmichael affair to a new level of absurdity claiming "Alistair Carmichael's political survival has become a matter of principle."
People wanting accountability and a decent standard of behaviour from those in public office are derided as a 'lynch mob'.
Marked by disdain and an unsophisticated casual xenophobia, White sustains a barrage of bizarre logic:
"His survival has become a matter of principle : Scotland needs political pluralism" – sorry we don't operate our political system like that. You don't get just to tot up Lib Dems cos it's always been like that, or because you don't like the SNP.
"Northern Isles needs it even more if it is to keep the centralising government in Holyrood safely at arm's length. "It's Orkney's oil", eh?"
Eh? Sorry that's just clean bonkers.
"Carmichael is no pal of mine, but must have a good local record since 2001 to have survived the SNP tsunami on 7 May". Actually he had a massive majority of over 10,000 virtually wiped out. But again, it doesn't matter if he was a good constituency MP or not, deal with the matter in hand, his smear and his lies.
"Voters, who cannot bear too much truth, require it of them and only a child or a hypocrite should be unable to see this. Why, even voters tell lies. Look how so many must have lied to those trusting pollsters before the election! Should we trust the electorate now?" This is a variant on the Malcolm Bruce 'all politicians lie so shut up' argument, with a nice turn in blaming pesky voters thrown in.
"Now I see this campaign in a more sinister light. Carmichael was one of only three non-SNP candidates to win a Scottish seat on 7 May: 56 Nats, one Tory, one Labour, one Lib Dem, that's the Westminster contingent. He hung on by just 817 votes – 9,407 votes to SNP candidate, Danus Skene's 8,590 – in this tiny 32,000-strong island community where there was a 23% swing, as in so many places. Ten Scots colleagues fell. So it seems a little authoritarian, to put it mildly, to seek a byelection in order to make a block of 56 MPs into 57." Again, it doesn't matter whether the SNP have one seat or 56, the Carmichael case is about his conduct, it has nothing to do with the SNP.
"I was around in the 70s when the SNP was last present in force. As the late Alan Watkins remarked at the time, they "celebrated Hogmanay in the SNP whips office at least once a week". It was lively." This is just offensive stereotyping. An equivalent pejorative of English MPs would be howled down as racist.
"Scotland is a divided and bruised country, says Bruce. So do others who complain of intolerance displayed by the victors of 2011 and 2015. If it's half true it will produce a reaction. Perhaps it will start in Lerwick. I don't know the Northern Isles but they don't strike me as the sort of communities which go in for "Ali, Ali, Ali, out, out, out" demos." I think you may need to check your newstream Michael, people in Orkney and Shetland are protesting already. Your patronising framing of them as a quiet rural backwater doesn't make sense. Scotland has changed forever, and, actually we're pretty united.
"What's more, the Northern Isles are as suspicious of Edinburgh as SNP poets are of London. Orkney voted no in the independence referendum by 67.2%." What does this have to do with anything? Is the implication that Orkney voted No, so Carmichael should have it as a sort of fiefdom? White is completely confused. He conflates the Yes vote with the SNP, and assumes that anyone who is against Carmichael staying in position must be the SNP. Neither is true.
"Is it unreasonable to think that a Lib Dem with a good local reputation and the experience of a former Scottish secretary would be better placed to hold Sturgeon to her promises than a 70-year-old retired teacher." Yes it is. This is just part of his narrative: 'some people are entitled to be in politics and run the country because, er, they've been doing it for ages and, er, I know them'. Is the issue that Danus Skene is 70? Or that he used to be a teacher? Bizarre prejudice.
We're never told what the actual political principle is he is defending. I presume it's "Don't question us'?
Meanwhile. back in reality, Carmichael is facing the prospect of a parliamentary standards inquiry into his behaviour, Police Scotland are looking into complaints and trying to establish whether there is any 'criminality' involved, and The People versus Carmichael are over 1/2 way to their target to raise a legal challenge against him.
It's not only the gatekeepers like White who are flailing  about in the new politics. Writing in the New Statesman, ousted LibDem Vince Cable moans "none of us predicted the Scottish effect." Duh. Well you could have read the opinion polls for about six months before the election? Worrying about his former voters in Twickenham he writes in a statement that surely proves his history is as bad as his economics: "I never imagined that the Battles of Culloden and Bannockburn would be refought in the minds of my constituents."
Cable matches Carmichael and Bruce inhabiting a bizarre detached sense of the world order. He writes: "The English reaction isn't a racial thing. The prevalence of Scottish voices in our media reflects an underlying respect, liking and sense of trust." Well actually presumably it means that you are not actively preventing Scottish people from getting jobs. Do you want a badge for that?
White and Cable represent two sides of the media/parliamentary establishment, both struggling hopelessly to get their heads around some basic political realities.
If you like Bella Caledonia and want us to continue and develop we need you support – please donate to our appeal fund here – and if you can share the link on Facebook. Thank You.