We Are Many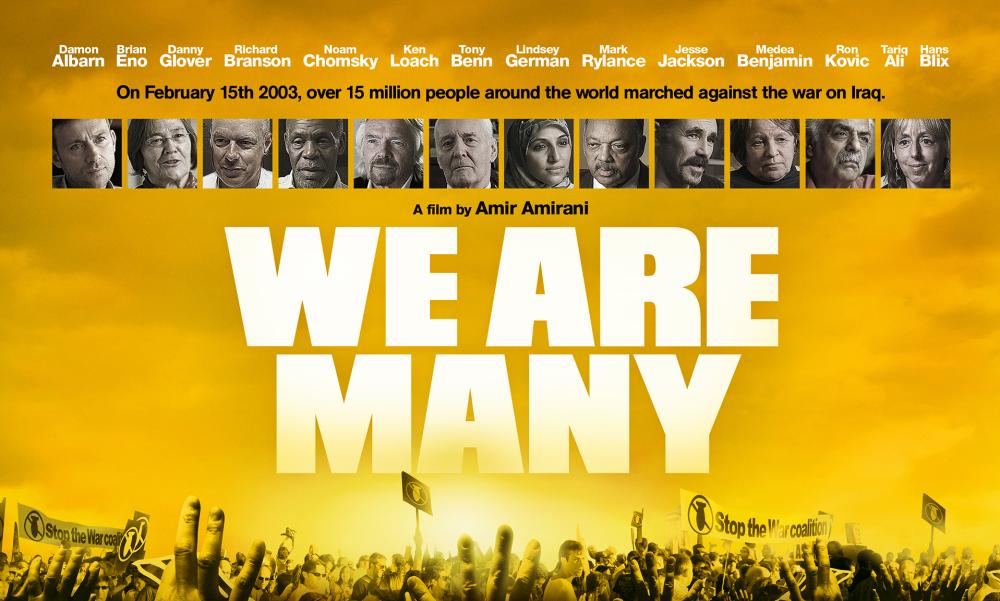 WE ARE MANY tells the untold story of the biggest protest in history ahead of the Iraq war, and how it changed the world, e.g. the effect the protest has had on, ongoing political situations i.e. the Arab Spring and Syria. It stars Lindsey German, Noam Chomsky, Philippe Sands, Hans Blix, David Blunkett, Clare Short to name but a few. The feature film debut of acclaimed documentary-maker Amir Amirani, WE ARE MANY is the untold story of the biggest protest in history, and how it changed the world. Filmed across all seven continents over a period of 9 years, WE ARE MANY reveals the true story of the people power movements now sweeping the world, from opposition to the Iraq war to the Arab Spring and Syria.
In a series of captivating interviews with prominent figures from the anti-war community, as well as astonishingly frank inside accounts from those who launched the war, WE ARE MANY captures the shockwaves of public opinion – dubbed 'The Second Superpower' by the New York Times. It's worth considering how the march, the protest and the Iraq war contributed to the conditions where Labour collapsed in Scotland. For a whole younger generation the Iraq War was a pivotal moment in understanding what the modern Labour Party was about and what values they held. For many older people the experience cemented a feeling of utter disillusionment with the party that was never recaptured.
Alex Salmond on the Iraq War
We are Many is in cinemas across Scotland now.
If you like Bella Caledonia and want us to continue and develop we need you support – please donate to our appeal fund here – and if you can share the link on Facebook. Thank You.