What Is Scotland? A National Identity Crisis in a Moroccan Bank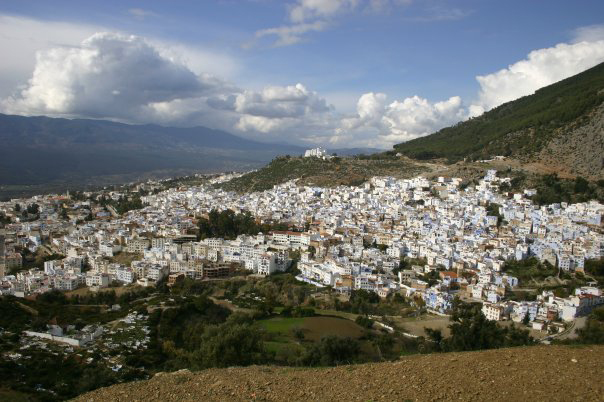 By Karen Emslie @damnrebelbitch
The clerk in the bank in Chefchaouen, a Moroccan town in the Rif Mountains, was a serious man wearing a stiff shirt and wire glasses. He had exceptionally neat hair. He eyed the twenty pound note that I had handed to him, then started to flick through a colour-photocopied list of bank notes.
'I cannot exchange this money, Madame.'
'Why?'
'Because it is not on my list.'
'But it´s pounds sterling.' I said.
He looked at me blankly, so I asked him for the list and pointed.
'Look! Here it is.'
'But Madame, that note says Bank of England – yours says Bank of Scotland'.
I explained in the finest French I could muster that, like the one on the list, my bank note was pounds sterling. I explained about Scotland, England, Wales and Northern Ireland, how we are one United Kingdom of equal partners with a shared currency. By now, the other clerk had stopped attending to his own customer and both were listening.
'No Madame, I am sorry, I cannot exchange it because it is not on the list.' he repeated.
I noticed that I had also attracted the attention of a number of bemused bystanders who had broken out of the orderly queue behind me to get a better view of what was going on.
There were men of various ages in pointy-hooded djellabas; others, in cotton shirts and trousers, were carrying leather satchels. They stood hands on hips or arms crossed. I was appealing to the clerks and the spectators but their faces were expressionless.
I had wandered idly into the bank to exchange the note after I had found it sandwiched between the pages of a book that morning. It was a bonus bank-note, a nice surprise. I didn't need to exchange it, I could just say OK, Merci beaucoup! Au revoir! and leave the bank. Except, the entire validity of my country was now being questioned and my hackles had started to ruffle and rise. I focused my mind and conjured up some Celtic charm.
Scots know that we have a tartan leg-up abroad, and we milk it. Most new chums from California to Calcutta and from the French Riviera to the Moroccan Rif will have heard of at least one of the following: kilts, whisky or haggis. One of the first things I did when I moved from Scotland to Tarifa in the south of Spain (8 miles from Morocco across the Straits of Gibraltar) was hold a Burn's Night Supper. There were lashings of whisky to quaff, tartan napkins to pass round and I´d even had some MacSweens haggis FedExed down.
People from other lands expect to hate haggis when they learn that it is innards and oatmeal stuffed into a sheep's stomach and flavoured with lots of black pepper, but almost invariably they love it. Every single plate was licked clean. After supper we joined arms to sing Auld Lang Syne and drunkenly skipped around copying steps on a YouTube video of the Gay Gordons. I wanted to share my culture and make new friends.
What I had actually done, was prostitute the biggest stereotypes and clichés of my culture in order to endear myself to people in other countries, and this jolly self-parodying causes a problem: I made my new friends by peddling the idea that we are cross-dressing alcoholics who eat sheep's intestines.
Unfortunately, alcohol and men in skirts were not going to sway my audience at the bank, and I didn't know the French for 'intestines'. Instead I said that England was bigger than Scotland and that more people lived there. But, even though Scotland was small, it was a real country with real money. I tried to translate the concept of being 'in bed with an elephant'.
I noted a subtle shift, heads were nodding slowly and faces were now composed with concern; they were starting to root for the underdog. Or perhaps it was a reaction to the sight of a small woman delivering an impassioned monologue about her country in dubious French.
Either way, the clerks came out from out behind their desks and called the manager from his office. He was an older man – little, fat and suited. He had a ring of grey hair but was bald on top. He eyed me suspiciously and then silently studied my bank-note.
'Look, pounds sterling – here.' I pointed, enthusiastically.
He said nothing. Everyone was looking at him and waiting. He referred to the colour- photocopied list of bank notes and finally he delivered his conclusion.
Yes, he could see that my bank-note had twenty pounds sterling written on it, but it was a Bank of Scotland note, not a Bank of England one – like the one in the list – and therefore he could not exchange it for dirhams. He eyed my supportive onlookers, who had now amassed behind me.
'But,' he relented 'It is confusing, I will ask my superior in Tétouan.'
The manager went into his office and picked up the phone. I watched him through the glass panel between us. I could see his mouth moving and his fingers turning my bank note over and over. Eventually he put the phone down and came out from behind the glass. There had been further uncertainty in Tétouan, he explained. The manager's manager was now telephoning his own manager in Rabat and would call back with the definitive answer.
That would have been an opportune moment to point out that it was, in fact, a Scot (Alexander Graham Bell) who had invented the telephone, and that we were also responsible for television (John Logie Baird), penicillin (Alexander Fleming), the pneumatic tyre (Robert William Thomson/ John Boyd Dunlop) and even Grand Theft Auto (David Jones/ DMA Design) Look what we gave the world! Now, will you please just give me some dirhams? But, I said nothing, because it would have sounded like I was boasting.
The customers in the bank, enjoying the unfolding drama, were hanging around waiting to find out what would happen. We arranged ourselves on the plastic seats that lined the walls of the bank, and chatted about Morocco and Scotland to pass the time until the manager's phone rang. And then it did.
We all stood up: the bank clerks, the onlookers and me. We were ready for the verdict. We knew the outcome from Rabat by the look on the manager's face, it was clearly a 'No.' I had reached the end of the line. My impassioned arguments, passed carefully from manager to manger, from Chefchaouen to Tétouan and then on up the chain of command to Rabat, were ultimately futile. But, was I right?
According to the Committee of Scottish Bankers (CSCB):
The legal position with regard to Scottish Banknotes is as follows: Scottish Banknotes are legal currency – i.e. they are approved by the UK Parliament. However, Scottish Bank notes are not Legal Tender, not even in Scotland.
Confusing? They go on to cite the definition of ´Legal Tender´ according to the Bank of England:
The term legal tender does not in itself govern the acceptability of banknotes in transactions. Whether or not notes have legal tender status, their acceptability as a means of payment is essentially a matter for agreement between the parties involved.
So, if we had agreed, I could have bought Moroccan dirhams with my Bank of Scotland pounds sterling note? Perhaps, but the CSCB ultimately advise:
You should not rely absolutely on Scottish notes being accepted outside Scotland and this is particularly true when travelling abroad.
All I could do now was be noble in defeat, the fall-back position bred into collective Scottish consciousness by cumulative trouncings from battlefields to football pitches. I stuffed my silly banknote back into my purse and, one-by-one, said goodbye to the manager and the clerks and the onlookers. Each shook my hand, commiserated and hoped that one day Scottish bank notes would be on the colour-photocopied list of bank notes, just like English ones. Inshallah.
If you like Bella Caledonia and want us to continue and develop we need you support – please donate to our appeal fund here – and if you can share the link on Facebook. Thank You.