Swimming Against the Tide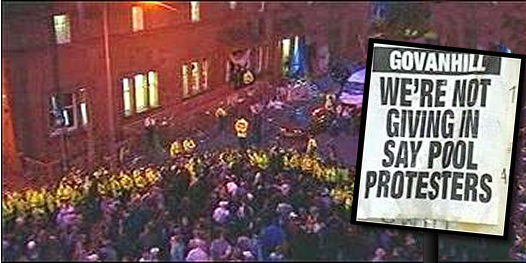 By Jim Monaghan
In 2001, when Glasgow City Council made the decision to close the public baths in Calder Street, Govanhill, in Glasgow's Southside, they probably expected local opposition. Across the country, New Labour's Private Finance Initiative (PFI) was wreaking havoc on much-loved community assets. PFI allowed councils to take capital building projects off the balance sheet making it "more affordable" to build new schools, hospitals and other buildings than to maintain older ones. "Save our School", "Save our Hospital", "Save our Library" campaigns sprung up across the UK. They organised petitions and lobbies, fought hard and long, but ultimately failed to stop the closures in the face of opposition from vested interests, bankers and big capital aided by politicians keen to display shiny new buildings in their photo-ops.
What they didn't expect was the intensity and anger that they met in Govanhill. The campaign there took direct action, occupying the building from the night of its 'closure' for the next 5 months and more, supported by dozens of people on a 24 hour picket line. Even when the council took extreme measures to end the occupation, sending in over 200 Police officers, 30 of them on horseback, accompanied by a helicopter, they met a wall of resistance. It took them 18 hours in a straight toe-to-toe scrap with hundreds of local residents to end that occupation, but still the fight wasn't over. The protesters returned the next morning to clean the streets following the riot and then reorganised, reassessed, and continued the campaign. Eventually in February 2012, Govanhill Baths Community Trust (GBCT), a community-owned company formed from what had been initially "Southside Against Closures" and then the "Save Our Pool" campaign, took the keys and marched triumphantly back into the building to begin the repairs and refurbishment to establish a 'Well-Being Centre'.
This remarkable story of a community's fight to save and own its own local assets has been captured beautifully in a new film, United We Will Swim… Again produced and directed by Fran Higson. Using original footage of the 2001 protest and the personal testimonies of those involved, then and now, Higson brings to life one of Glasgow's great stories of resistance.
"I wanted to tell the story of the people of Govanhill, why this place was so important to them, and how they managed to win through resilience and self-organisation" said Higson, one of the founders of the camcorder guerrillas, who have recorded in film a decade of Scotland's protest and resistance movements.
Her film focuses on a handful of individuals, from a teenager who joined the picket line for "the buzz" and ended by being painted by police and press as a criminal mastermind; to experienced political activists; and those who used the baths every day and who hadn't been involved in any protest before.
It's a story that's not just about this organisation, or the victory they fought so hard for, but also of community assets being sold off and, with it, the heart being ripped out of communities. Nicola Fisher, a local teacher who was one of the key organisers of the campaign in 2001, reminds the politicians in a poignant moment in the film:
"They forget that they are just caretakers for the people, they're just looking after our stuff – for us". 
It's a film that celebrates direct action, Fatima Uygun, a Turkish immigrant who lived in Govanhill at the time, occupied the building, and is still heavily involved in GBCT says early on:
"If there's one thing I would recommend to anyone, is occupy a building. It's one of the most exhilarating things, and you don't realise how powerful you are, a handful of people saying no we're not going to go just paralyses institutions".
United We Will Swim… Again will be premiered at Edinburgh Film Festival on the 20th June and screened at a range of festivals and events over the next few months. Higson herself will embark on a tour around the UK focussing on similar campaigns:
"The cuts and privatisation are ongoing, people are fighting to save pools all over the UK. As well as going to film festivals, we will be joining community activists and similar campaigns in Belfast, Oxford and other places, sharing the experience of Govanhill. I hope the film inspires people."
On Friday 10th July she will be in Oxford with the campaign to save Temple Cowley Pool, closed and planned to be privatised by the local council. Legendary folk singer Peggy Seeger will be joining her on the night to perform protest songs. Seeger has written a campaign song for the Temple Cowley protest in a coincidence that resonates back in Govanhill. The Save Our Pool campaign in 2001 had a song book of famous protest songs re-written for Govanhill by the late Alistair Hulett. Peggy Seeger was a friend of Hulett's and is Patron of the Alistair Hulett Memorial Trust.
Fran is hoping to screen the film to self-organised community groups from across Scotland:
"I want to hear from anyone who is fighting a campaign or is organising in their local community. We want to bring the film to them, we want it to start conversations. In these 'austerity' years it is easy for people to feel despair, to give up on fights, to think that it's impossible for them to take on the powers that be. I hope the people of Govanhill can inspire others and that my film does justice to their story and will encourage others to fight back and take what is rightfully theirs."
UNITED WE WILL SWIM… AGAIN is a Camcorder Guerrillas film, Produced and Directed by Fran Higson. Jim Monaghan is a writer and activist based in Govanhill.
If you like Bella Caledonia and want us to continue and develop we need your support – please donate to our appeal fund here – and if you can share the link on Facebook. Thank You.