A Signature Quilt for Danette Chavis
Police brutality in there USA is interacting with social media and civil rights in a brand new way that's affecting the law,  relationships with the state and energising political movements of resistance in America. Mandy McIntosh reports for Bella on how activist and bereaved mother Danette Chavis is leading a fight back. 
Back to Section 8
"Cause, in a hole it's so dark
You can't see a thing
It's easy to loose sight of your goals
It's not the bullet, not the bullet that kills, you know
It's the hole, it's the hole, it's the hole…"
– Laurie Anderson for Chris Burden, the performance artist.
Police in America use hollow point bullets. Their use was once deemed a war crime under the Hague Convention of 1899, because the bullets expand after entering the body inflicting complete devastation. The US police argue that this saves lives, because the bullet expands internally, it will not exit a target body and injure a bystander. The hollow point bullet has been compared to a bomb going off in a body. Bombs don't go anywhere else.
An American police officer is now on paid leave having pulled his gun on innocent black children attending a pool party in Texas and pinning a fourteen year old black girl in an orange bikini to the ground in an arm lock. Listen to the video, in classic good cop bad cop mode, "good cop" clearly states, "Don't take off running when the cops get here" Meaning don't make yourself a target for a hollow point bullet in the back. This is at a public swimming pool, where the black kids were earlier told to "Get back to Section 8 " ie. go back to where you belong in social housing.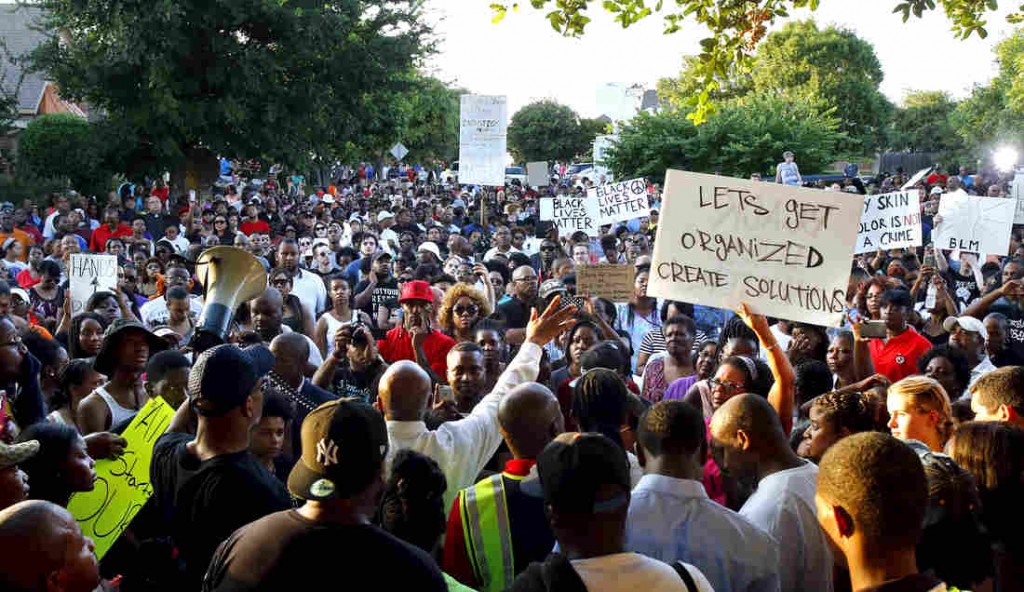 White neighbours had called the police to remove black children from a public swimming pool and the police came, armed and insane, like mad dogs. Don't run around mad dogs, don't provoke them. Even if you run in the opposite direction from the police, unarmed, like Walter Scott in South Carolina on April 4th, you are still a target. Officer Michael Slager will face murder charges for firing eight times at Scott as he ran away, but Slager is an exception to the rule as time after time we see culpable police walk free, in recent high-profile cases, without any charge even being brought by a prosecutor.
This was the case with Eric Garner and Michael Brown. Hear Danette Chavis, activist and bereaved mother, break it down on Youtube at the annual rally against police brutality in New York. She states:
"Normal protocol involves the prosecutor gathering evidence and bringing charges, then presenting both evidence and charge to the Grand Jury. "In these cases they didnt bring any charges, they simply presented evidence to The Grand Jury, and here in New York, the prosecutor had to get special permission from the courts to enable him to do that because its a highly unusual procedure. The prosecutors do not want to prosecute."
Danette goes on to describe the "game" acted out on blacks and hispanics who languish on Rikers Island prison, both uncharged and too poor to post bail, while the DA pleads for more time to gather evidence. Uncharged, with no evidence against them, unable to afford a lawyer, why are they even there? But they will be given a court appointed attorney, who will fast track them to cop a plea on the lesser charges, simply to get them physically out of jail. Thus begins the criminal record which Danette describes as "the death warrant that 'law enforcement' will use to justify your murder." In a bastardised rubix cube of process and immoral logic, the police would have the public believe, for example, that Chavis Carter, killed himself by gunshot whilst handcuffed in the back of a police car in 2012. The long list of unarmed people of colour killed by police 1999-2014 reveals more.
The cop-a-plea-bargaining chip does not always work for the state. At 16 years old, Kalief Browder always maintained his innocence. Charged with a theft which was never proven, he stuck it out on Rikers for three years. A powerful woodcut animation, narrates his personal account of the acute mental anguish endured in THE BOX. He experienced solitary confinement first at the age of sixteen.  After enduring three years on Rikers, Kalief took his own life on Saturday June 6th 2015.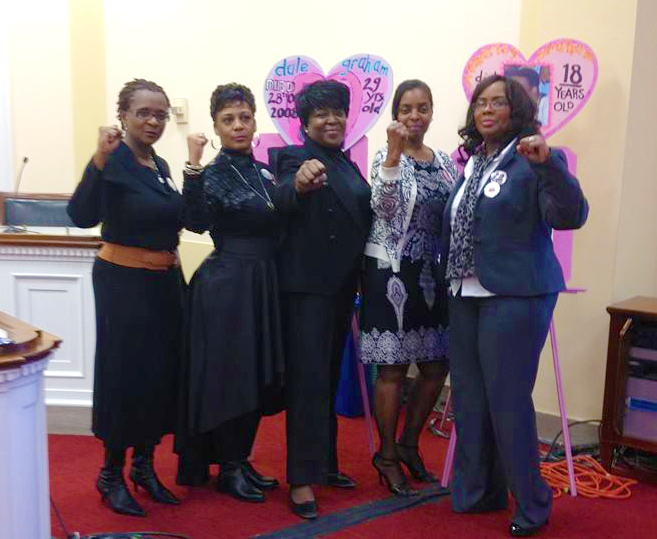 Danette states:"The tragedy is that he was innocent but suffered to the degree it made him unable to cope outside those prison walls after being released. The damage was such that it caused him to abhor his own existence, resulting in a suicide he must have believed would bring that suffering to an end. It's a tragic ending to a vigorous fight."
Danette Chavis believes God is in the darkness, she is far from losing sight of her goals. Danette is a bereaved mother who lost her own innocent son, caught in neighbourhood crossfire in the Bronx, he was left to bleed out by police where he lay in the street one block from a city hospital. Cops would not let anyone save his life by transporting him to the ER.
Danette is active every single day from her community to inspire and affirm a vast patchwork of support for her campaign to hold killer police accountable nationally. With a coalition of other bereaved mothers, she outlines that the pandemic of racist police murders and the severely corrupted legal framework within which they occur is of national and global concern. Soon, she will ride the subway from her own NY neighbourhood to number 405 East 42nd Street, New York, to present a petition. That's the address of the United Nations. In front of the UN building in NYC is a sculpture of a gun tied in a knot. Take heed.
It was via Danette I learned that in the case of Eric Garner, seven years before his murder, whilst employed by City Parks, was stopped by police in a public place in broad daylight. He complied by raising his arms.The police proceeded to violate him by exposing his genitals in a public street, feeling around his testicles and penetrating his anus with fingers in a full cavity search with no provocation. He filed an official complaint against NYPD from jail where he was held without charge. Garner was harassed often by police prior to his killing. When you know that he was physically violated in public, his resistance to being manhandled by cops again makes complete sense.To date, the only person who has faced any charges in Garners murder is Ramsay Orta. It was Ramsay who filmed the "I Can't Breathe" dying moments on his phone providing evidence globally of an illegal chokehold. Orta was later arrested on unproven possession charges and held at Rikers where he was served rat poison in his food. This has been confirmed by authorities after tests were carried out. Orta's bail was raised by online donation, the fund inched towards 16k and over as support swelled for him through campaigning by activists like Danette.
The issue of charging and prosecuting police brutality is now affecting us directly in Scotland when we look at how limited the powers of the Police Investigations and Review Commissioner are specifically in the case of Sheku Bayoh, the Sierra Leonean who died in police custody in Fife on the 3rd of May 2015. The Commissioner is citing several failed attempts to gather evidence from presiding officers. This is completely unacceptable and it goes to show the problem of how to oversee the police is a universal one.
When I ask Danette what inspires her she says faith. Her spirituality is the embodiment of militant resistance, as an engine driving Danette and others forwards towards a logical and just outcome for all of us. The beauty of Danette's work and the #blacklivesmatter campaign is its inclusive nature, its articulate assertions around gender, sexual orientation and feminism.
She has gathered over 35,000 signatures for her petition asking for a National Action. She joined a globally networked forum of mothers this year on International Women's Day, from Mexico to Gaza, all protesting the unlawful killing of their offspring by the state. She is constantly lobbying, addressing rallies, making her case through social media and asking us all to bear witness, to sign and donate. Last year the mothers marched on Washington, standing outside the Whitehouse with pink cardboard hearts naming their dead children, they spoke to congressmen and women, John Conyers shook her hand declaring her speech brilliant but Obama did not make time to see them. How could he face them with a militarised police force using state of the art war gear on its own civilians.
I am making a signature quilt to raise funds for Danette to continue her campaign. Pledge what you can afford to have your name embroidered onto a patchwork petition, this quilt will be donated to Danette as a symbol of solidarity from people in Scotland and beyond who stand with her. This technique was used by women to fundraise for the Civil War opposing Abolition. This quilt is a community art action acknowledging the continuing war on black America.
The petition is here:
https://www.change.org/p/international-solidarity-with-danette-chavis
Her gofundme is here:
http://www.gofundme.com/POLICE-ACCOUNTABILITY
Anyone who donates after reading the article I will put their name on the quilt. You can email me to say that you have donated [email protected]