Sufficient for Now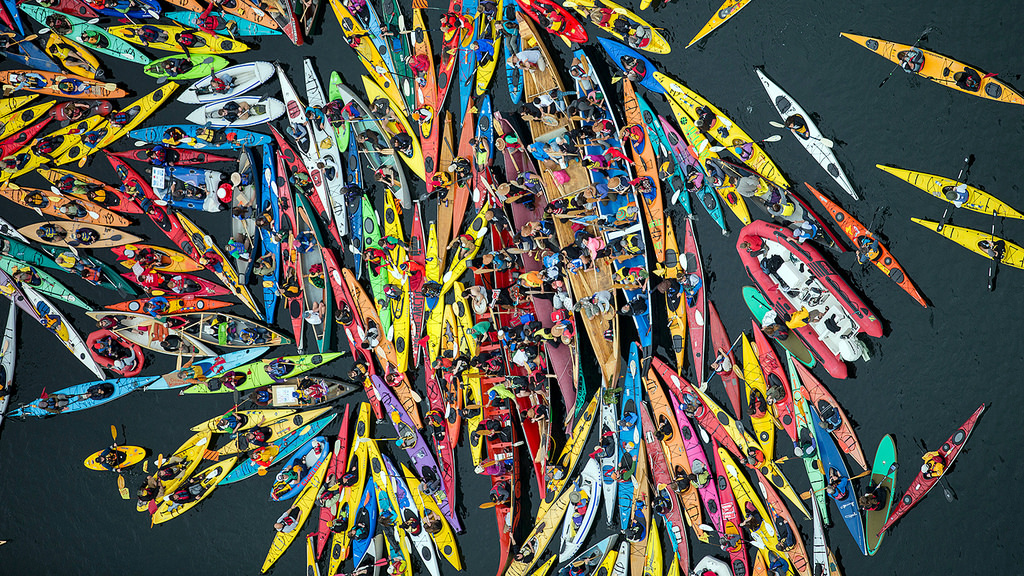 By Mike Small
As Shell's Arctic Drilling Rig the "Polar Pioneer" (sound heroic doesn't it) leaves Seattle's Puget Sound en route to drill for oil in the Alaskan Arctic, our Energy and Climate Change Secretary Amber Rudd has great news: Climate change is over and the energy crisis averted as onshore wind told: "that is sufficient for now".
Forget 'Vote Blue, get Green', forget the Huskies and the 'Greenest Government Ever'. This is Thatcherism red in tooth and claw. Economic ideology trumps all decision-making for this administration. Rudd announced – to mass confusion  – that new onshore wind farms will be excluded from a subsidy scheme from 1 April 2016, a year earlier than expected.
Speaking to business leaders in London last night, Amber Rudd said it was time to shift subsidies from onshore wind to other technologies that needed them more. She didn't say what those other technologies were. But the extraordinary thing about this blow to renewable energy is not just the complete disregard for Scotland or the shameful lack of even a pitiful commitment to the climate crisis, but the complete lack of any framework for the decision. What on earth does she mean "sufficient for now"? On what basis? By what criteria? What does that even mean? When will 'for now' be over?
The entire idea of transparency and a 'market' of energy is misplaced. All energy is 'subsidised' somehow and the lack of democracy in the area is blatant when local people now have a unique veto over wind turbines, but cannot veto shale gas fracking or even a nuclear power station on their doorstep.
The decision makes no sense as onshore wind is the cheapest readily available form of clean energy in the UK, and only yesterday over 9000 people staged what is thought to be biggest ever UK lobby on climate change.
The Scottish Government has pointed out that slashing wind farm subsidies:"will have a disproportionate impact on Scotland as around 70% of onshore wind projects in UK planning system are here". In fact, as Richard Dixon notes while 9.6% of UK electricity currently comes from wind, in Scotland it's 50-60% just now in Scotland since we are currently exporting 2.2GW to England.
This makes nonsense of Labour's Tom Greatrex, former MP for Rutherglen and Hamilton West claim that a "disproportionate" amount of subsidy paid by all UK taxpayers goes to Scotland projects. In fact we recall during the referendum the same MP stating the most effective way of ensuring Scotland could play a "vibrant and active role" in tackling climate change was as part of the UK, a world leader on the issue. The Labour MP for Rutherglen and Hamilton West said: "Our voice is amplified, not diminished, by speaking as part of a nation of 63 million".
That statement now stands as testimony to the missed opportunity of last years referendum in the wake of todays announcement.
Scottish Renewables' chief executive Niall Stuart said:
"We believe this decision could put around two gigawatts of onshore wind projects in Scotland at risk. These are projects that could provide the equivalent electricity demand of 1.23m Scottish homes and significantly improve our energy security, while bringing around £3bn pounds of investment."
Lang Banks, director of WWF Scotland, the conservation campaign, said: "This decision is especially contradictory coming in the week that the European Commission warned that the UK is set to miss its 2020 renewables target."
Rudd's announcement is cheap populism playing to the Telegraph readers and blue rinse climate deniers. This is a tragically stupid and opportunist decision from Westminster. What a travesty.