One fine day… at the Edinburgh Fringe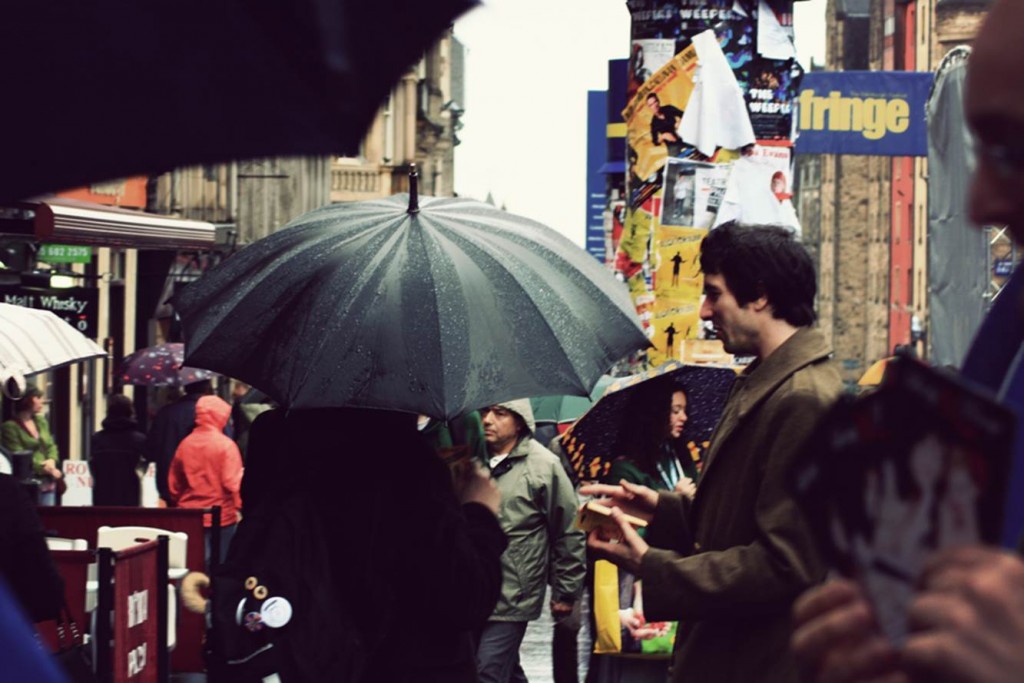 August in Edinburgh can mean only one thing: Fringe. You have one day – how do you spend it?
Once upon a time I was the comedy editor of a well-known magazine. As glamorous as it sounds (it wasn't), nothing quite takes the fun out of comedy like seeing seven shows a day, and analysing them to death. Saying that, I've been lucky enough to see hundreds, if not thousands of acts at the Fringe over the last ten years – some good, some bad, and some that will haunt me for the rest of my days. Thanks to this, my Fringe game is down to a fine art. Can you see six shows in one day without breaking the bank and losing your mind? Absolutely.
This year, I'll be tackling the festival primarily as a punter, though with the benefit of insider knowledge. With a brochure thick enough to do yourself a mischief, it's hard to know where to begin. If I only had one day to get a taste of the festival, this is how I'd do it. The following guide has been planned to save you amassing a fistful of flyers and to ensure maximum enjoyment – there's nothing worse than taking a punt on a show, only to waste an hour of your life.
Morning
The festival is a sleepy place before midday. The streets are largely vacated thanks to a mass hangover, so you have a couple of hours to plan your day and orient yourself with the city if you're new in town. If you've booked tickets in advance, pick them up now before the streets swell with thousands of show-goers competing for your space in the queue. Now is a good time to catch up on reviews – Brian Logan at The Guardian and Steve Bennet of Chortle are a reliable barometer of what's worth seeing.
Breakfast
I'm a firm believer in breakfast. You'd be amazed how much sitting in a room laughing at a stranger can take it out of you, so even if you normally skip it, I'd recommend starting strong. A day at the Fringe is an occasion in itself, and thoroughly deserving of a bit of posh grub. Start your day as you mean to go on and hit Lebowski's on Morrison Street. The award-winning scran includes eggs benedict, heuvos rancheros and ham hock, Lockerbie cheddar and baked eggs.
Show #1
If you're keen, you can catch a couple of shows before lunch. Once upon a time, the options were scant at such an early hour, but programmers are cottoning on to the benefits of an early crowd.
Begin with Bridget Christie – A Book For Her, 11am @ The Stand. With an intimidatingly large number of awards, she's a safe bet to start the day. Did you know feminism is the sole cause of the recession, global warming, terrorism, pandemics, cancelled flights, volcanos, delayed trains and pedantic health and safety regulations? Find out why in an hour that's sure to be a sell-out hit.
Show #2
I'm the first to admit I'm no lover of improv – far too many shows have left me cold. The exception to this is Austentatious: An Improvised Jane Austen Novel, which does exactly what it claims, and offers one of the most enjoyable hours of the Fringe. It's 2-for-1 tickets on August 10th/11th. With audience submitted titles like Invasion of the Bodice Snatchers and 101 Damnations, there's something new every day.
For a free alternative, check out Sketch Thieves @ City Café – winner of many awards and Critic's Pick in the New York Times. Comedians perform their own material, and then each other's. It could be brilliant, it could be a disaster. Either way, it's a lot of fun.
Lunch
Grabbing a decent lunch in town isn't hard. For a good central pub close to The Stand, try Joseph Pearce's on Elm Row. A friendly atmosphere, good drink selection and a cracking Swedish-inspired menu make for a great place to unwind and dine between shows.
That said, having spent three-weeks straight at the festival every day, I can happily espouse the virtues and practicalities of a packed lunch from Lidl. If money is tight, bring your own food and spend what you have on the acts.
Show #3
When does comedy go too far? Lawyer-turned comic Yianni finds out in Why Did the Chicken Cross the Line? 3:40 pm @ The Stand 2. This sell-out hit of the Perth fringe looks at what makes us laugh, why it does, and explores where the boundary is – if it exists at all.
If you fancy seeing a freebie, try Trevor Lock's Community Circle 4:15 pm @ Bannermans. No stand up. No material. Something entirely made up and unique every day. This man pulls funny out of the air. Intelligent, cerebral and an absolute delight.
Show #4
Veteran of many 5 star reviews, Liam Williams is gracing the free fringe with Bonfire Night, 7:30pm @ The Free Sisters. This Yorkshire tragicomic and former Footlight strikes the balance between depth and laugh-out-loud funny – a mixture that earned him Fosters best show and best newcomer nominations. This year he tackles career, climate, breakup and the 1%.
Dinner
The best place to eat in town right now is El Cartel Mexicana. Recently re-opened, this teeny relaxed diner sports Edinburgh's finest tacos and a dangerously tempting selection of flavoured frozen margaritas. Think Slush Puppies for grownups. The fresh produce, friendly staff and reasonable prices have made it a cult hit with local foodies. No reservations, so you can turn up and eat when it suits. If there isn't space, you can grab a drink in the Bon Vivant and the staff will call you over.
Show #5
For a feel-good hour, try Mae Martin: Us, 9:15pm @ City Café. It's impossible to spend time in a room with the two-time award nominee without smiling. Her intelligent mix of nostalgia and pop-culture are delivered with exceptional flair, far beyond her years. This year she's exploring the labels we give ourselves. A young comic talent set for big things. Best of all – it's free.
An alternative in the literal sense is John Robertson – The Dark Room: Symphony of a Floating Head, 8:40pm @ Underbelly. The world's best live-action video-game, delivered by a glowing, shouty Aussie, complete with new levels and added torment. A unique Fringe experience.
Drinks
If you're after a decent pint between shows, try Holyrood 9A for size. Hiding on St. Mary's street, next to Bob's Bookshop and a stone's throw from the Cowgate and the Pleasance, it's a got a stellar selection of Scottish ales and beers, and constantly rotating selection of brews from further afield. Their gourmet burgers are the stuff of legend.
Just over the road, you'll find The Waverley – something of a well-kept secret amongst Edinburgh pubs. The interior will transport you backwards several centuries, if you stick around long enough to stay in the publican's good books.
Show #6
Saving the weirdest for last, whatever you do, don't miss Richard Gadd – Waiting for Gaddot, 11:30 pm @ Banshee Labyrinth. Stretching the boundaries of the genre and good taste, his bizarro world comedy has been the undisputed underground hit of the Fringe over the last two years. I've seen him whipped, fondled, force-fed cake and dance around inside a mattress. Waiting for a Gadd show to begin is perhaps one of my favourite festival moments – absolutely anything can happen. Another sure hit from the king of free indie comedy.
A word on the Free Fringe
Don't be put off by the idea of a free show. The Free Fringe (which operates under a number of models PBH, Laughing Horse, Freestival, Heroes) is often the most cost-effective way for an act to bring a show to Edinburgh, which otherwise could run into the tens of thousands, creatively stymieing all but the rich or the lucky. Of course, there's the occasional duff show, but the majority of acts are of a high calibre.
If you're looking for the security of a curated line-up, without the price tag of the big venues, check out Bob Slayer's Heroes of the Fringe. Over the last few years the award-winning and experimental line-up has produced some of the standout acts of the entire festival. Bob's Bookshop often has punters queueing down the street as word spreads. This year he's bought a double decker bus, promising a quirky venue for even quirkier comedy.
Top Tips and a little etiquette
The Fringe is a strange beast – my best piece of advice is to submit to the chaos. You can plan your day, but you should expect things to stray a little. Some shows might have an off day, there might be a gremlin in the PA, the show you've set your heart on could suddenly sell out. Nothing is guaranteed. It's best to just go with it, and indulge your sense of adventure.
Skip the festival gardens if you're looking for a drink without taking out a mortgage. Yes, they're nice to soak up a bit of the ambience, but on a practical note, they make for awful bars. Plastic pints, hoaching crowds and being at the mercy of the elements – don't kid yourself that it's an essential part of the experience.
Don't take flyers if you're just going to bin them – they're eye-wateringly expensive for performers who are often impoverishing themselves to put a show on.
Bring water. It'll save you cash and save you from fighting the crowds when thirst strikes.
Expect the weather to turn. Whilst it's fun to dive into a free show when the clouds break, an umbrella is a more practical solution to the contrary Edinburgh climate.
Don't dodge the bucket. If you see a free show, put something in – even if it's only a handful of change. It's expensive to put a show on. If you enjoyed it, show your appreciation.
It goes without saying, but put your phone away. Nothing's more off-putting than looking out into a crowd and seeing a rogue texter. As Louis CK said, "Don't text or twitter during the show. Just live your life…Also it lights up your big dumb face".
Same goes for pictures – if you must immortalise the moment in a grainy Instagram post, keep the flash off.
And that's it. Go forth and laugh hard.