National Yes Registry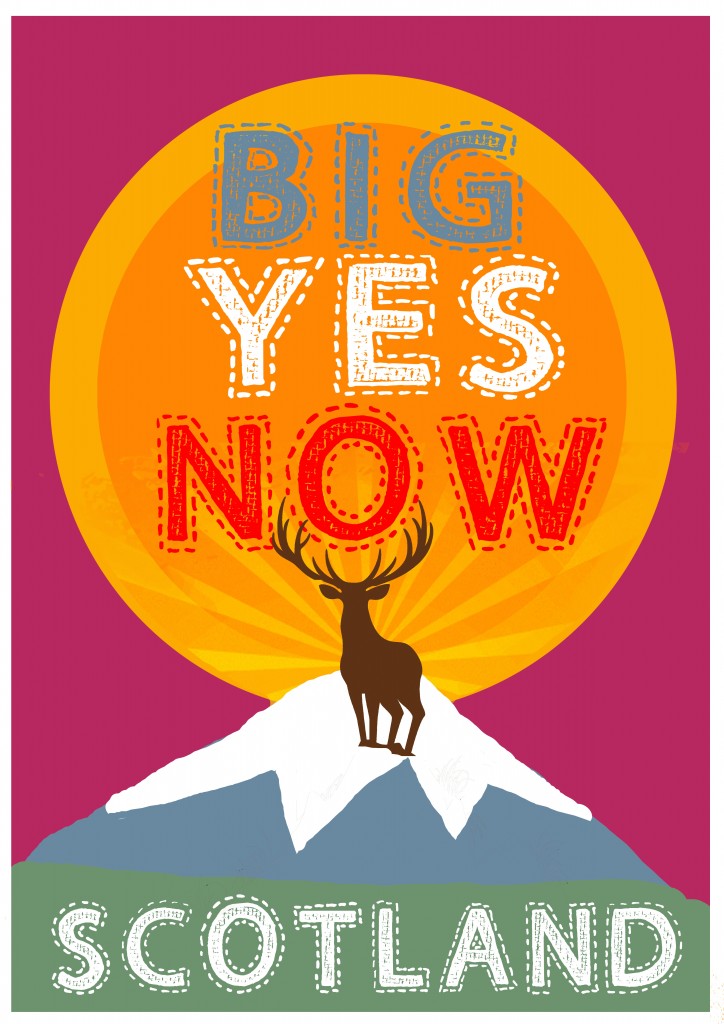 As part of our #Indyref2project we're highlighting the National Yes Registry, see more about it and support them here.
First let me once again thank Bella Caledonia, Independence Live and all those other individuals who have been donating to and spreading the word about the National YES Registry project and its goals. All your help has been wonderful and very much appreciated.
Throughout the last 3 weeks of our launch and fundraiser we have been asked similar questions numerous times and so we thought a compilation of some of those questions and answers might help give people a fuller understanding of our background, strategic goals of the Registry, how we see it developing and our general outlook on the importance of the grass-root YES movement as whole (and not only to the new politics of Scotland).
We are now only five days from our Indiegogo fundraising deadline (11:59pm Saturday the 1st of August) and to date still just over 28% funded. So, we hope this article will help get the word out about the National YES Registry project and our imminent crowd fund deadline. If you like the idea and support the strategic goals of the project, then now really is the time to make that donation, tweet that support, share this article and personally recommend our website nationalyesregistry.scot and our full film to anyone you think might also like to support us.
If the creation of a true, collectively owned grass-roots campaigning network is to be advanced and strengthened from what remains of the local pro-indy/Yes group infrastructure, then it really does need this seed funding. There is no other way. Please help if you can.
Who came up with the idea? Why did they see a need for it and can you say what that need was?
The idea came during my experiences while working with others, full time 7 days a week at the Largs YES Shop in the months running up to the referendum. It was really borne out of the practical frustrations of running short of campaigning gear, mundane things like wrist bands and car stickers etc. even though we were easily raising the funds to buy them. So that's when the ability to contact all the other YES Shops in a similar boat, in order to club together and place our own orders, just seemed a natural way to solve the issue. Once that idea took hold, it became obvious how useful in all the other campaigning fields a grass-root network across the shops would have been. Sharing practical experiences, encouraging each other, funding larger projects via collaboration among the individual groups, economies of scale when purchasing campaign merchandise and equipment etc. etc.
After the NO vote and the almost immediate disappearance of YES Scotland HQ, it became absolutely apparent to me that without a YES Registry and a forum for the groups to discuss a way forward as a movement, the organisation of the YES Shops and the Yes activist groups all around the country were cut adrift and floundering for direction on where to take all their enthusiasm and upset at the result. That's when I started to try and piece together contacts for all those shops and groups before they disappeared. With all the upheaval and the Westminster elections looming, that turned out to be a much harder and longer task than first envisaged, working through fb pages in order to try and find if they knew contacts for any remaining YES activist groups still operating in their areas. Eventually we sourced the 65 or so Group contacts that are already in the registry and we do know of others that are waiting to see how the project develops. Since our Launch we have had another 6 groups join, as well as a whole host of individuals keen to find ways that they can practically participate.
Who are the collaborators in the project?
The project has all been done in our spare time, in between the cracks of real life and therefore many people have helped at various different stages in the projects development, be that helping track down contacts for still active local Yes groups, spreading the word, gaining more contacts by holding regional YES meetings through their own groups auspices or by lending their professional skills to advance things. The length of time that this project has, by necessity, taken to get to this point has meant that all those people have come and gone when needed and importantly, participated when they were able to spend the time. The core team at the centre of the launch and crowd funding stage though are myself, Edward M Smith who created and directed the films and Moe Smith who designed the website nationalyesregistry.scot (with special thanks to Marco and Helen from YES Largs).
How do you see the Registry going forward?
If we manage raise the funding (our Indiegogo campaign deadline is 11:59pm August 1st ), then I see the Registry developing into a mutually supportive grass-root campaigning network of autonomous local groups. Our proposals are to build a National YES Registry forum which will be collectively owned by each of the individual group membership. The idea is that we will travel the country to organise 'face to face' meetings with the participating groups and gain their direct feedback from our proposals, on how they would like the structures of the Registry to be formed. That way we can form a brief from which to start designing the Registry structures. What we have proposed is just a way of getting the discussion going. It will be the groups that will dictate the direction and final form that the Registry as an organisation takes, with structures tailored to their various campaigning and support network needs.
Your constitution emphasises grass roots, but will there be a 'leader' or convener or similar?
The grass-roots are absolutely at the core of this project. With all the caveats that I have already mentioned about control and direction from the groups, the concept of the National YES Registry is that by self-organising in the manner we propose, and thereby successfully completing a process that will in itself require the existing, sometimes geographically disparate grass-root group movement to inevitably lead to the formation (in some form) of its own leadership direction and voice. That leadership and authentic grass-root voice will not come from any single individual or official though, but rather form out of the autonomous group membership discussions, pre-occupations and if necessary group forum votes. Let me emphasise though, the vast majority of the YES Registry activities will be in the realm of the practical: activist best practice, sharing of resources, ideas and campaigning strategies. A place to let individuals bring their campaigning ideas for peer appraisal and if approved, possible seed funding to get the idea up and running quickly, efficiently and very importantly tailored by each Group to their distinct local conditions. That local knowledge and campaigning preoccupation being one of the greatest strengths developed by the grass-root YES movement during Indyref1.
For instance, how soon do you think indyref2 will come along?
I have no idea when Indyref2 will come, but the way Westminster is treating the democratic electoral choice of Scotland while still within the UK, seems only to be bringing that date closer and closer. That's why it's urgent that by the time any Indyref2 is called (whenever that may be) we the grass-roots are already organised, campaigning, funding and speaking for ourselves, ready to take our seat alongside all the other leadership voices of any future YES campaign.
The awkward question – shouldn't yes voters just join the SNP?
Your relationship to political parties seems to be that you are going to operate alongside the normal party system. Is that right?
We are not and will not become a political party, that's why collective ownership by the groups is so important as it will absolutely keep the focus on each groups grass-root priorities and preoccupations, though seen through the prism of our 'national' movement and it's aims.
The SNP and other pro Indy parties have to, by necessity, work within a very different critical framework (especially when in government). Yes voters have already joined the SNP and the more that join them (and the other pro-indy parties) the better. The point that we are making is that it was through the vibrant, open, sometimes radical thinking and campaigning of the grass-root movement during Indyref1 which politicised those previously non-party political individuals and created the incredible surge in SNP (and others) membership numbers after the NO. All we propose is to carry on doing that important work in our communities, as well as cement a more formal forum from which those activists, that do not want to move into the structures of formal political party membership, can still be heard and have some influence.
How important is Dr Black's survey?
It's not our project but we are absolutely delighted to associate ourselves with and to help encourage as many YES activists to participate in it as possible. The phenomenon of peaceful self-organising politicisation that Scotland (amongst others) is currently at the world forefront of, needs to be studied, analysed and learnt from not just in Scotland or rUK, but all around the world where ordinary people are struggling to be heard and influence matters directly material to their own lives.
If you would like to find out more about the National YES Registry please visit nationalyesregistry.scot to view our explanatory films and read more detailed articles on subjects such as 'The Concept', 'A Case Study', 'Our Relationship with Political Parties', 'Interim Constitution' and 'Our Funding Breakdown'.
We have also been interviewed on Independence Live alongside Ivan McKee, and will be open to questions during a similar live-stream broadcast at 7pm on Thursday the 30th, a little closer to our 1st of August crowd funding deadline.
http://livestream.com/IndependenceLive/TalkingHeads2 (National YES Registry discussion from 13:09 onwards)
Thanks for reading and, if you can, please help.