A History of Forgetting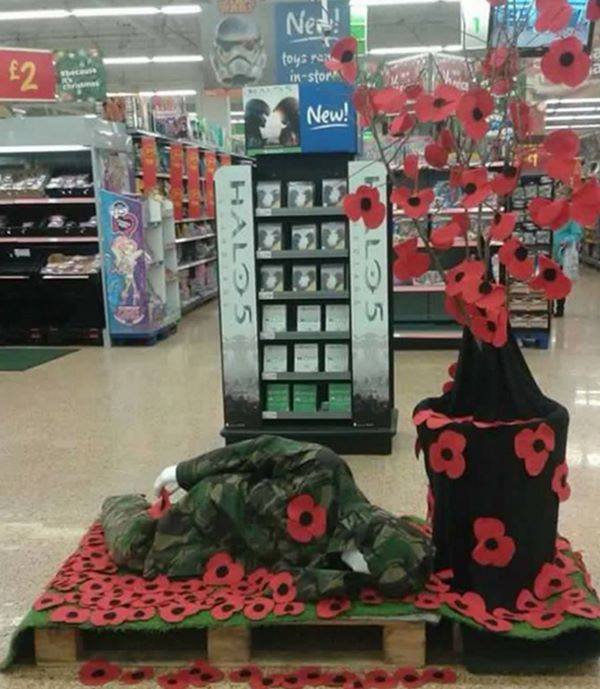 "It's political correctness gone mad" was normally applied to the left in a desperate defensive motion to retain the comfort of accepted bigotry.  Now, whether it's Jeremy Corbyn's inadequate bowing technique or Sienna Miller's fashion faux-pas, the Poppy Brigade fascism for remembrance-branding is rife with irony. As seasons collapse and merge in globally-warmed fusion, the calendar is marked, increasingly with commodified signifiers to help you stagger from year to year. Mother's Day swings to Easter, swings to the next contrived sales pitch. Now it's 'Poppy Day' scraping new depths of weird compulsory public emoticon expression.
Sienna Miller had the temerity to undermine the sacred, solemn institution that is, er, The Graham Norton Show. Jeremy Corbyn is chastised for not having the necessary neck-crank (Kneel you dirty commie fucker!).
Propping up this failed state is becoming increasingly difficult. At Waverley Station (still festooned with spectacularly uninspiring Walter Scott quotes) there's a Poppy Selfie Stand. At ASDA a spectacularly ill-conceived display shows a fallen soldier slumped on a pallet beside a Poppy Tree and adverts for Halo5 and £2 chickens.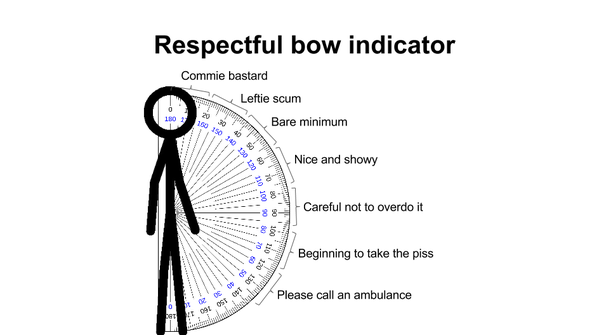 But it's Corbyn that's disrespectful. Remember that.
This is a country enthralled by 'the last Downtown Abbey', trapped somewhere between Gogglebox and deification of entrepreneurialism that is The Apprentice, spoon-fed this soporific moron culture. As we endure a  permanent war economy and an elected leader is beaten down by the Generals – the important thing is, of course: obedience.
Obedience to national messaging, obedience to military orthodoxy, obedience which must be displayed constantly – without which public reprimand is inevitable.
With the sad news that UKIP may be going bust (who knew that racist agitation wasn't profitable?) who will be the standard bearer for British values now? Jim Moohan of GMB Scotland and Better Together has said Cyde shipyards can't continue to rely on the MoD for orders. Another sadness that you're not allowed to talk about publicly.
Collusion is not so much mainstream as compulsory. But while it might seem all tv-sofa-comfortable the reality is that the control of remembrance itself is militarized:
"One striking manifestation of the synergy between the British Legion and the British arms trade is its relationship with BAE Systems, who in 2003 not only funded sales of weaponry to Saudi Arabia, Libya, and the Middle East, but also the RBL's annual Remembrance events. As the Telegraph noted, "a decision by British defence manufacturer BAE Systems to sponsor this year's Poppy Day has been likened to 'King Herod sponsoring a special day reserved to prevent child cruelty'."
The stage hypnotists show goes on, but it remains to see how long it's viable. A Zero Hour country can't remember because they're too tired. According to the Mirror 'the number of people trapped on cruel zero hours contracts has soared by a fifth to nearly three-quarters of a million in the past year'. That's up 19%. This is a nation on it's knees, not out of the required fealty, just out of exhaustion. These are just the sort of part-time, low-paid, temporary jobs that ASDA excel in. Pile them high, sell them cheap.
Red Poppies, a just, proud and precious symbol, has been devalued by Britain's own inadequacy and is fast becoming just another simulacrum for a functioning democracy.
How can you remember if nothing is worth anything?