Mint Sauce, Anyone?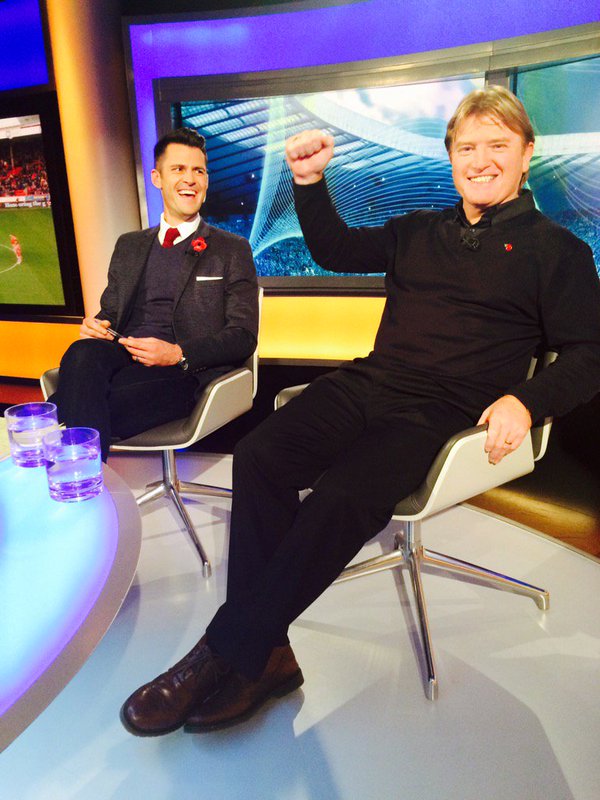 "All the titles and silverware from all the years Rangers cheated at football, as they cheated at tax, must be null and void and wiped from the record." Oh dear, who is this vile Celtic bigot parading their hatred for all to see? Oh. It's Channel 4 News's award-winning journalist Alex Thomson. Thomson today writes on what he calls "the biggest organised cheating scandal in the history of Scottish football – probably British football and possibly in British sport" in pretty unambiguous terms.
Of course Scottish journalists have already dealt with the issue. Last night BBC Scotland's 'flagship' (sic) sports programme devoted just under two minutes to the issue, asking the expert impartial pairing of former Rangers player Steven Thompson and ex-Rangers manager Stuart McCall (pictured) all about it. McCall's view: "Not at all".  View it here [from 48.43].
You might be forgiven for thinking that "the biggest organised cheating scandal in British sporting history" might deserve a more in-depth treatment. But you'd be wrong.
Talk Talk
Rangers today issued a statement quite breathtaking in its arrogance. Read it here.
They avoid any of the substantial issues and play straight to the gallery. It's all about the money: "Our game has to become more attractive to potential sponsors and partners if the finance levels required are to be generated but this can only be done if we present a coherent and united strategy."
This is playing to the fears of cash-strapped clubs up and down the land. But these clubs may be doing a different sort of maths after this week's revelations, calculating the benefits of a more competitive league and more open cup competitions if a giant dysnfunctional cuckoo isn't given a permanent free ride.
They continue pleading national unity: "a line must be drawn now if we are all to prosper", a variant of "we're all in this together".
Then they conclude: "Rangers cannot countenance or accept any talk, attempts or actions designed to undermine what this Club has achieved throughout its long history." This is basically saying: you may not talk about this. I'm not entirely sure how this chimes with the notion of unity and collective prosperity?
Introducing Mr Black
The Rangers Tax was held in secret because many of those under HMRC scrutiny wanted it that way. So it all got a bit cloak and dagger. Individuals were referred to as Mr Black, Mr Yellow etc.
No Mr Whyte, yet.
Thompson clearly believes that "Mr Black" was Knight Batchelor David Murray, because the tax tribunal describes him thus: "While Mr Black had been involved in 'signing and selling' 350-400 players in 20 years of involvement at Rangers, he had not, and could not, because of all his commitments, devote any real time to detailed contractual negotiations. At the start of each football season he would meet with his manager to decide on which players might be possible recruits."
Thompson writes: "Rangers – obstructive, unhelpful and evasive, according to the Tax Tribunals – are now found to be tax cheats on an industrial scale by the Law Lords. Which is why "Mr Black's" candid admission – Rangers did it to again sporting advantage – now matters so much. His evidence could not be clearer."
Now you'd expect the pliant, underfunded and rankly useless BBC Sport Scotland to roll over, but why such silence from other clubs?
The Scottish football authorities may be docile and witless, but the fans aren't, so, as Thomson concludes:"It is time the SPFL members came out from Glasgow, Edinburgh, Dundee, Aberdeen and beyond to denounce cheating as cheating and take action as fans from Kelso to Thurso are begging them to do."