Foreign and Defence Policy: the nature of David Cameron's leadership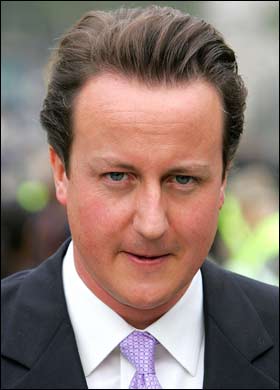 A decision by the House of Commons to take part in coalition air strikes in Syria is not a vote about Jeremy Corbyn. This may come as a surprise to some, for unfortunately it seems to be the prevailing purpose of the media and all too many politicians and their spin doctors to reduce the argument for air strikes to a simple decision over a single personality choice.
A vote in favour of air strikes is, nevertheless, 'de facto' a vote for David Cameron, for his defence policy and for his leadership in a military intervention in Syria. So it is fair to examine his track record, since he is taking the big decisions and it is his policy and his leadership we are all supposed to follow.
Let us examine the one area of defence and foreign policy where Cameron's leadership may best be identified and highlighted; where his policy in the broader region was comprehensively followed (not least by Britain's allies), where his leadership prevailed, and where we may also inspect the actual results of his policy and its execution; carefully. Intervention in Libya is the authoritative testament to David Cameron's leadership. It tells us better than anything else available, what we may expect if our MPs follow his judgement.
Most of what I present below is presented in David Cameron's own words, or his Government's official words, and is accompanied where relevant by such appropriate facts and a timeline that are not generally disputed.
Let me begin with David Cameron's own account of the triumph of his policy in Libya. I have provided below excerpts from David Cameron's speech on the results of his Government's military intervention in Libya to the House of Commons, 5th September, 2011:
"Today the Libyan people have taken their country back. Ordinary Libyans from all walks of life came together and rose up against Qadhafi. From the villages of the Nafusa mountains to the tower blocks of Misurata, the alleyways of Zawiyah and the streets of Benghazi the Libyan people fought with incredible courage. And the struggle is not over. They still face forces loyal to a dictator who last week threatened to turn Libya "into a Hell." And the long work of building a new Libya is just beginning. But what is clear is that the future of Libya belongs to its people. The task of the international community now is to support them as they build that future. That means helping to finish the job ensuring security, helping to address the immediate humanitarian needs and supporting the Libyan people as they lead the longer-term process of reconstruction and political transition. Britain has been at the forefront of the military operation to protect the Libyan people. Our planes and attack helicopters have made 2,400 sorties across Libya carrying out one fifth of all NATO airstrikes, against some 900 targets in Qadhafi's war machine. Our warships have supported this effort, helping enforce the UN arms embargo, and bringing aid to those in need. At its peak, some 2,300 British service men and women were deployed on Operation ELLAMY with 36 aircraft including 16 Tornados, 6 Typhoons, 5 attack helicopters, tankers and specialist surveillance aircraft and helicopters……supported over the course of the operation by 8 warships and a hunter-killer submarine. Turning to security, the early signs have been encouraging. There has been some looting but it has been focused on symbols of the former regime. The National Transitional Council is moving to stand down fighters from outside Tripoli. The police are returning to the streets. And the Council leaders have been clear and consistent in cautioning against disorder and against reprisals. What is emerging now, despite years of repression, and the trauma of recent months, is immensely impressive. Enormous difficulties lie ahead but the Libyan people are showing the world their resilience and spirit. In a far-reaching Roadmap and Constitutional Declaration the new authorities have set out a clear vision and process for a new democratic Libya.This is not being imposed from above; it is being shaped by the Libyan people. And Libya's new leaders are clear about the sort of Libya they want. At the Paris Summit, Chairman Abdul-Jalil spoke of his determination to build a society of tolerance and forgiveness, with respect for the rule of law. A national conference will bring together all the tribes, civil society, men and women, from east and west, united to shape the political transition. And they are planning for a new constitution and elections within 20 months. Britain is also in discussions in New York about a new UN Security Council Resolution to reflect the new situation. The new Libyan authorities must now be able to represent their country at the United Nations, as they did last week at the Arab League. I also look forward to building a bi-lateral relationship with the new Libyan authority. We have close relations with the National Transitional Council through our mission in Benghazi. And today the UK's Special Representative is deploying to Tripoli to re-establish our full diplomatic presence. It is the Libyan people who have liberated Libya. There was no foreign occupying army. This has been a Libyan-led process, assisted by the international community. Libyans never wanted to have foreign troops on the ground. This was our view too, along with the Arab League and the rest of the international community. It was absolutely right."
(The full speech may be read and compared with these excerpts here)
David Cameron then spoke to the Libyan people directly on a visit to Benghazi on 15th September, 2011. In a speech that lasted less then 2 minutes, among other statements he said this:
"Your city was an inspiration to the world…We are proud of the role we played to help you choose freedom…Now ….. your friends in Britain and in France will stand with you as you build your democracy and build your country for the future." (see YouTube)
Thereafter, Libya slowly disappeared from the political and media spotlight, and less was heard about freedom and democracy; least of all from David Cameron. On 12 September, 2012 the US Ambassador, J Christopher Stevens was assassinated with three other Americans in an attack on the US consulate in Benghazi. Benghazi became a dangerous place to visit.
On 2 August, 2014, following escalating fighting in Tripoli between militias, Britain closed its Embassy. On 4 August, 2014 HMS Enterprise was diverted to Libya (Daily Telegraph, 3 August) in a Royal Navy operation on Foreign Office advice; and took off at least 110 people from Tripoli, mainly British but including other nationalities, to take them to safety. On 30th June, 2015 The Guardian reported Tunisian authorities as claiming that the gunman who killed 38 tourists (30 of them were British) in Sousse, Tunisia on 24th June was trained at the same Libyan jihadist camp as the two suicide gunmen who attacked the Bardo museum in Tunis in March. On 25th November, 2015 the Daily Mail reported that following a suicide bombing in Tunis against a bus carrying Presidential Guards, Tunisia will close its border with Libya for 15 days and hire 6,000 more recruits for security forces to protect the country.
The official Foreign Office advice to intending travellers to Libya (as at 29th November, 2015) is as follows:
"The Foreign and Commonwealth Office (FCO) advise against all travel to Libya due to the ongoing fighting, threat of terrorist attacks and kidnap against foreigners (including from ISIL-affiliated extremists), and a dangerous security situation throughout the country.
British nationals still in Libya are strongly urged to leave immediately by commercial means. The British Embassy in Tripoli has temporarily closed, and is unable to provide consular assistance. There is a high threat from terrorism. There have been a number of attacks and threats against westerners, western interests and symbolic targets throughout Libya. ISIL-affiliated groups have stated an intention to target foreigners. There is clear evidence that groups within Libya have both the intent and capability to carry out kidnappings and are specifically targeting foreign nationals". (www.gov.uk/foreign-travel-advice/libya/summary)
Libya is a failed state, and has, without much room for doubt, been turned into a living hell. And where, precisely is Britain's presence now in all this? When was the last time David Cameron spoke about Libya, or about continuing British efforts there? What are we doing now about Libyan security, democracy and freedom?
I have simply presented above David Cameron's defence leadership CV, mostly in his own words, or his Government's carefully chosen official words. I rest my case.