The Coalition of the Wailing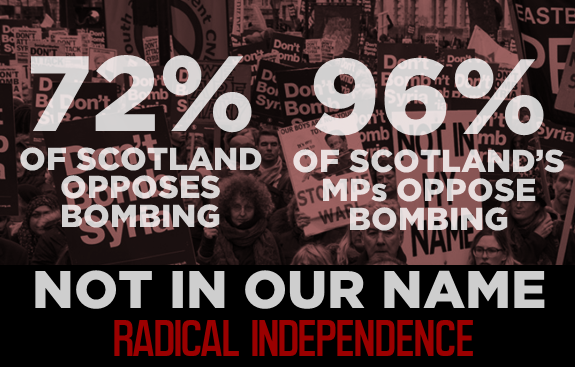 This about the legitimacy of the British State, how it operates and who it represents.
Here we are, impotent and unable to change the course of a British military state; unrepentant, incoherent and high on war. They will bomb away despite the opposition of the voice of sanity from the SNP and some few Labour voices. The history books won't record the vote as 'not in our name', but this will give impetus, as Iraq did before, to the new independence movement to come.
Make no mistake, this is a moral and humanitarian disaster.
The year started badly. Here are the Parliamentarians listed on the final guest list and seating plan for the Annual Defence Dinner (ADS) (3 February 2015). which include: Brian Donohoe, Gemma Doyle, and Margaret Curran. Where are they now? They could have stood proudly by their colleagues on the green benches tonight. They could have stood, as Hillary Benn, with the deepest or irony, secured the House of Lords place his father went to court to reject. The MPS for Raytheon and BAE are sadly departed.
Of course, we've been here before.
"As depleted uranium shells rained down on Iraq, the Scottish people could take pride in the fact that the weaponry has been developed and tested in and around the Solway Firth for the past twenty years. We simply couldn't have brought them this level of liberatory democracy if we hadn't already tried it out at home."
The emotional argument has been made with great success, most noticeably by Hillary Benn MP, but the military and strategic argument has failed. Key figures in the military and upper echelons of the Tory party remain unconvinced. These are people who take a cold strategic view, and are just incredulous that it adds up at all.
Labour is in tatters. But never matter, that's been true at least since Bono's new Wing-Man led him to oblivion, several much more important issues stand-out. Here are some unresolved questions:
Who is going to fight the ground war? What's the exit strategy? What are the consequences of working with Assad? How do we work with Putin? Can anyone explain how the concept of  'Assad stepping aside' works? How would we define success? What does it do to further peace? It's an incoherent shambles unmitigated by the fact that the Kurds, who should be our allies, are being bombed by the Turks, who are also our allies.
This is an intervention based on wishful thinking and disinformation. It's British politicians oozing bombast and exceptionalism. I predict Corbyn, whatever else you think of him, will be proven right within weeks if not days and whilst politicians on both sides scrabble about for political advantage he at least stands as a man of principle. This is about British symbolism and identity, it's not about Syrian people. It's a war-urge objected to by the likes of Max Hastings, Peter Oborne and the Foreign Affairs Committee in which it's okay to slander and smear considered opposition.
We will now see a carefully coordinated campaign, not of bombing, but of media propaganda.
History repeats itself. And the unrepentant unreconstructed rump of amnesic New Labour enthusiasts should remember the Iraq catastrophe and how the media treated it all:
"Like it or not, this was in our name. Remember that as your hand marks the cross for Tony next year – whether it's fear of the revenge of Tory Middle England with the UKIP, or the Trots with their dangerous school-lunch-socialism motivating your bout of dubious self-preservation at the ballot. It's the end of the news the night of the England-Turkey game. We needed a funny little story to cheer us up after all that serious investigative reporting that's come before. What's it to be tonight? A dog in a tree? A really big pie in Guernsey? A man who found a budgie in his pizza? No. Tonight it was 'Little Ali'. Ali Ismail Abbas – you might remember him, we killed his mum Azhar who was seven months pregnant, his dad, his ten-year old brother Abbas and thirteen other members of his family and blew his arms off. Then we got all doe-eyed and Princess Di-Memorial about it, so we flew him over to Britain. Like a latter-day freak show he was soon doing the rounds, and got a new pair of arms courtesy of the 'big-hearted readers' of the Daily Mirror."
That it was thought impossible to distinguish before between Tory and Labour front benches used to be dismissed as a joke, a student-politics cliché. Now it's a painful reality. We can expect war-porn in bucketloads in the coming days. In fact it's kicked off already as gushing Unionist scribes acclaim Scotland's military role in the attack. As RAF Lossiemouth fighter jets are on standby, this is what the reality of 'pooling and sharing' looks like. Just remember: Stronger Together, Safer Together. Repeat it softly to yourself as they take off.