Scotland: The Utopia That Never Was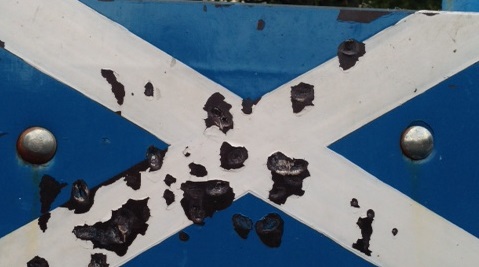 According to some, getting retweeted by No voters and unionist journalists, occasionally, means you are being endorsed by the establishment.  All my dead family and friends will be spinning in their graves at such a thought.  For people so keen to label others they disagree with as apologists for all sorts of lurid and obscene things, did you ever stop to think about those of us who are always apologising for you?
Yes, you, the morally certain, reactionary branch of the dead Yes campaign.  An obtrusive minority of unconsidered opinion that unconsciously exploits every political moment – even the ones where people die – in the singular pursuit of re-animating a corpse for one last blind lunge toward freedom.
If Scotland is a cheap haircut you are its puritanical fringe.
You intend to vote SNP twice next year because you love democracy.  You call the First Minister Nicola.  You think Braveheart is a documentary.  You have The National delivered directly to your ego and you live in a world where the next referendum is always around the corner – should the right crisis occur.
What a paragon of virtue you are.  Except there is one thing you haven't considered fully that I want to draw your hysterical attention to:  the independent Scotland you dream of is actually no more moral, or just, than the Union.
Sorry but it's true.  Furthermore, you're not actually that radical.  You just buy into slick branding and political sloganeering that makes you feel like you are.  You're not a revolutionary force; the UK media just tricked you into thinking you were so it could dissuade people from voting for your proposals.  In fact, the kind of independence you want is really quite shallow, short-sighted and self-serving.
Your argument for independence is that Scotland would be better off?  Well my friend, there is no great virtue in doing something because you think it will make you better off.
Your naivety and willingness to internalise left-sounding political rhetoric has led to a marginalisation of genuinely left-wing thinking – advantage Tories – which, by your own logic, is immoral.  You have actually overtaken the left as the biggest existential threat to the left; setting back the potential for radical politics in Scotland for many years to come.  I'm not even saying that's a bad thing I'm just saying that's what's happened.
And into the bargain your non-critical moralising and refusal to consider complexity is having a genuinely dangerous impact on public discourse.  Some of us – from within the Yes voting population – have to push back against it.
This is not about SNPbad.  I've been voting SNP for years – this is about the freedom to scrutinise all forms of political power wherever that scrutiny may lead.
No doubt you're half way through your three page retort in the comments section.  But did you know I've actually been voting SNP since 2006?  Did you know I actually hid that fact from my own family who were raised to be skeptical of nationalism?  Did you know I've shared platforms with both 'Nicola' and 'Alex' in my capacity as an activist and that I never minced my words then either?  Did you know I'm not known for schmoozing or that I wasn't created in a test tube in 2014 to amplify your narrow message alone?  If people out there think I'm changing my tune post referendum then they clearly don't know what my tune sounds like.
I grew up in Pollok – recognised by any real lefty as a genuinely militant, socialist hub, rife with dissent, where activists operated in the community as a parallel local authority all year round and not just before an election?
I literally grew up in political struggle so I know what radical politics looks and feels like – you are not radical and neither is your proposal for independence.   That's fair enough; you're entitled to your opinions and preferences, but stop preaching to the rest of us like you're morally superior.  You're not.
And I'll tell you why:
Ladies and gentlemen, I give you Scotland: The Slightly Less English British Franchise.
The Franchise where elites a little closer to home enjoy the perks of cronyism and privilege.  The Franchise where we remain plugged into the neo-liberal apparatus we, ourselves, identify as the root of the inequality all the masochistic Unionists apparently love.  The Franchise where corporation tax is lower than it is in London.  The Franchise where you can still go to jail for possessing cannabis, but hey, didn't we show those English twats who is boss?   The Franchise where we still operate on the same moral playing field as the union we so denounce – politically, economically and militarily insulated by NATO and the EU – while believing ourselves to be morally superior.
Scotland: The Slightly Less English British Franchise where being Scottish alone is what makes us moral.  Where being Scottish in and of itself trumps all else.  Where being Scottish is its own justification and anybody with anything critical to say is a vicious nonce apologist.
And please, spare me the 'once we're independent' argument.
I know that argument.  It's a bit like the 'once I learn Spanish' argument or the 'once I join the gym' argument.   That old, 'i'm going to learn a musical instrument because I watched a BBC Four documentary once' argument.   You know that 'once I start my diet on Monday' argument?  Sadly, that's not really an argument; it's a hypothetical comfort blanket.
Power – political or otherwise – does not share your affection for Utopianism.  The reality is the land owners and the corporate forces and all those other murky things we want to pretend don't exist in our Yes bubble, will lean heavily on their friends in any government irrespective of national borders.  I'm no expert but I think that's how structures of power work.  In fact, an independence movement led by this kind of political pragmatism wouldn't even secure a Yes vote without support from the same amoral forces many of you claim you want Scotland rid of:  billionaire donors, multi-national corporations, media oligarchs and partisan hacks.  How many of us were praying Rupert 'News of the World Phone Hacking Fox News Israel Lobby' Murdoch would endorse a Yes vote?
What is so moral about that?
To everyone else who knows what I'm talking about, you're not splitting 'the movement' by pushing back against aggressive thought-policing from people who don't even know they're doing it.  Nationalism in its basest form, like all diseases of perception, is virtually imperceptible to the sufferer.  So when a nationalist swears blind they are not a nationalist, at least you know they are telling the truth.  Sadly, an intense emotional attachment to ideology has left them vulnerable to skillful manipulation from both sides.  And they have pushed me away from a party I have been supporting quietly for nearly 10 years.
It's ok to acknowledge nuance.  It's ok if your opinion evolves.  It's ok if you were wrong and it's ok to change your mind.  People will call you a sell out or an intellectual slave but those insults are part of their story – not yours.  And do not be ashamed of protecting your own interests.  Everybody does, but some like to think they put others first because it makes them feel all fuzzy inside.
Look at the fractured world around you.  See what stubborn, uncritical moral certainty is doing in every corner of the globe.  There is a fine line between standing by your principles and fencing yourself off from reality.  Engaging and understanding an opposing point of view doesn't make you an apologist or a sympathizer, it makes you a richer, fuller more tolerant and useful human being.
Morality does not come from the politics we claim but from the manner in which we carry our message to others.
There's more to all of us than cognitive dissonance, audience bias and self-exalting moral outrage.
Now surely someone like me, who can make a point people on both sides may actually agree on, is of some use in this harsh and hostile environment?