A Response to the Daily Mail Bile
It's hard to continue to be shocked by the moral sewer that is British tabloid journalism. But as a sheer act of pre-Christmas bile and bigotry, it's hard to get past Sue Reid's Daily Mail article on refugees coming to Bute. Reid, who specialises almost exclusively in stories stirring racial hatred, purposely ignores the wave of support and generosity that has been provoked by the worst refugee crisis since the Second World War. Scotland is the new home of about one-third of the Syrian refugees who have arrived in the UK so far, and the movement has been coordinated not just by the Scottish Government's Minister for External Affairs and International Development Humza Yousaf and our First Minister, but supported also by the National, local authorities, churches and civic groups such as the "we have room" hashtag Refuweegee, Rooms for Refugees and other groups.
At the Renfrewshire Refugee Summit, Bishop John Keenan of the Diocese of Paisley said: "The people coming here are refugees. Perhaps another way of thinking about them is to understand that they are individuals who have faced extraordinary circumstances and hardship. They have lost their homes, their community, and their country. Many of them will have lost loved ones in the conflict. Imagine how we would feel if that happened to us or our families."
Post-Paris Nicola Sturgeon said: "These people are fleeing their homes in the search for protection and security, and we are their refuge, following Friday's deadly attacks in Paris. "We cannot let the actions of the few destroy the safety of the many."
The article, which we won't link to, is riddled with factual errors, and, in the opinion of the Guardian Scotland correspondent, Libby Brooks, is ripe for complaints to the Press Complaints Commission (PCC).
The Mail has decided to break the carefully protected anonymity of the tiny group of people we are talking about, their journalist highlights in mock outrage "15 families have arrived on the tiny island of Bute, off the West of Scotland". Fifteen. The place will be overrun.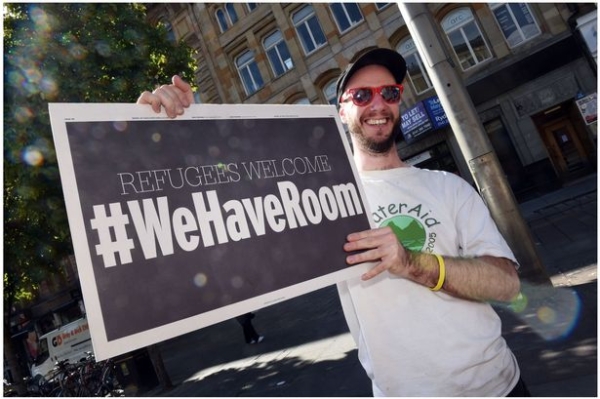 Getting into her stride Reid writes: "The families have been given free accommodation and, at a church hall in the town of Rothesay, can pray five times a day, if they wish." Imagine, allowing people to actually pray. What kind of commie hell hole are we running here?
Desperately trying to stoke discontent she explains how: "Home Secretary Theresa May tried to reassure locals by saying all arrivals would be screened to ensure they did not pose a security threat, amid fears that some would-be terrorists who have travelled to Britain posing as refugees."
Not only does this wilfully ignore the reality that the evidence for 'terrorists as refugees' has been completely discredited and the Paris attackers were homegrown French and Belgian nationals, it suggests a state of fear and demand for reassurance from locals that is a fabrication of this journalists disgraceful agenda.
Now tumbling into a tirade of meaningless bigotry, Reid continues: "Although this is one of the most impoverished parts of the UK, the Home Office says each adult migrant is eligible for £200 emergency cash to tide them over until they are given National Insurance numbers which will entitle them to claim state benefits. Under a settlement programme funded by Whitehall, the families also get free heating, lighting and their council tax bills are being paid."
So, we have the magnificent combination of this being subsidised by Whitehall and yet a drain on local resources. Note the subtext: feckless work-shy Scots being subsidised to look after similarly work-shy Syrians. Of course Reid is desperately confused, are these bastards over here to steal our jobs/women AND take our wonderful benefits?
Blustering she writes: "A charity musical evening has raised funds to buy new mobile phones for the migrants …" – wait a minute, I thought the community was up in arms? Now they seem to be hosting charity evenings in support of the refugees. Half of the outrageous facts she cites seem based on a communities spontaneous reaction to people in trouble being welcomed onto their island.
She goes on: "Meanwhile, eyebrows are being raised over the fact that Roman Catholic St Andrew's church hall, in Rothesay town centre, is being used as a day centre for migrants. Here, children park their sparkling new bikes, play with donated toys, while their parents often linger outside smoking."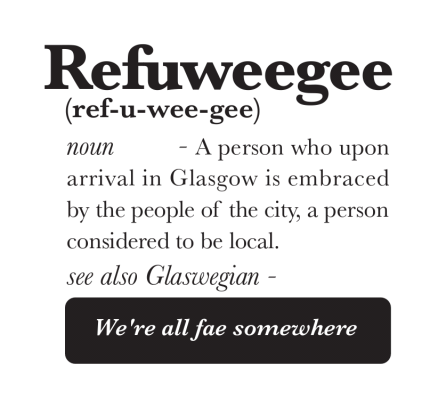 For all its faults and failings the Catholic Church has a proud record of support and solidarity for people in need (including SCIAF). The only eyebrows being raised are from the spiteful racists at the Daily Mail. No-one would raise eyebrows about a church in Scotland doing charitable work. And people smoking? What you've been displaced from your war-ravaged country and had to flee across borders and live with small children in a refugee camp, and you're smoking!
The refugee resettlement is being carried out on an entirely voluntary basis by local authorities who have offered their help, and is being coordinated in a considered way by the Scottish and UK governments. All of the funding for these families that Reid is attacking comes from central government rather than out of the council's pocket. So any suggestion that somehow other local provision is being undermined is wrong.
The Daily Mail's article stands in sharp contrast with the island's own Craig Borland, editor of the weekly 'Buteman' who penned an editorial arguing:
"I want Bute to be a place where people who come here with little more than the clothes they are standing in can feel safe and at home. I want Bute to be a place known not for narrow-minded bigotry, but for its warmth, and humanity, and willingness to help people with nothing in whatever way it can. The families coming to Bute have been through things we can't begin to imagine. Surely as human beings we have a duty to help. But more than that, we have an opportunity to show them, and the world, that Bute is a wonderful place to call your home. There is space in our schools and there is spare social housing, and many, many people want to help our new neighbours to settle here. I would love it if some of them wanted to stay in our community and put down roots here."
 The families coming to Bute have been through things we can't begin to imagine. Surely as human beings we have a duty to help. But more than that, we have an opportunity to show them, and the world, that Bute is a wonderful place to call your home.
Sue Reid and her newspaper little more than a contaminant on public life. We shouldn't let her newspaper undermine the practical solidarity that is being offered to people in dire need. As well as boycotting this paper you can also:
Support the Scottish Refugee Council crisis appeal here.
Or you can Host a Refugee with Positive Action in Housing here. So far in 2015, Room for Refugees has given 2,489 nights of shelter to refugee, migrant and asylum communities in Scotland and the UK.
Or you can support SCIAF's crisis appeal here.