Britain's child soldiers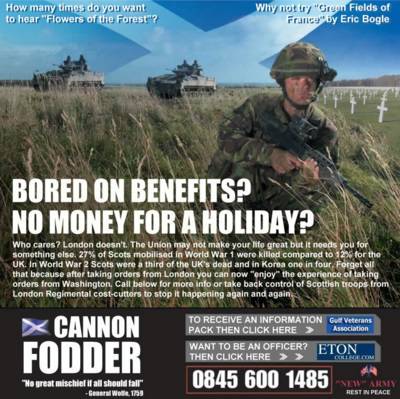 The UK remains the only country in Europe to recruit 16-year-olds into its armed forces. This is despite recommendations from the United Nations committee on the rights of the child and the parliamentary joint committee that the minimum age for recruitment be raised to 18. According to ForcesWatch, a network that scrutinises the ethical basis of the armed forces' recruitment of young people, that it costs twice as much to train a 16-year-old as it does an adult because of the longer training and higher drop-out rate. It is a curious anomaly that 16-year-olds cannot vote, or drive a car – but they can join the army.
The UK military recruits 2,000 16 to 17-year-olds, making up a quarter of all new enlistments, according to figures compiled in a parliamentary briefing by Child Soldiers International. Following an outcry over the deployment of 17-year-olds to the Gulf War in 1991, and to Kosovo in 1999, the armed forces amended its rules stopping soldiers under 18 from being sent on operations where there was a possibility of fighting. Despite this, at least 20 soldiers aged 17 are known to have served in Afghanistan and Iraq due to errors by the MoD.
According to the UN research, that 16-year-old recruits are much more likely than adults to suffer bullying and harassment, to develop serious mental health problems, to be injured in training, and to be killed once they reach deployable age. The Department for Education's (DfE) 'military skills and ethos programme' encompasses a number of schemes including extended cadet provision within state schools, the Troops to Teachers scheme and substitute provision for pupils at risk of becoming disengaged, including the Military to Mentors  and Challenger Troop, a full me uniformed programme for 10-16 year olds. In 2012, the Government chose Armed Forces Day to announce their aim of creating 100 new cadet units in English state schools.
In 2015 the military ethos promoted in schools by the Ministry of Defence and the armed forces is both more prevalent and more sinister. However, there can be little doubt that the thousands of annual visits to secondary schools and colleges made by the armed forces, together with the estimated £26m that the MoD spends each year on combined cadet force units, are designed to act as an enticement to a career in the services. As the learning resource package, sent in 2014 to every school in the UK by the Department for Education, noted, it is "always challenging and fun".
After a six-month trial, 16-year-olds are locked in to the forces until they reach 22, meaning a life-changing decision is made at a brutally young age, says Veterans for Peace co-ordinator Ben Griffin, 37, who served in Northern Ireland, Iraq and Afghanistan in the SAS and the Parachute Regiment. He said his experiences gave him an "obligation" to tell teenagers the truth.
Meanwhile, as the armed forces continue with their policy of targeting their school visits excessively to schools in deprived areas and children from low-income families, the Department of Education ignores the UN's recommendations that some form of peace education should be part of the curriculum in UK state schools, and supports initiatives encouraging a military ethos.
According to ForcesWatch report, the armed forces recorded 1783 visits to 377 Scottish education institutions. 1455 visits were to 303 Scottish state secondary schools, of which 42% were made by the Army, 31% by the Navy and 27% by the RAF during the academic years of 2010-11 and 2011-12. This equates to an average of two visits per year for every state secondary school in Scotland.
The figures show that Edinburgh, Fife, North Lanarkshire, Angus, Dumfries & Galloway, and Perth & Kinross recorded the highest number of visits to state secondary schools from the armed forces as a whole. In addition, all Army visits were made to state secondary schools; they made no visits to independent schools.
The military rely on a very narrow definition of 'recruitment' to counter fears that it is taking place in schools. However, the picture presented here suggests that, with a more commonly accepted understanding of the term, significant ethical questions are raised for both schools and armed forces personnel that visit them.
A comparison with the Scottish Index of Multiple Deprivation also suggests that there is not a straightforward link between deprivation indicators for individual schools and number of visits; while over half of schools which received 10 or more visits in two years (18) were either in or adjacent to the 30% most deprived areas in Scotland, 10 of these schools were in the 30% of least deprived areas and not adjacent to other areas of deprivation.
One factor that could explain why there is no apparent link between indicators of deprivation and the number of armed forces visits to schools in Scotland, while the London study does show a link, is that the proportion of schools visited is much higher in Scotland than in London; it is possible that the high level of coverage renders prioritisation between Scottish schools on socio-economic grounds less important.
Emma Sangster from ForcesWatch, commented:
"It is clear from this research that the armed forces put a significant amount of time and resources into visiting Scottish state secondary schools and some schools receive many visits during the academic year. While the Ministry of Defence deny that the armed forces actually recruit in schools, we know from their own documents that these visits have a recruitment purpose, and at least one-third of visits are explicitly about a career in the armed forces."
According to information from  the
Both ForcesWatch and Scotland's largest teaching union the Educational Institute of Scotland (EIS) have called on the Scottish Parliament to follow the Welsh Assembly's lead and officially debate the issue.
"We hope the Scottish Parliament will look at this issue and how to ensure that schools are not used to further non-educational agendas," Sangster added.