High Land Hard Rain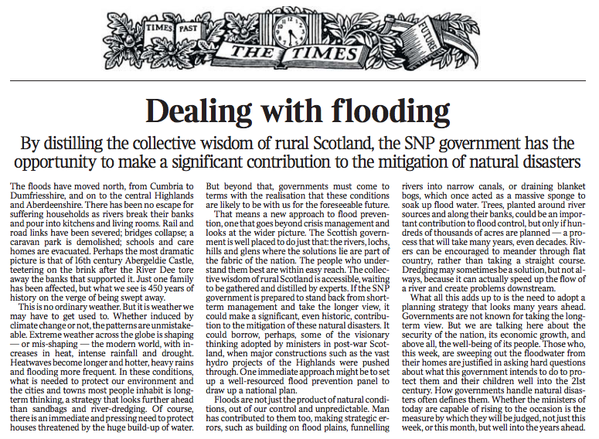 If an upturned boat is a watershed, what's a country whose rivers have burst their banks? A deluge? A torrent? As climate change literally batters down your door and floods your living room, the response is characterised by a bluff 'hale, hearty' 'Spirit of the Blitz' response, and a series of chipper media stories about community spirit, or a benign but balefully dense 'Isn't this a bit unusual!?', or still worse a bit of timid denialism. The Times managed a rather coy: "Whether induced by climate change or not, patterns are unmistakeable".
The Association of British Insurers have declared the cost of the recent floods in Scotland at £1.3 billion, but it's not really about money any more, is it? In a more sobering declaration, James Curran, the former chief executive of the Scottish Environment Protection Agency and a leading climate expert said yesterday: "There is no natural weather any more. The world is now warmer by one degree centigrade than it would be without climate change – so there is no weather anywhere, at any time, that isn't man-made these days."
There is "no natural weather any more".
You're still surprised? Well we had a clue when the day of the Winter Solstice was warmer than the Summer one. That's fucked up.
The flood forecasting and river management agencies have issued flood warnings for Caithness and Sutherland, and Aberdeen. Warnings are also in place for Tayside, Ayrshire and the Scottish Borders. Hundreds of people were evacuated in Aberdeenshire after the Rivers Dee, Don and Ythan burst their banks.  Large parts of Yorkshire, Cumbria and Lancashire were swamped with devastating rainfall over Christmas while Sir Philip Dilley – the chairman of the Environment Agency – doing his best Sunny Jim impersonation was holidaying in the Bahamas.
Back in September 2013 the then environment secretary, Owen Paterson, assured us that climate change "is something we can adapt to over time and we are very good as a race at adapting". Try telling that to your insurance company as you plowter about in yer wellies.
Luckily Rory Stewart, is "the minister in charge of floods".
It's a wonderfully British response to 'send in the army'. It has a comical Dad's Army feel about it: sending in a brigadier with troops and a load of sandbags. I can't think of a more beautiful image of the depth of denial and incompetence than the state authorities trying to divert the course of rivers with sandbags in the face of – not the force of nature – but the force of decades of human intransigence and culpability, and manipulation and propaganda by the corporations that have paid for climate denial.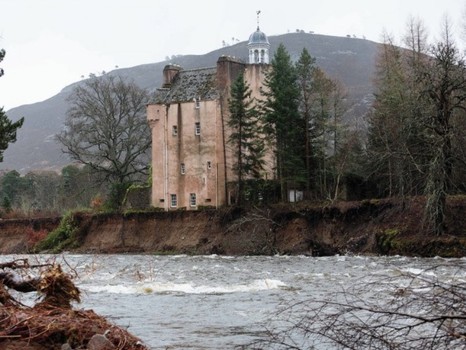 Images of the rising flood showing Abergeldie Castle teetering like an icon of feudal collapsonomics are the epitome of our predicament. The owner 'Baron Abergeldie' and his wife had to flee after realising it was too dangerous to remain in their ancestral home in Aberdeenshire.
The laird we're told 'regularly rents out portions of his 11,700-acre estate to royal shooting and fishing parties, and the castle itself was leased to the royal family between 1848 and 1970 before Gordon moved back to the 450-year-old tower.'
Here we all are, 'teetering on the edge' wondering what to do, other than flee and go and live somewhere else. The poor Baron and his wife are climate refugees just like the rest.
Large parts of Britain remain flooded as this map shows.
In fact after Storm Desmond arrived last month, reports tell us it hurled '1,700 cu m, the contents of an Olympic swimming pool, into the Solway Firth every second' — a historic record for any English river. A similar torrent was measured on the Tyne in Northumberland.
Welly Wars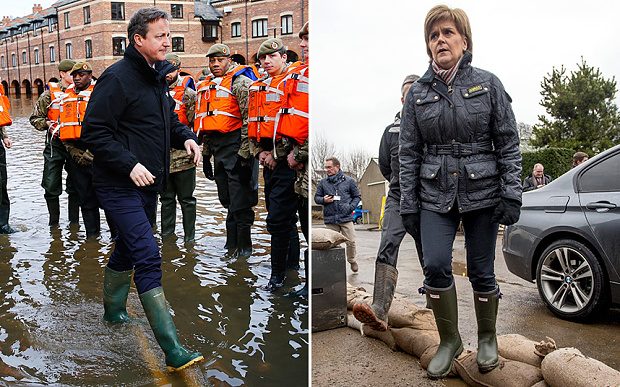 As usual everyone rushed about wondering who to blame. George Monbiot told us, rightly, ('This flood was not only foretold – it was publicly subsidised'): "Yes, Britain has been hit by massive storms and record rainfall. But it has also been hit by incompetence, ignorance and concessions to favoured interests." While the Telegraph juxtaposed Nicola Sturgeon's footwear choices with David Cameron's bellowing: "Socialist Nicola Sturgeon steps out in £179 Barbour jacket and £130 Hunter wells, while David Cameron buys £12.99 ASDA boots to look like a man of the people". The writer, Helena Norton concluded "She either keeps her wellingtons very clean, or they are fresh out of the box."
It's difficult to begin to describe how brutally banal this media is.
Still, there's always a plus-side as Reuters cheerily reminds us ('Flood clean-up promises silver lining for UK construction firms'): "While insurance stocks such as RSA and Aviva have suffered, down 7.3 percent and 6.8 percent respectively since Nov. 30, fund managers and analysts see potential upside for the likes of engineering firm Kier Group, which carries out road repairs, and Renew Holdings, whose subsidiary Amco provides services to track maintenance company Network Rail."
Rather than rub your hands with grubby glee, were is the impetus for change? Where is the 'moment' where everyone realises what's going on? Daniel Johns, the head of adaptation at the Committee on Climate Change has said that the Government claims that it increased spending on flood defences ahead of the wettest December on record are "essentially meaningless". And Adrian Gault, chief economist for the committee concluded that UK Government energy policies 'will increase CO2 emissions'.  The fact is we are mired not just in flood-sludge but our own government failures. In a report quietly published last month showed, efforts to cut government's carbon emissions, domestic flights, waste and water usage fell short on all counts.
We're not any better here. Every year, year on year the Scottish Government fail to meet their own targets. 
It's a mesmerising slow repeat.
The Flood should be an epic call to arms, instead it's an excuse to retreat into cliche and business as usual with stock images of policeman in rowing boats ferrying grannies out of their house. This should be a game-changer of consciousness. When Abergeldie Castle tips into the Dee let's hope it makes a splash.