Smart Grid Super Grid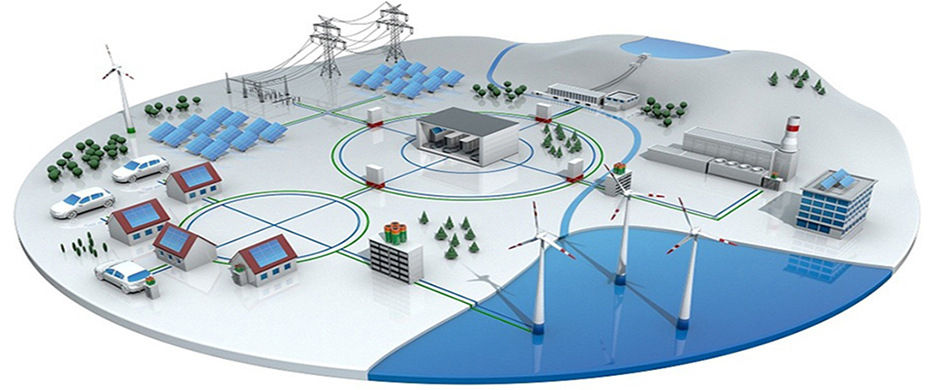 As the North Sea wanes, we have an opportunity to replace what will become an increasingly anachronistic oil industry with a clean energy network connected to our peers in Europe – instead of selling barrels of oil, we will be selling power from clean energy sources. Though weather patterns may sometimes be similar across Northern Europe, behavioural patterns and time differences mean there will always be opportunities to sell electricity across borders, as well as the skills needed to develop, build, and maintain these networks. This will in turn reduce our dependence on pollution-heavy fossil fuels both domestic and imported.
The North Sea grid between Northern Europe, Scandinavia, and Britain offers untold opportunities to wind, wave, and tidal energy generators in Scotland. The exact form it will take and who will pay for it are as yet uncertain; if the UK leaves the EU it's hard to know if we'll even be able to participate in the scheme.
Though the oil experts may have drastically overestimated the value of the black stuff beneath the North Sea, we are all criminally underestimating the potential value of the wind and water that shape it. The best way to mitigate risk and variability is to spread it, and the EU supergrid not only facilitates increased electricity market competition domestically, but allows import and export of electricity across borders to aid network stability at a time when resources are becoming volatile and declining in supply.
To illustrate the significance of the EU Supergrid, one has to briefly explore how the transmission networks operate. The electricity networks are a thrashing, confused, and temperamental beast.
Electricity is typically generated from two types of generators – synchronous and non-synchronous. Wind generation uses non-synchronous induction generators, while conventional generators are synchronous. Synchronous generators help stabilise the networks. That is, if a generator fails, you need a lot of synchronous generators available to offset the drop in output and maintain voltage levels by resisting changes to the system- essentially acting as a electromagnetic flywheel. Lots of wind power undermines this because they generally can't provide inertia, meaning voltage drops, flickering, or brownouts happen if there are faults. Gas, coal, pumped storage, and nuclear powered turbines are good at providing system inertia because their big, hulking motors can resist sudden changes in the network.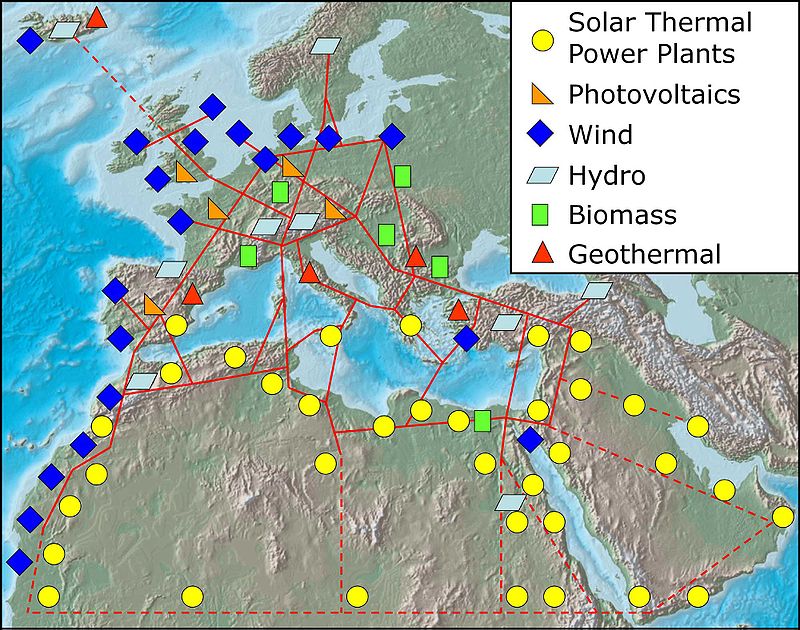 The problem then is how these generators interact, how they are connected, and how they connect with demand centres. This has profound implications for how our energy markets operate. Electricity isn't like any other market; supply and demand must always be equivalent, and hoarding is impossible or expensive. The market is moving towards a system whereby services will be provided such as demand aggregation, deferral, or capacity, to help ensure the system is always in balance. For example, a demand aggregator may pay consumers to defer using electricity at peak times to alleviate congestion on the network, or may pay a generator to constrain output at times of low demand. A capacity market is beginning to emerge whereby generators are to be paid to leave spare capacity available to accommodate increased renewable energy penetration. These are good things and will support the more dynamic power networks we're heading towards.
Let's imagine it's an incredibly windy day in Scotland at 1AM. There's very little demand, so Scotland is sending all of its excess down to England. France is selling its excess nuclear electricity to England because it has to shed the generation, so is selling the electricity at a dirt cheap rate. There is very limited interconnection to Scandinavia, Ireland, or from the Highlands and Islands to Central Scotland and the South. Put (very) simply, buyers bid for electricity from sellers (generators) which may then be resold to domestic or commercial suppliers through intermediaries.
Nuclear goes first, because it has to: the lack of demand means prices are low and nuclear generates a significant amount of electricity which can't be curtailed.  Lack of transmission from energy rich areas like the Highland and Islands to neighbouring nations such as Norway or Eire punishes conventional generators such as gas and coal, who either have to switch off generation or maintain it at a low level, as well as renewable generators, who have to curtail their outputs. This wastes electricity and money as nuclear generators flood the market with cheap Megawatts, dragging the price of electricity down.
In areas of high generation and low demand, there is a need to get as much electricity out of that region as possible. This becomes a problem because, in this situation, generators such as gas and coal have to run at their minimum stable level or shut down altogether. They simply can't match the low prices of other generators at these times. If wind and nuclear expand beyond anticipated generation, this will happen with increasing regularity, risking stranded assets, unprofitable generation and market failures. Wind energy is cheap but the infrastructure to integrate it effectively can be complicated and may have externalities beyond simply the variability (NOT unpredictability) of the resource.
We are very good at predicting the wind with minor margins of error, but the more we expand wind without increasing our capacity to export our electricity at times of low demand and peak generation, the more duress generators, transmitters, and distributors will be under. This, ultimately, means bill hikes for you and me (and this is partly why low gas and oil prices are only slowly reflected in electricity and gas bills). Some would paint this as a technological risk not worth taking- but wind's economic benefits and ecological necessity mean this is a problem in need of a solution. Enter the European Super Grid and Smart Grid Concept.
Given current planned expansion to the SHETL (the electricity transmission network of Scotland and the Highlands and Islands), there could be the capability to transmit about 70% of Scotland's peak winter demand between Scotland and England at any one time by the 2020s. On a grander scale, the EU has set a non-binding target for nations to be able to export 10% of their capacity to their nearest neighbours. The market implications of this are profound. Currently, in an area with limited distribution or transmission capabilities, there may be captive markets where a lone generator is the best provider in that network because there simply isn't the grid capacity for other generators to supply to that region. This may mean, in particular, heavily polluting generation cornering local markets or inflated prices.
The inability to import electricity at periods of particular network strain, paired with a lack of capacity following a series of generator failures, led to one generator being paid over £2,500 per MWh in November of last year. For perspective, Hinkley Point C is being guaranteed over £95 per MWh, and that is double the current market rate for nuclear. A lack of transmission and distribution capacity means a lack of competition on the market, but generation companies have little incentive to expand transmission capacity within a network because it only serves to undermine the profitability of their assets. This is why schemes need to be encouraged and developed on a national and supranational scale – the market requirements of different actors can be mutually exclusive with what the system needs to maintain stability.
The problems with the market, the need to decarbonise generation, our apprehension towards developing rural areas, and Euroskepticism are all intrinsically linked. We need to decarbonise electricity, but doing so changes how our networks operate and may leave us more vulnerable to outages due to faults if legacy architecture can't cope. Even with factors like the Supergrid, the technoeconomic challenges facing the electricity networks should concern us all.
We need more transmission and distribution infrastructure, but reluctance to develop the countryside based on anachronistic and idealistic views of our rural environment stymie essential developments. We need communication systems to control our electricity networks but these are open to disruption and cyberattack. We need to share the burden of a decarbonised electricity system with our neighbours, and the EU Supergrid is the best proposal for doing so, but without the EU we don't know how it will be funded because the market struggles to provide transmission infrastructure until it absolutely needs to. Smart Grid technology can ameliorate some of these problems if properly implemented, but it's no panacea. If we go the way of Australia, where distribution networks commonly export to the transmission network, the profitability of our transmission operator – National Grid – becomes increasingly precarious and dynamic with complex and potentially damaging consequences that are difficult to anticipate.
These challenges cannot be met purely by politicians or the market. In darkened corners, engineers talk of the concept of a "System Architect". The market, many believe, will not itself resolve the challenges facing energy production, while politicians are often unreliable and simply won't be able to create the sophisticated regulatory schemes needed to maintain network stability. As a result, some engineers are essentially calling for central planning of the electricity system – and given the challenges facing the system there's a compelling case to be made. Among the problems with this, of course, is that electricity networks rely heavily on telecommunications equipment – much of which is leased from Vodafone –  and the system is almost inoperable without it. To fully nationalise or centrally plan the power networks, we'll have to take control of a hell of a lot of communications infrastructure too.
We all face incredibly hard decisions to keep the lights on, and a lot of people are going to be very unhappy with the solutions. The power companies, the middle-class countryside nostalgists, the people of poor, underdeveloped rural communities, or poor people in the Central Belt unable to afford electricity, will have to make sacrifices. The challenge facing policymakers, and society in general, is, therefore, upon which of these groups the greatest burden is placed. If Scotland has any aspirations of becoming a more socially just, egalitarian nation, the choices will not be straightforward.