Dangling on Boris's Zip Line
It's becoming increasingly likely that England will vote to leave the EU and Scotland will vote to remain, meaning Scotland will could be dragged out of the EU against its will. This, after being promised its membership of the EU would be secured by voting No in Scotland's Referendum.
Who will vote to leave the EU?A university graduate is more than twice as likely to want Britain to stay in the EU than someone with no qualifications.What else do we know about how people will vote in the referendum? And what does it say about the deep divisions in British society?

Posted by Channel 4 News on Friday, 19 February 2016
Whilst the elections to the Scottish Parliament will now be dominated on all UK media channels by the likes of Nigel Farage, George Galloway, Boris Johnson, Michael Gove and all in a debate we didn't start for a political cause we don't support. It's the Tory civil war that dates back to the early 1970s, a division in the English elite that threatens to put Scotland in European exile. We are being dragged into this as Cameron tries desperately to appease his own right-wing in his own party and beyond. John Rentoul explains ("Cameron is finished") that: " it looks as if the Leave total will be close to half of the Parliamentary Conservative Party. That's 165 MPs."
Little is of substance in this spin-cycle and the opportunity to challenge the real crisis of Europe has been missed, as Jeremy Corbyn states: "He could have been using Britain's leverage to stop the threat to our services and rights in the secretive Transatlantic Trade and Investment Partnership (TTIP) negotiations; to build human rights and environmental protection into future trade treaties; and halt the pressure from Brussels to deregulate and privatise public services. He could have been arguing for an end to self-defeating austerity and for the strengthening of workers' rights across Europe."
The contradictions come thick and fast: older voters apparently are far more likely to vote against continued union; both Kevin Pringle and Nicola Sturgeon will utilise arguments for continuing Union in the coming months that will have startling familiarity to some, but the principle contradiction is that a central case of the Better Together charade was about continuity, security and our place in Europe. That is now exposed as farce.
Whatever Happened to No Borders?
Many of the people that will be dominating your screens in the coming months spouted hours of broadcast time exorting us to unity and cooperation and deriding us as racists. The irony is monumental.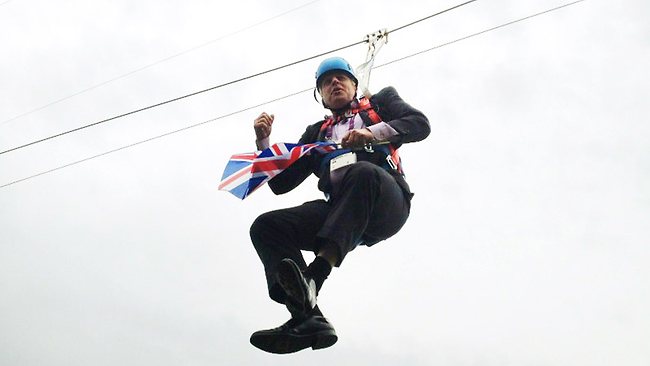 That this shambles of sovereignty is being run by a handful of careerist opportunists like Boris and George adds insult to injury. The reality is that Scotland's place in Europe lies dangling on a zip-line like Boris on a bad day. Announcing his support for some sort of 'liberated' Britain, the unfortunate Michael Gove issued lines that should be etched on everybody's memories and enshrined in Scottish granite and embedded in the Holyrood wall: "My starting point is simple. I believe that the decisions which govern all our lives, the laws we must all obey and the taxes we must all pay should be decided by people we choose and who we can throw out if we want change. If power is to be used wisely, if we are to avoid corruption and complacency in high office, then the public must have the right to change laws and Governments at election time."
A stronger case for a Scottish democracy couldn't be made. Thankfully the hubris and lack of awareness of the British elite makes this ever more likely.