Scottish Tory Failure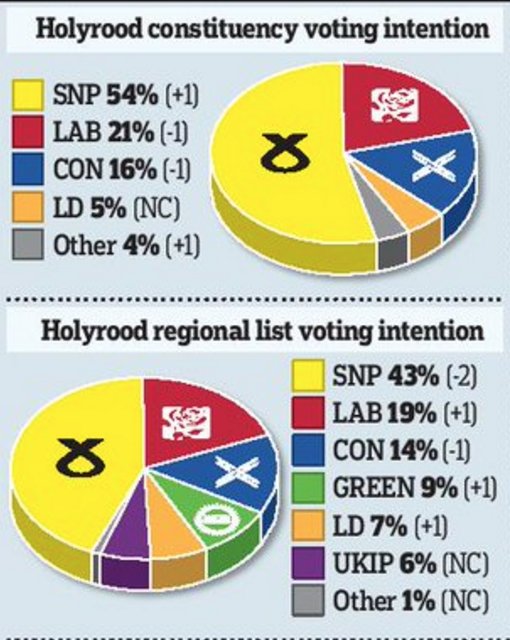 Three things stand out from this mornings latest Survation polls for Holyrood 2016. First, the much heralded Tory revival has failed to materialise despite acres of media coverage of Ruth Davidson and her daily photo opportunities. Tom Costley, Head of TNS Scotland: "There is no evidence from this February data that the Conservatives in Scotland have made any progress in narrowing the gap with Labour, to claim to be the second party – indeed, if anything, they have fallen back a little. With nine weeks to go, time is running out for opposition parties to make real inroads into SNP polling dominance." What does this mean for Ruth? It probably means damage limitation and staggering on.
Second Labour will be wiped out, but not humiliated. An interesting concept in itself. What does this mean for Kezia? It probably means damage limitation and staggering on.
Third, we can see the contaminant of the timing of the EU referendum in the rise of UKIP, or is it perhaps David Coburn's stirring oratory and fine-detail on policy that is attracting support?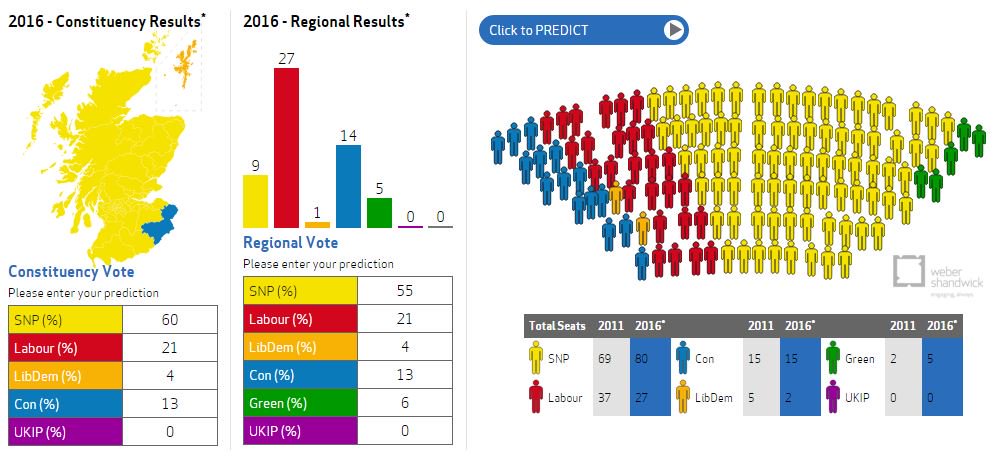 However another poll – given the Scotland Votes treatment gives a different picture. The second #sp16 poll of the day put through the seat predictor
gives: SNP 80 LAB 27 CON 15 GREEN 5 LIB DEM 2
That might be a disappointment for an ambitious Scottish Green Party campaign hoping for more seats, but it would give a very comfortable pro-indy majority (85 – ) 44) and more than doubling of the Greens presence with:
Alison Johnstone (Lothians)
Patrick Harvie (Glasgow)
Mark Ruskell (Mid Scotland and Fife)
John Finnie (Highlands and Islands)
Maggie Chapman (North East Scotland) possible.
It shows too that there's much to play for in the EU debate and how people understand the UKIP message and meaning.