War is Coming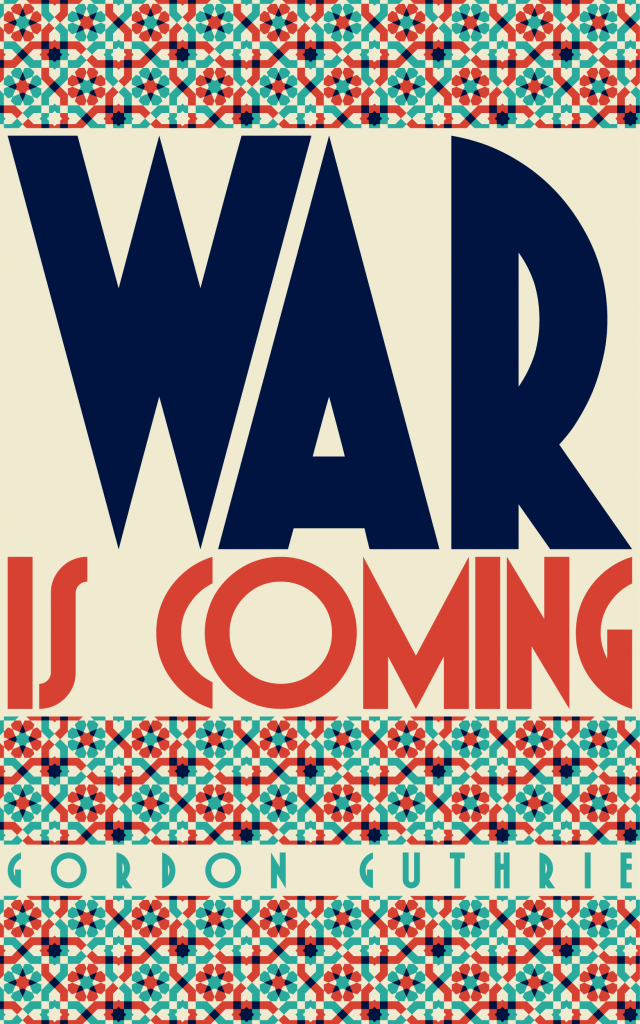 'War is Coming' by Gordon Guthrie is the first of a new series of ebooks published by Bella Caledonia. It charts the last thirty years of British foreign policy failure confusion ineptitude and cowardice. We launch at the Voodoo Rooms on Wednesday 27th April at 7pm with a presentation by the author and a drinks reception.
Get your tickets here. All proceeds to the Scottish Refugee Council.
"You may not agree with some of Guthrie's analysis, nor some of his remedies, but I guarantee he will make you question your most basic assumptions about how we keep ourselves secure in the new  world order."
– Kenny Farquharson, Times columnist.
Here's an extract from the opening chapter:
The conflagration is general. We have countries in flames; Afghanistan, Pakistan; Iraq, Syria; Libya, Yemen and Somalia. Meanwhile other nations are smouldering; Algeria, Tunisia; Mali, Nigeria; Kenya, Saudi Arabia; Egypt, Kuwait; France and Israel/Palestine.
Refugees are pouring across the Mediterranean from North Africa and the Levant. There is no road forward from here that doesn't involve at least a million deaths and probably several.
British foreign policy is paralysed and incoherent. The last two years have seen three major catastrophes which remain unexamined. Firstly, the 2011 Libyan demarché, the great foreign policy success of Cameron's first administration  –  the one that overcame the post-Iraq paralysis  – crumbled to naught.
It's hard to believe that the ghastly Ghaddafi state could be replaced by something worse, a broken ruin ruled by gangsters and gunmen, and with a thriving Caliphate. A terrible metastasis of money, guns and Islamist murder gangs spread across the Maghreb.
The second foreign policy disaster occurred within our continent. Putin's invasion and annexation of Crimea in February-March 2014 revealed our sworn treaty obligations to guarantee the territoriality of Ukraine to be just rubber cheques.
When ISIS burst out of Syria and back into Iraq seizing the nation's second city of Mosul in June 2014 the nominal strength of the UK and US trained Iraqi army was 365,000.
After two months of fighting against the head-and-hand-chopping, pickup-truck-driving sweepings of minor European Polytechnic Media Studies Departments reduced it to a rump of 10 to 12,000 effectives.
These three foreign policy catastrophes should stand centre stage in British politics, but all are present only by their absence. In this void the Westminster classes wriggled and wangled to get into the Syria quicksand.
For a good two years the frog of war was boiled. News was let slip that, in the normal course of their duties UK servicemen, on secondment to our Nato allies the US, were bombing Syria. Needless to say UK servicemen, on secondment to our Nato allies Turkey, would definitely not have taken part in Turkey's bombing of Syria  – against 'our' kurds.
Miraculously soon after this two British jihadis were subject of a UK drone strike in Syria under the ludicrous pretence of Article 51 of the UN Charter. Don't get me wrong, if I had to rank the millions who are going to die in this war on some specious spectrum of 'innocence' those two individuals would not rank so high. This pretext was gossamer thin, quite the negligee of war, just getting the public used to British forces fighting in Syria.
Pace Tallyrand, we have learnt nothing and forgotten nothing from our lost wars. Not for us any doubts about our catastrophic military failures .
On the other side the jihadis also stand over-confident. Everyone said jihadists could never beat the mighty Soviet Union in Afghanistan, but they did. Everyone said they could never beat the mighty United States, and they have.
When Al-Qaeda led 21 poor Coptic Christians to their deaths on a Libyan beach last year it was to this declaration: "We will conquer Rome, by Allah's permission". They mean this.
Gordon Guthrie grew up in the Middle East and has worked in politics through the UK, including a short spell in Belfast during the Troubles. He was a Labour Candidate for the Scottish Parliament in 1999 but resigned in the run up to the 2003 Holyrood Elections in opposition to the, then coming, Iraq War – joining the SNP. He worked on new computer systems and ways of campaigning for the SNP – trialling Activate as a Westminster Candidate in 2005 – before retiring to the back rooms.