The Cost of Union
The case for dependence was made again and again on what was cutely termed 'the harsh economic realities'. We had 'narrow shoulders' and a volatile revenue base,  if we were not too wee and stupid, we were clearly too poor.  Not so mighty Britain (now spectacularly and tragically indebted). But the true costs of the Union are sharply rising..
Only back in 2014 the costs of the strategically useless and unpopular Trident was an eye-watering £100 billion.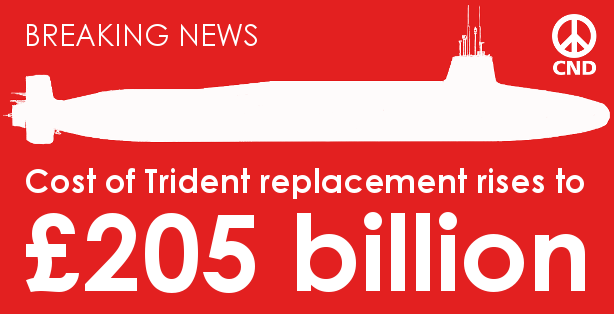 In figures released today, its doubled to a staggering £205 billion:
Manufacturing four successor submarines £31 billion
Contingency fund £10 billion
Missile extension programme £350 million
Replacement warheads £4 billion
Infrastructure capital costs £4 billion
In service costs £142 billion
Conventional military forces directly assigned to support Trident £1 billion
Decommisioning £13 billion
TOTAL £205 billion
It makes Hinkley C look like a bargain. The nuclear power station – described as the most expensive project in the world ever – is facing delays and another massive costs rise. The cost of the Hinkley Point C nuclear plant could we're told now reach almost £21bn, £3bn more than planned, the French energy company EDF has admitted, as it published a construction timetable suggesting first power could be delayed until 2026. Amber Rudd, the energy secretary, declined to comment on the potential cost increase when asked by Labour's Lisa Nandy in parliament on Thursday, but insisted that the project would go ahead.
It's only through  Freedom of Information Acts that we know the £70bn costs to clean-up of the Sellafield plant in Cumbria. Some think it could be as high as £218 billion others claim it just 'can't be forecast'.
Apart from the vast folly of these strange projects, how they put people in danger, and fail to deliver what they say they will, they are also just sinks for vast amounts of public money. Scotland's share of the cost of Trident is approximately £20 billion. At present the entire block grant is £26 billion.
This is a sociopathic defence and energy policy that distorts our economy and prevents us thinking about future-focused alternatives for clean and renewable energy and peace. Decisions on both will be made in the next few months.
Never mind the EU referendum, Hinkley C and Trident 2 are 'material changes' too.