Backing Bella for 2016/17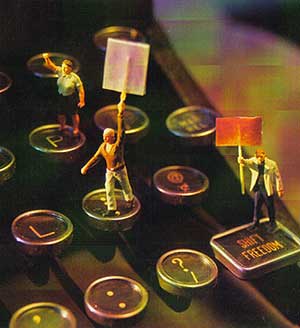 We're launching our annual crowd fund appeal today – and asking for your support. We've tried to up our game in the last year and have ambitious plans for expanding our content in 2016/17 (see here for a sample of them).
Next month we'll be producing our first book (in lovely old-fashioned print!), launching our regular club night and producing our first ever podcast. We have plans for a new writers apprenticeship scheme and a 'blog school' to help develop and support writers and content creators.
PLEASE GO HERE TO SUPPORT US – DONATE and SHARE. 
Elaine C Smith has said that:
"Bella Caledonia gives a voice to a huge number of people across Scotland. It provides gathering place for ideas, opinions, thoughts and observations about who we are and where we are going. It offers an alternative view of the way we should and could live as well as allowing a creativity and opinion stifled by the mainstream press and media". 
Our main aim is to help democratise the media by creating a space for new writers and new voices.  Here's just some of those we've published since 2007:
A. Balharry, A.R. Frith, Abdelaziz Almashi, Adam Ramsay, Adam Weymouth, Adrian Girling, Adrian Martinez, Adrian Searle, Agnieszka Karasiewicz, Aideen McLaughlin, Alan Bisset, Alan McCombes, Alan McIntosh, Alan Smart, Alasdair Mac Gill-eain, Alasdair Nicholson, Alastair Hulbert, Alastair McIntosh, Alda Sigmundsdóttir, Alec Finlay, Alex Bell, Alex Grant, Alex Mooney, Alex Renton, Alex Thomson, Alexandra MacRae, Alf Baird, Alistair Davidson, Alistair Grant, Alistair Heather, Alistair Livingston, Allan Armstrong, Allan Grogan, Allan Whyte, Alyn Smith, An t-Ollamh Ùisdean MacIllInnein, Andrew Anderson, Andrew Barr, Andrew Eaton-Lewis, Andrew Gardiner, Andrew Giles, Andrew Hardie, Andrew O'Hagan, Andrew Whitaker, Andy Muirhead, Andy Wightman, Angela Haggerty, Angharad Tomo, Angus MacLeod, Angus McFaddyen, Anna Arqué i Solsona, Anna McFarlane, AnneMarie Ward, Anni Donaldson, Annie Mackay, Aonghas Pàdraig Caimbeul, Archie McKay, Arthur Cormack, Ashley Thompson, Athanasios Georgilas, Bailey Hicks, Barrastinian, Basharat Khan, Ben Murray, Ben Wray, Benoit Renaud, Bernadette McAliskey, Bernard Thompson, Bill Boyd, Bill Kidd, Bill Ramsay, Bill Wilson, Billy Kay, Billy Noland, Blair Jenkins, Bob Hamilton, Bonnie Prince Bob, Bram E Gieben, Brian Beadie, Brian Davey, Brian Holton, Brian Quail, Bruno Diaz, Bryan Beattie, Bryce Milligan, Caitlin O'Hara, Callum Baird, Callum McCormick, Calum Cashley, Calum Miller, Calum Stuart, Carla Sassi, Carmelo Ruiz-Marrero, Carol Ann Duffy, Carole Ewart, Carolyn Leckie, Cat Boyd, Cath Ferguson, Catherine Happer, Catriona Maclean, Cecilia Ballesteros, Charlotte Du Cann, Chloe Burges, Chris Bamberry, Chris Cairns, Chris Erskine, Christian Wright, Christian Wulff, Christie Williamson, Christine Hamilton, Christopher Harvie, Christopher Silver, Christos Galanis, Ciaran Healy, Clancy McMahon,  Clare Ferguson, Clare Galloway, Clare MacGillivray, Coco, Colin Fox, Colin Kirkwood, Conor Cheyne, Craig Murray, Craig Paterson, D.J. MacLennan, Daibhidh Rothach, Daniel Mittler, David Eyre, David Graeber, David Greig, David Officer, Deirdre Forsyth, Deirdre Shaw, Derek Bateman, Derek Wall, Dervla Murphy, Des O'Sullivan, Dòmhnall Iain Dòmhnallach, Dominic Hinde, Dominyka Bačanskaitė, Donald Adamson, Donald Urquhart, Doug Daniel, Doug the Dug, Dougald Hine, Dougie Strang, Douglas Alexander (yes really), Douglas Robertson, Douglas Stuart Wilson, Iain MacKinnon, Dr Liza Morton, Dr Oonagh Williamson, Wilson McLeod, E.S. Sandberg, Elaine C Smith, Elaine Morrison, Elaine Mulcahy, Ellenor Hutson, Ellie Dooks, Em Strang, Emily Macintosh, Eskandar Sadeghi-Boroujerdi, Ewan Crawford, Ewan Morrison, Fearghas MacFhionnlaigh, Fiona Hyslop,  Fiona MacGregor,  Fiona MacInnes, Flora Napier, Fran Higson, Frances Lengel, Fraser MacDonald, Fraser Stewart, Fuad Alakbarov, Gar Alpervitz, Gary Dunion, George Gunn, George Rosie, Gerry Hassan, Gerry Loose, Gillian Cummings, Grace Murray, Graeme Purves, Grant Thoms, Greg Moodie, Gregor Gall, Gus Abrams, Haniya Khalid, Hannah McGill, Hannah Wallace, Hardeep Singh Kohli, Hazel Frew, Helen Wright, Henry Bell, Hsiao-Hung Pai Huas, Iain Heggie, Iain Macwhirter, Ian Bell, Ian Brotherhood, Idrees Ahmad, Irvine Welsh, Ishbel Flett, Isobel Lindsay, Ivan McKee, Jack Foster, Jackie Kay, James Kelman, James Maxwell, James McEnaney, James Meadway, Jamie Heckert, Jamie Szymkowiak, Janie Nicoll, Jannica Honey, Jay Griffiths, Jayne Calderwood, Jean Urquhart, Jean-Francois Joubert, Jen Stout, Jennifer Dempsie, Jenny Lindsay, Jenny McKiernan, Jessie McLaughlin, Jim and Margaret Cuthbert, Jim Monaghan, Jim Sillars, Jim Slaven, Jo Clifford, Joan McAlpine, John Aberdein, John McAllion, John S Warren, Johnny Gailey, Jonathan Mackie, Jonathan Rimmer, Jonathan Rowson, Jonathon Shafi, Jordan Daly, Joyce McMillan, Julia Macintosh, Juliet Swan, Justin Kenrick, Karen Campbell, Karen Emslie, Kate Gallogly-Swan, Kate Higgins, Kate Samuel, Katherine Trebeck, Kathleen Jamie, Katie Mackenzie, Kevin McKenna, Kevin Williamson, Kimberley Cadden, Kirsten Han, Kirsten Stirling, Kirsty McAlpine, Kirsty Strickland,  Lallands Peat Worrier,  Lang Banks, Laura Cameron Lewis, Leanne Wood, Leigh French, Lesley Docksey, Lesley Riddoch, Liam O'Hare, Liam Stevenson, Loki, London Clay, Lorraine Fannin, Louise Ramsay, Lucy Conway, Lynn Hancock, Maggie Chapman, Maggie Mellon, Magnus Jamieson, Mairi Campbell-Jack, Mairi McFadyen, Malachy Tallack, Mandy Meikle, Marc Savlov, Margaret Woods, Mark Buckland, Mark Cousins, Mary Ann Kennedy, Mary Church, Matthew Fitt, Maya Wind, Mayte Carrasco, Meaghan Delahunt, Mhairi McAlpine, Mhairi McGregor, Mhairi McLellan, Michael Gardiner, Michael Gray, Michael Greenwell, Michael Hance, Michel Bauwens, Mike Small, Moira Dalgetty, Moira Kinross, Murdo Macdonald, Nathan Sparling, Neal Ascherson, Neil Cooper, Neil Davidson, Neil Gray, Niki Seth-Smith, Nine, Pasta and Chips, Pat Kane, Patrick Scott Hogg, Paul Mason, Peter Arnott, Peter Burnett, Peter Geoghegan, Peter McColl, Peter Ramand, Petra Reid, Petrie Hosken, Phantom Power, Phil Mac Giolla Bhain, Poppy Kohner,  Prof Jim Gallagher,  R. Eric Swanepoel, Rachel McCormack, Rachel Ormston, Ray Bell, Ray Burnett, Rebecca Nada-Rajah, Robert J Somynne, Robin McAlpine, Rona Dhòmhnallach, Roseanne Watt, Rosie Kane, Ruairidh MacÌomhair, Ruairidh MacIver, Ruth Wishart, Saffron Dickson, Sara Sheridan, Scott Hames, Shaun Burnie, Sheena Blackhall, Sigrun Davidsdottir, Simon Barrow, Smári McCarthy, Sophie Cooke, Stan Blackley, Stephen Paton, Stewart Bremner, Stuart Christie, Stuart Cosgrove, Sue Wilson, Suki Sangha, Susan Pettie, Svenja Meyerricks,  Talat Yaqoob,  Tammas Clark, Vonny Moyes, William Mohieddeen, Zara Kitson.
Please share this link to support us to continue and develop. Thank you.