Lame Duck Soup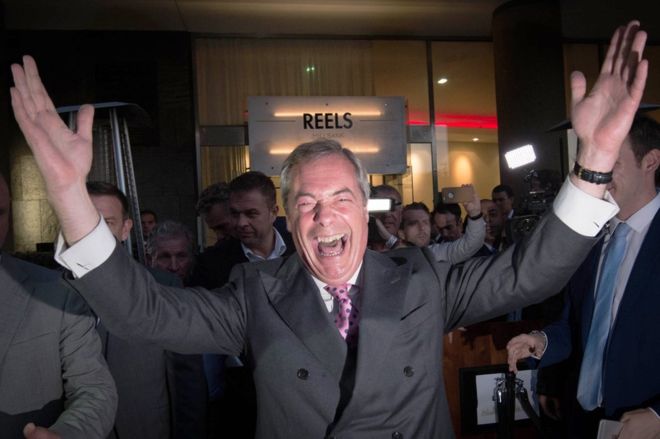 Marie-Le Pen, Geert Wilders, and Mateo Salvini are delighted. Nigel Farage called it a "victory for decent people", then suffering with a bout of instant amnesia added: "Britain voted to leave without a bullet being fired."
Osborne is toast and Corbyn is a dead man walking, Osborne after spouting hysteria, Corbyn after saying not very much at all. As we speak the Tory High Command is negotiating its own power deals behind closed doors as we hurtle backwards to a future dominated by the far-right.
Their triumph may be short-lived. The union can't survive this. With all 32 local authorities in Scotland voting to remain in Europe, we're the only nation in the UK to vote in our entirety to stay within the EU. To resist that will be a provocation that will not be tolerated, and efforts to prevent direct negotiations between Edinburgh and Brussels will also be rejected. It was telling that Cameron mentioned that on the steps of Downing Street this morning suggesting that Scotland and Northern Ireland 'be included' in talks.
I don't think it works like that Ham.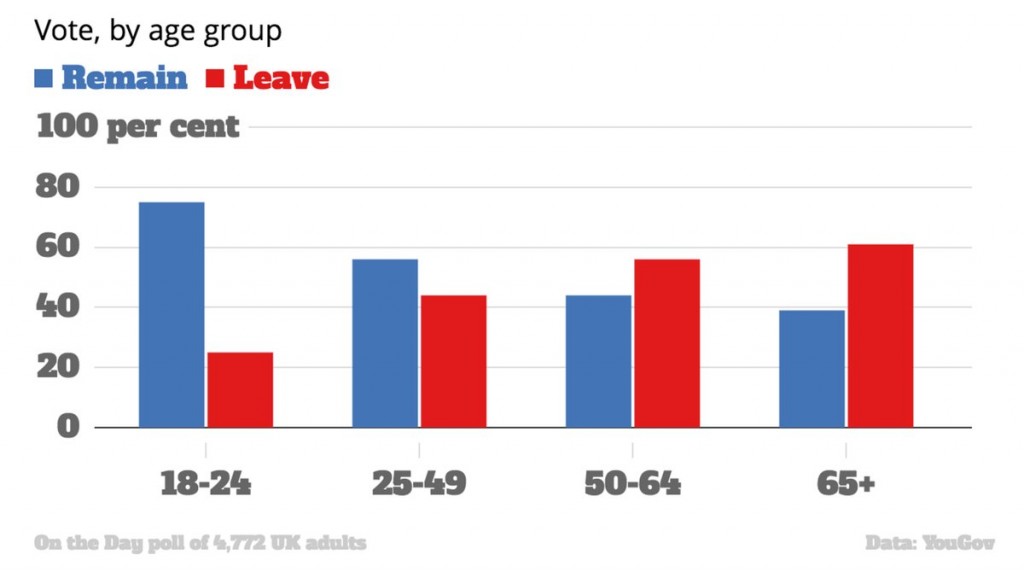 It's not just a constitutional crisis and tragedy, its an inter-generational one too. People under 50 voted for a very different future to the rest of the country and the 18-24 age range voted at almost 80% for Remain.
This is a broken divided country undermined by a campaign of lies and fear. Immigration isn't fixed. The elite aren't undermined. Jacob Rees-Mogg called it a "vote against the establishment" while Michael Gove and Boris Johnson carve up their pact and plot positions.
Material Girl
Unionist scribes were desperately hopeful of an ambiguous vote from Scotland – with pens at the ready to write us off. They didn't get their result. The idea that there is no difference between our countries, that some commentators have desperately hung on to over the last few years now looks like the work of a sad fantasist.
As the Better Together promises unspool before us we're told by the Scottish Secretary David Mundell that "the Scottish government will be involved in negotiations over a Brexit."
How could that possibly be anything other an exercise in international humiliation?
The promise that we could only remain in Europe within the Union is the principle lie of the referendum lies shattered before us and is now motivating people who were previously passionate NO campaigners and advocates to change their tune.
Today we remain European Scots. Our FM must immediately lead talks directly with Europe entirely separately from our discredited powerless Prime Minister.
As Adam Ramsay writes: "Scotland is an ancient European country. In 1707, we chose to go into a union with England and Wales, and in 2014 we chose to ratify that union. In 1975 we chose to join the European Community and in 2016, we voted overwhelmingly to ratify that choice."
He suggests we negotiate a deal similar to that which shapes Denmark, the Faroes and Greenland's different relationships to Europe.
For those of you who think this is far-fetched you should read the words of Manfred Weber, the leader of the conservative bloc in the European Parliament who is close to Merkel,  says there are "upcoming decisions on the national levels" for Scotland and Northern Ireland "to go another way." He said: "It is up to them but Europe to welcome new member states. That is totally clear. Those who want to stay are welcomed in the European Union."
October Surprise
While the Brexit campaign can be seen as an orgy of opportunism for Boris Johnson, he seems the most likely to succeed in the race for the 'top prize'. This is how the media have been framing the political debate for months.
Good luck to him, he will inherit a disunited kingdom, with immigration centre-stage, an ongoing austerity agenda, a pile of debt presided over by George Osborne, and a shambles of international relations not seen since Suez. His party is bitter and divided and he faces a constitutional crisis on two fronts.
Yesterday Cathal Foley wrote that Brexit could lead to a United Ireland, an Independent Scotland, and a Little England. This morning that looks more likely than ever.