Taking Back Control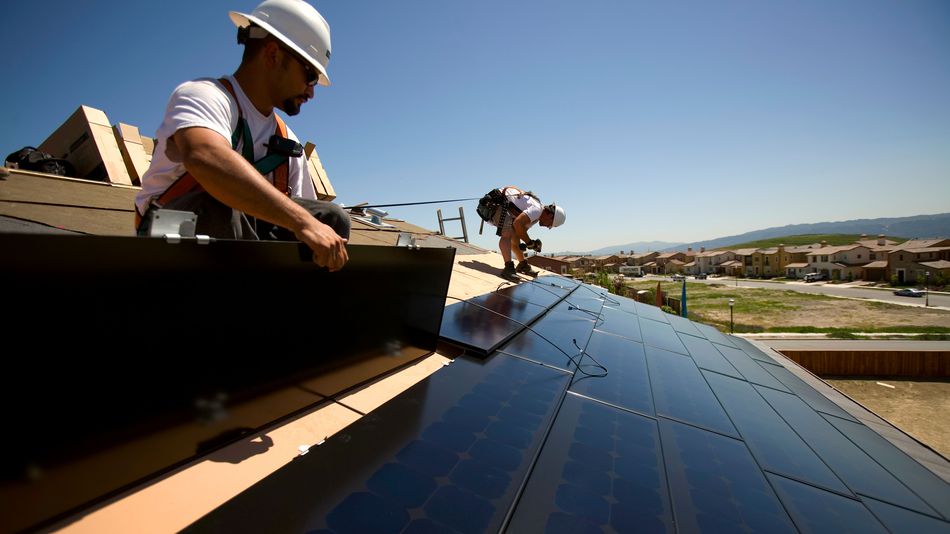 Countering the myths of 'taking back control' is essential in this time of spleen and fury. One area where this might be uniquely and 'suddenly' possible is energy production. First, the gloom.
As Lesley Ridoch writes: "Is the UK Government deliberately trying to sabotage Scotland's goal of becoming a world-beating decarbonised economy powered by renewable energy? It certainly looks that way."
She writes: "First came the shock post-election announcement in 2015 by then Energy Secretary Amber Rudd (fast becoming the Tory's nasty news specialist) which ended subsidies for onshore wind power and kyboshed renewables projects large and small across the UK. Scotland was particularly hard hit because we supply the bulk of British renewable energy. Then a fund for carbon capture was scrapped after David Cameron had described the technology as "crucial" for the UK. Needless to say, the place earmarked for the biggest investment was in Scotland, at Peterhead. And this time last year, tax relief on investments in community renewables was axed, drawing most new community wind, solar, hydro or biomass projects in Scotland to a premature grinding halt."
Let's leave us aside the slightly desperate techno-centric CCS proposals for now. There's three ways in which we can really shift energy pollution and fuel poverty and detach ourselves from the fossil fuel economy.
First, actual existing wind power.
Thanks to a combination of increased capacity and stronger winds, output from turbines surged by more than a quarter compared to the the figures for 2015. Wind power is helping Scotland avoid 'over a million tonnes of carbon emissions a month' and supplies – according to WWF Scotland –  enough for the average electricity needs of 87% of Scottish households. More here.
Second, and far bigger than this in means and consequence, a new study conducted by consultancy CE Delft looks to how we can move from becoming passive and (often ripped-off) consumers, to active and low-carbon producers, not just of electricity needs but for all of our energy needs:
"Released in September (PDF), the study focuses on what citizens can do with wind, solar, and demand management (including storage) by 2030 and 2050 – at home, in community groups, in the public sector, and in small businesses. The main finding is that 83 percent of European households could eventually become "energy citizens" (the paper's term for what is usually called "prosumers.") Nearly two thirds of them, so roughly half of all households, could make their own energy. In this scenario (which is available as a spreadsheet in the report's Annex), the EU would be 100% renewable for all of its energy – not just electricity."
The idea of us becoming 'energy citizens' is ground-breaking and essential. Craig Morris, co-author of Energy Democracy, the first history of Germany's Energiewende concludes:
"The main takeaway from the study is that energy citizens can play a central role, not a marginal one, in our energy supply. We are talking about roughly half of our electricity alone, with the other half left up to all of the utilities – municipal and corporate – that today cover nearly 100% of power supply in most countries."
Thirdly we need to embrace the Elon Musk's vision for a "one-stop solar and storage experience", combining camouflaged roof tiles with an updated version of the energy-storing Powerwall as released by Tesla last week. See more here.
"Your home can capture this free, abundant energy source through rooftop solar tiles, turning sunlight into electricity for immediate use or storage in a Powerwall battery." – Tesla / SunPower
At the moment we have a slew of dodgy former window-glazing companies selling solar packages to retired couples, while we await Hinkley. There is no serious energy descent plan and the energy companies remain in private hands, making the incentive for less not more consumption unthinkable.
In view of Amber Rudd's negligence and our continued entrapment in the UK's crazy energy plans, we need a new interim energy policy based on new-tech, innovative carbon reduction and integrated public housing and planning policy.
This week Edinburgh was named the best city in Europe to start a tech business.
The Evening News reported that "it's one of the Capital's fastest-growing industries – a cutting-edge money-spinner with the potential to make its investors overnight millionaires", seemingly having swallowed a message of Trump boosterism. But where's the strategic ecologic imperative in all this tech-boomery? Where's the Scottish Government, or Edinburgh Council, or Scottish Enterprise's role in supporting or facilitating (or demanding) a low-carbon aspect to tech start-ups?
Technological breakthroughs may cast aside the need for us to side-step European or UK boundaries restraining public ownership and allow us to move directly to energy citizenship. Waiting in the darkness for Westminster to gift us CCS, or continuing to obsess about an upturn in the oil markets is a sign of impotence and lack of agency.