Scotland the Bold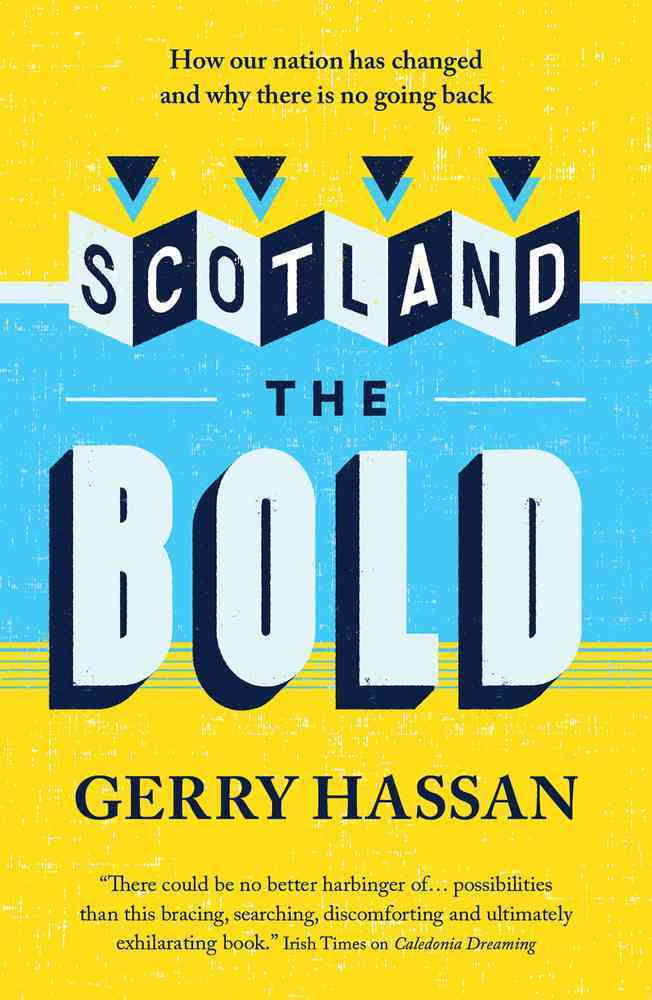 Review of Scotland the Bold by Gerry Hassan, Freight Books, Glasgow, 2016, £9.99. Available from Word Power books.
Politics is the lifeblood for some, and that is the problem with it for the rest of us. I've never been attracted to the visceral nature of party politics. Neither, for that matter, to heavy tomes of economic history. It always seems like there's so much more to what it means to be a nation, a community writ large that is a community of place for its peoples. But the trouble with that standpoint, is that it leaves those of us who hold it feeling like political virgins when the chips are down. The strength of this book by the political and social commentator, Gerry Hassan, author of "Caledonian Dreaming", is that in one rounded read it addresses many of those deficits. Whilst not pretending to be the advanced text, this book is a primer of where political Scotland is at today.
In reading it I reflected, often, on a couple of years in the late 1990s spent working closely with Canon Kenyon Wright on the People and Parliament project. At the time he was also chairing the consultative committee on the new parliament. We managed to involve some 500 groups from across Scotland by inviting them to discern three questions:
• Who are we as a people?
• What kind of a Scotland do we want by 2020?
• How do we therefore expect our Parliament to work with the people?
People said that they were fed up with "yah-boo" oppositional politics. They wanted a Scottish parliament that would be respectful, grounded and humane. In our report published in 1999, Kenyon summed up the findings as follows:
"There is deep frustration with our fragmented society, and a feeling of anger and disconnection with the present system of government and politics. Based on this, there is a profound longing for a new kind of politics and society that will listen to, care for, respect and share with, all our people – rooted in a strong sense of national identity and community, and the vision of a renewed nation in which all count and none are excluded. This is reinforced by the recurrent theme, that the people of Scotland must now learn to take responsibility for their own destiny – and mistakes – and overcome the tendency to blame others. The strong desire for a better society and community is constantly linked with the need for greater participation and partnership in power. Improvement needs empowerment."
That call speaks to me of why Hassan's latest book is timely and important. The cover's strap line reads: "How our nation has changed and why there is no going back." Chapter by chapter Hassan usefully summarises themes that people like me – who prefer doing their politics with a small "p" – tend to avoid and appreciate being briefed on. The reasons for the decline of the Labour Party. A review of the Thatcher years. A reminder of the main positions staked out by the Yes and No sides in the independence referendum, and critically, both the appeal and limits of a politics which is centred on two nationalisms: Scottish and British.
To some seasoned operators, the need for such sketches might seem obvious, but 'Scotland the Bold' takes us below the surface and explores many assumptions taken as unchallengeable. And to those of us who are relative amateurs; to those of us who don't want to give our lives studying the intricacies of elections circa 1945, or the economics of shipbuilding, these chapters and subheadings help to fill in the backstory and think differently. As such, this is a book that helps to bring us up to speed – a key contribution to the politics of Scotland today.
Structurally, Scotland the Bold starts with an appraisal of where we are at this moment in history. Post-indyref. Post-Brexit. And, as has become apparent since the book went to press, on the cusp of Trump. Hassan is not afraid of melding politics with psychology. He draws out our strengths. We are "a Scotland that doesn't give blank cheques or blind obedience to any political tradition or authority." Yet, amongst our weaknesses we have, for example, "a serious problem with emotional intelligence … [to] recognise the feelings of others, and act beyond one's own gut and instinctual feelings."
Iain Crichton Smith in his essay, "The Feeling Intelligence", outlined historical reasons for that deficit. It was not, from his Hebridean perspective, our native state. But it is where history has landed us, and if we seek to be a nation restored we need to understand, and start to heal, such wounded tissue in the body politic.
The first half of the book describes major political movements of recent decades. There is the decline in trade unionism. The loss of the local from local government. Britain's culture of corporate capitalism. The ebb of Unionism. The rise of the Serco state. The shift from Labour to the SNP, but alongside this, the potentially crippling limitations of some of the less thoughtful mores of #the45. The conservatism of large swathes of public life is given historical context in a study of what Hassan calls "unspace" whereby who has power and voice is controlled and mediated.
I would have appreciated a more tightly themed structure, or roadmap. Not all the subsections flow together as smoothly as they might for this admitted amateur, but that is only a stylistic quibble. Perhaps it's just the messiness of politics. For me, while the first half was informative, but the second half was where the stimulation came. Here, Hassan explores issues like Scotland as a Mongrel Nation, Scots internationalism, the need to free our minds, to examine our sense or lack of sense of culture, and totemic matters such as Trident and the British nuclear fixation. On the latter:
"The UK has historically been a warrior state. Alarmingly, in the more than one hundred years since the onset of the First World War in 1914, there is according to one study not a single year in which the UK armed forces have not been active in combat…. The UK has in effect what can be called an Empire State – a state devised for global pretensions, projection and military expeditions. It is not designed for the care or wellbeing of its own people."
The book ends with a menu of 64 possible actions for a bold Scotland. Some state what to some of us might be the obvious. Demilitarisation, citizen's income, land reform and control over our own broadcasting. Others are more unexpected and thought provoking, such as paying councillors properly to rise to their responsibilities. To take just some examples that involve young people, Hassan proposes schooling that is focussed on …
• Perseverance, getting on with people, problem solving, being reliable, ability to talk and listen
• Every secondary school pupil has access to a therapist if they require one
• Incorporation of Scotland's network of elite private schools into the public sector so we have one integrated system of school education
• An international programme encouraging young people from Scotland to contribute to anti-poverty, welfare and empowerment initiatives around the world
Any book that is about current affairs is written on the hoof, and therefore few are perfect. Hassan has his blind spots. As is to be expected of one whose life has revolved mainly around Dundee and Glasgow, his vision contains little beyond the ordinary concerns about rural issues. As is found amongst most political commentators, spiritual life might be implicit but is not explicit, thereby overlooking the deep legitimising role and moral authority that has been lent, not least, by the mainline churches and figures such as Canon Kenyon Wright, Dr Alison Elliot, Cardinal Tom Winning or the late Professor Duncan Forrester. Adult and popular education could have been given more of a birl, and an index would have been a very useful edition.
Scotland the Bold is an important book, a challenge to the conservatism inherent across Scotland and to those who have bought into some of our most cherished myths without reflecting on them, and thus a contribution to beginning a more reflective, honest conversation about who we are and how we bring about change, as well as being an eminently suitable stocking filler.