Bella Futures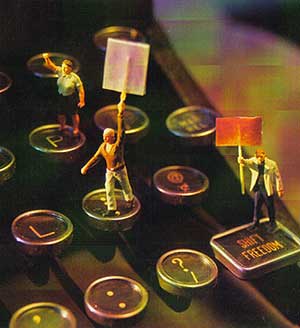 The Advisory Board of Bella Caledonia voted unanimously to keep the online magazine going at an emergency meeting in Edinburgh on Tuesday night. We agreed that Bella still has a vital part to play in Scotland's future; creating space for debate, an arena for new writers, and a focus on culture, language and politics which supports but also critiques and reaches beyond the independence agenda. Editor and co-founder Mike Small agreed to stay on as editor with additional editorial, administrative and business support while Bella is completely restructured – the site will keep publishing but the company will close and re-start as a media collective – details of the new structure will be announced before the end of January.
Board member, writer and co-founder Kevin Williamson said, "This weekend's closure announcement by Mike Small arose from the constant pressure of being the sole individual responsible for almost every aspect of Bella's publicity, production, commissioning and financing. We realise it's too much for one person to manage – however dedicated or capable."
The Board also recognised the editor's salary has become overly dependent on the vagaries of crowd-sourced fundraising efforts, which has added to the stress and insecurity of that role.
The Board deeply appreciates the money donated by readers in the last few days, the flood of goodwill messages and the many offers of practical help. We'll be working through all of them. Bella is not in debt, there is no prospect of bankruptcy, and there is no immediate appeal planned for cash. Any new donations will be transferred into the new company.
Since its launch in 2007 Bella has grown to be a vital online magazine written by a pool of hundreds of talented writers, known and unknown. The magazine has in many ways been a victim of its own success and has simply been running on an unsustainable basis. The Board is resolved to correct that. We are committed to retaining its independent voice and hope our readers will continue to support us as we work to take it to the next level.
Once again we'd like to thank our supporters and promise we'll do our utmost to make sure Bella keeps publishing. We will set out our expansion plans once the restructuring is complete.