The Joy of Six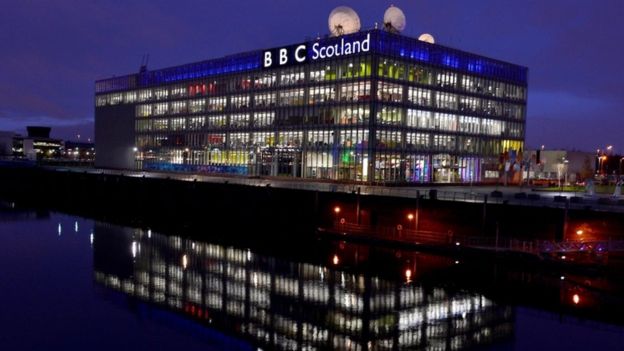 The cancellation of the Scottish Six broadcast is the end of one of Scotland's longest-running media sagas. It's an issue that used to be a central aspiration of the Scottish democracy movement. It's not just about a lens through which we see the world, but a lens through which the world sees us. As recently as 2014, Angus Robertson wrote ['The lack of a Scottish Six O'Clock News is a major democratic flaw']. After commenting that viewers in Scotland have to sit through half-hour bulletins that may have no domestic news relevant to their lives, before Scottish news is broadcast as a budget regional news programme, he noted that:
"The blanket coverage of Farage in Scotland almost certainly helped Ukip enjoy its first success here – and it is not the SNP that might have won that sixth European seat but the Greens. Ukip won 10.4 per cent of the vote, the Greens 8.1 per cent. For anyone to argue that the two parties had equal coverage is preposterous. I rarely saw a Green candidate on television, whereas Farage was rarely off it. This is because the BBC's priorities and allocation of airtime reflected the parties' positions in the UK as a whole (read England), so we in Scotland had to suffer wall-to-wall Farage even though before the campaign his party barely registered in opinion polls north of the border."
But now as Lord Tony Hall is about to announce the plans are scrapped, large sections of the indy movement just shrug. Such is the contempt for BBC Scotland that what used to be a key aim of the nationalist movement is now treated as a bad joke. This is a bad mistake drawn from a limiting obsession. As the Sunday Herald editorial states today:
"Is Scotland a nation or not? If you believe, like this newspaper does, that we are indeed a nation equal to any other, then it is beyond ridiculous, beyond insulting and beyond toleration that Scotland is being denied its own nightly news programme. Any free country must be able to reflect the world as it sees it through its own independent media. As such the decision by BBC chiefs in London to permanently rule out a Scottish Six TV news programme could not be more toxic. Scotland's will is already being flouted over Brexit – and now grey men in London have added insult to injury by crushing the opportunity for us to have a simple news programme….Scotland is being treated like a region. We are not Yorkshire or Cornwall or the Welsh valleys or the Glens of Antrim – we are a country. When the BBC's director general Lord Hall appears before Holyrood's culture committee on Thursday he should be told exactly what an insult he has dealt this country and he should be left in no doubt that if this decision was taken to quell the Yes movement then it has backfired horribly… as so many BBC decisions do."
The news service we experience is infantile and chronically under-funded, and suffers from a desperate lack of innovation.
As the NUJ's Paul Holleran notes: "Despite the NUJ continually telling people the title of Scottish Six is a diversion and the real need is for a substantial increase in resources it is still being mentioned. It now looks like the funding will fall far short of aspirations at Pacific Quay and we will be denied the opportunity to expand BBC Scotland in a way that meets our needs."
Blogger Paul Kavanagh adds: "Basque broadcaster EITB gets £106m in government. funds plus ad revenue. 4 terrestrial TV channels, 1 satellite channel, international channel, 5 radio."
There's no doubt we are hurtling backwards, in fact we now have no dedicated weekly political programme on the radio, never mind the telly, since the (slightly cringeworthy) Big Debate was cancelled. This despite the momentous times we live in, the historic presence in Westminster and the potential talent pool of news journalists, producers and researchers in Scotland.

The Sunday Herald reported that: "Senior BBC managers in Scotland were informed of the decision by top brass in London ahead of Hall's appearance before Holyrood's culture committee — where he will be accompanied by the broadcaster's Scottish director Donalda MacKinnon. He is likely to face vigorous questioning, and she will undoubtedly be asked whether she agrees with the decision. "
This is a massive – and potentially humiliating – occasion for Donalda MacKinnon.
As the Sunday Herald comments:
Paul Holleran, Scottish organiser of the National Union of Journalists (NUJ), said the move showed the BBC's attitude to Scotland "stinks". Holleran claimed "a big part" of the decision was driven by a desire to curb the influence of Scotland, amid the prospect of a second independence referendum. He said: "It's political decision-making. We won't be given enough money to expand the news programme. It's really stupid to rule out any expanded news programme. "Part of it must be a political kick in the teeth, as it's saying we're not going to help you move to a more independently resourced Scotland network." He added: "It's about keeping things centralised and wanting to control everything. They want to control the agenda set by London and Westminster, but the Scottish Six equivalent they'd see as coming into conflict with that view."
In a multi-channel world the much discredited BBC Scotland needs to innovate and progress and respond to the new political realities.
By dumping the Scottish Six, the BBC are consigning Scotland to being a region, and a regional backwater at that. By disowning the idea of a national news programme, much of the nationalist movement, who often argue that broadcasting news was the key to losing (and winning) a referendum and reaching a different audience are also shooting themselves in the foot. For those who fetishise an anti-BBC agenda maybe this will be the cause of celebration. Who knows?
Lord Hall, or someone, will have to argue that a) they don't have enough money to resource this (they do)  b) there's not much going on (there is) c) or there isn't the talent here (that's embarrassing) or d) this is somehow so editorially difficult to manage as being impossible. It will be fascinating to see which of these ridiculous options they decide to frame their decision around.
This is bound to backfire. It will be seen as explicitly political and insulting. The message is clear: you are not a nation, nothing happens here. We will be left with an embarrassing underfunded broadcaster facing large-scale contempt and a huge credibility problem. We should aspire to much better.