It's Scotland's Choice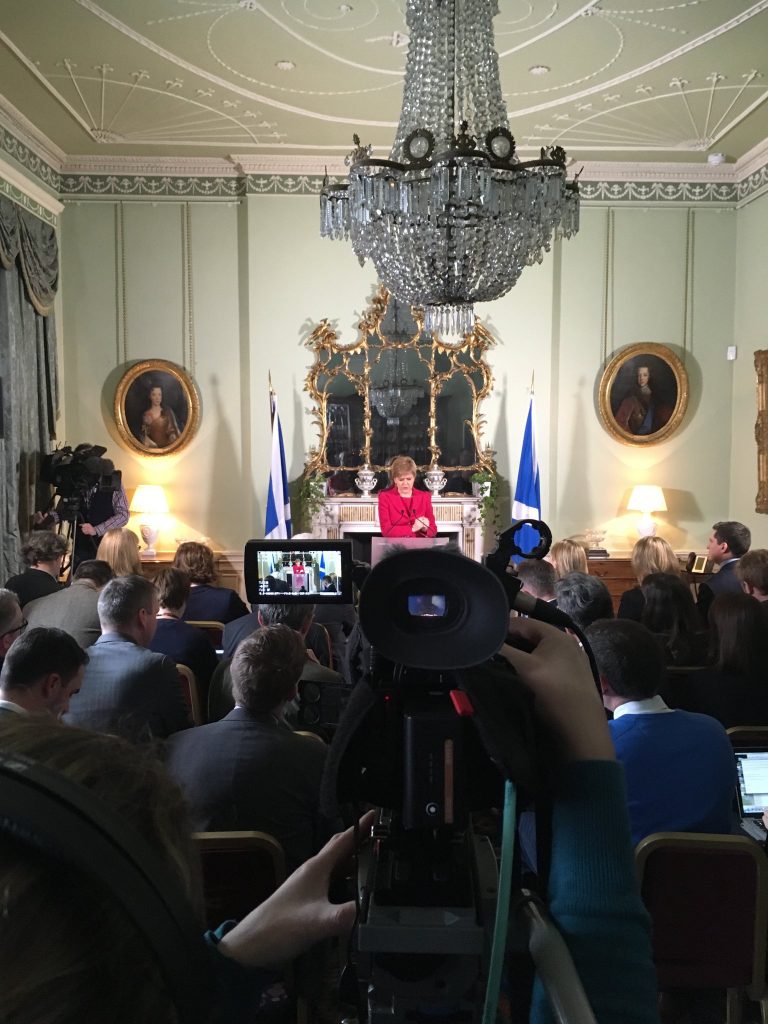 The inevitable next step is now here – we will have a second referendum some time between Autumn 2018 & Spring 2019. You can read the full text of the First Minister's speech from Bute House at The National here, but here's three key points from Nicola Sturgeon's announcement today.
The first is that the timing is important. If we were voting 'blind" about Brexit without any clear idea of what it meant and what it's consequences would be – we will not be voting in such an uninformed way for independence. She said:
"Having Scotland's referendum – at a time when the terms of Brexit are known – will give the Scottish people a choice about the kind of change we want."
The second is that the idea that this is a situation manufactured by the SNP is clearly a nonsense. This is a moment created entirely by Theresa May's intransigence and the ideological agenda of a handful of Tories. The First Minister said:
"If I ruled out a referendum, I would be deciding – completely unilaterally – that Scotland will follow the UK to a hard Brexit come-what-may, no matter how damaging to our economy and our society it turns out to be."
The third is that there is clearly a change in tone, first witnessed by Andrew Wilson's announcement about taking oil revenues out of the economic case for independence and now marked by Sturgeon's  comments that she will be "frank about the challenges we face". But also that there is continuity: internationalism, our place in Europe, sustainability and social justice were all referenced in the First Ministers's speech:
"I have already said that by the time a choice comes to be made, there must be greater clarity about Brexit and its implications for us. It is just as important that there is clarity about the implications of independence. And there will be. We will be frank about the challenges we face and clear about the opportunities independence will give us to secure our relationship with Europe, build a stronger and more sustainable economy and create a fairer society."
Unity in Diversity
One of the interesting things about the press conference was that, when you get the UK press corps in one room they are exposed often of having a really limited knowledge of Scottish politics. One journalist asked, perhaps more in hope than anything, in response to Sturgeon's statement that the Scottish parliament would be asked to vote on a second poll queried whether the Greens would support her. Here's Patrick Harvie's unambiguous statement:
"I'm very pleased to welcome today's confirmation that a Section 30 order will be sought. That step is clearly necessary if Scotland is to have the option of holding a referendum, to give everyone who lives here the choice about our own future.
The UK Government has been reckless and destructive in every possible way since June last year, taking a narrow result as a mandate for ripping the UK out of the single market, which even Leave campaigners promised not to do. They have treated Scotland with nothing but contempt, refusing to respect the 62% Remain vote, and refusing to engage either with Government or with Parliament on these critical issues.
I know that not everyone who voted Remain last year will suddenly convert to supporting independence if they didn't before. However it's also clear that not everyone who voted No in 2014 is willing to see Scotland dragged along with a hard right, anti-immigrant, "Empire 2.0" Brexit agenda. Voters in Scotland deserve the right to make their choice, and I will make the strongest case I can for a Green vision for Scotland's future as an independent European country".
One of the things that's immediately obvious is that the unionist forces are in complete disarray, endlessly repeating the same arguments from 2014 on a loop. We will completely disorient them by disengaging form this dialogue and engaging not with them but by putting forward a positive and imaginative prospectus for independence.
That's what Bella will be doing over the next two years – engaging with the people who weren't convinced the last time, engaging with people who aren't already in our circle. We'll be doing that in a  respectful way and we'll be hosting a public conversation about our collective future that aims to reach out to people not just confirm our own beliefs endlessly. If you want to support us to do so please go here. Thank you.
It's time to get organised.