Theresa May – Just about Managing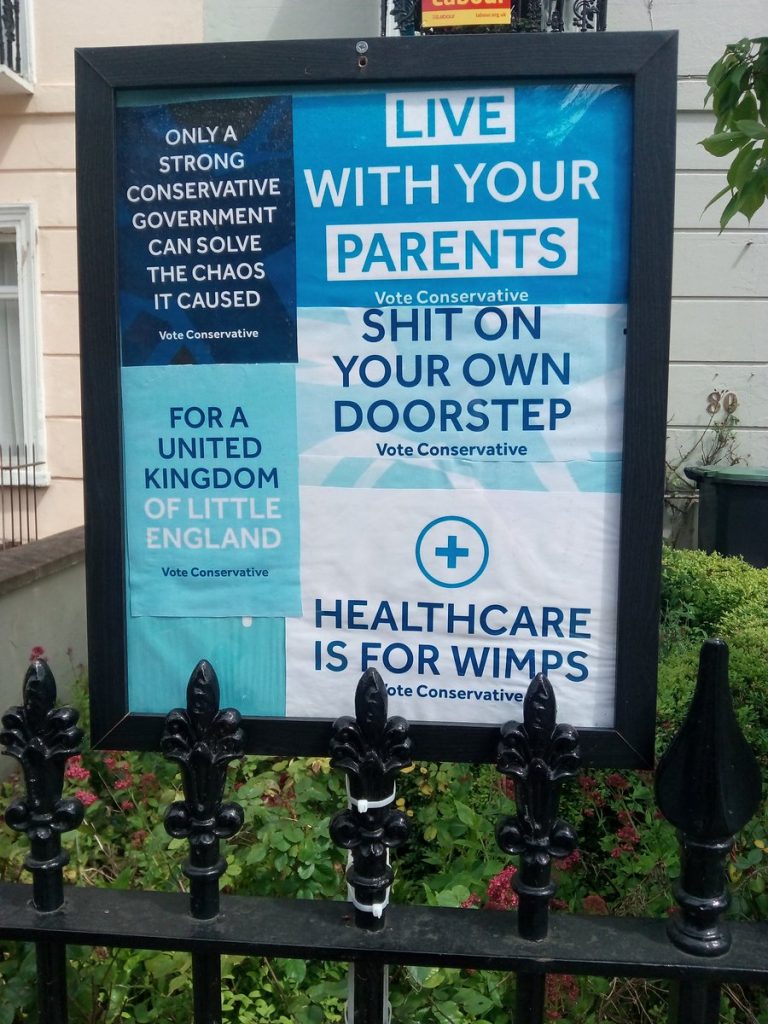 We're witnessing one of the biggest most glaring u-turns in election history. The trouble with repeating a mantra like "Strong and Stable" and little else, as you attempt to navigate an entire election campaign from inside a hermetically sealed Tory bubble, is that those words are now embedded in everyone's heads. They couldn't have been clearer if she'd created a Miliband-style Ed Stone with them. This morning Lesley Riddoch hit the nail on the head asking: "Was this the weekend the Tories bungled the General Election?"
Theresa May's abandonment of her social care policy, in which she has now said that the Conservative government would set an "absolute limit" on the amount that people pay for social care is a U-turn on the policy put forward in her party's election manifesto only last week. But this isn't a one-off, it's what she does. She postures as a conviction politician, but she blows in the wind.
Here's some of her finest moments …
1. Brexit. She moved from opposition to being a die-hard Brexiteer.
2. A British Bill of Rights. She announced we would be leaving the European Convention of Human Rights, then quickly turned around.
3. Hinkley Point.  As soon as she came into office she announced a review of the £18 billion nuclear project, then backed off completely.
4. Workers on Boards. In September last year she promised "workers on boards". Now that's been quietly shelved.
5. National Insurance: Philip Hammond's budget in March announced that self-employed workers would pay higher national insurance contributions. The policy was shelved a week later.
6. General Election. She couldn't have been clearer. There isn't going to be a general election. It wasn't in the national interest. A month later she announced one.
7. Energy Price Caps. Ed Miliband's promise to freeze energy prices was branded as 'Marxist" by the Tories in 2005. The Daily Mail was apoplectic. Now it's Tory policy.
8. Foreign Worker Lists. When Amber Rudd announced that companies would have to publish figures on their number of foreign workers UKIP branded the plans a "step too far". Now they've stepped away from that, though companies will be charged £2k per foreigner.
Opportunism is her defining feature. She's like a spinning top. Her latest position lasted a total of four days.
Yet she manages to combine this complete political flexibility with a rigidity bordering on intransigence. On Brexit and Scotland she managed to remain completely unmovable. Presumably there's nobody whispering in her ear "that's a vote-loser".
It wasn't supposed to be like this.
Now she's taking a Trump line attempting to brand the Labour Party of 'fake news.'
It's as if only Lynton Crosby is allowed to use words during an election.
Control-freakery is infectious but it's also blinding. The more you protect yourself from the world the more you believe your own bullshit.
The Tories fury about their policy quickly becoming known as the 'dementia tax' is reminiscent of their anger when the 'Community Charge' became known as the Poll Tax. As Labour's Yvette Coooper put it: "So it's an optional cap at unspecified level to be included in a future consultation? Can't even do a competent u-turn. Still a #dementiatax"
At a press conference earlier today the Prime Minister claimed: "we have not changed the principles in the manifesto….we have clarified".
Now they are trying to wiggle and squirm on this, but it couldn't really be any clearer. Here's Jeremy Hunt only a few days ago:
"Not only are we dropping [a cap] but we are dropping it ahead of a general election and we're being completely explicit in our manifesto that we're dropping it," the health secretary said. "We're dropping it because we've looked again at this proposal and we don't think it's fair."
What people are calling 'the optics' aren't good:
Theresa May shaking her head like someone clearly rattled and defensive. The 'strong and stable' leader is crumbling pic.twitter.com/Kn2jDIoElv

— Sunny Hundal (@sunny_hundal) May 22, 2017
She's beginning to look like a bad copy of Thatcher, a botched look-a-like.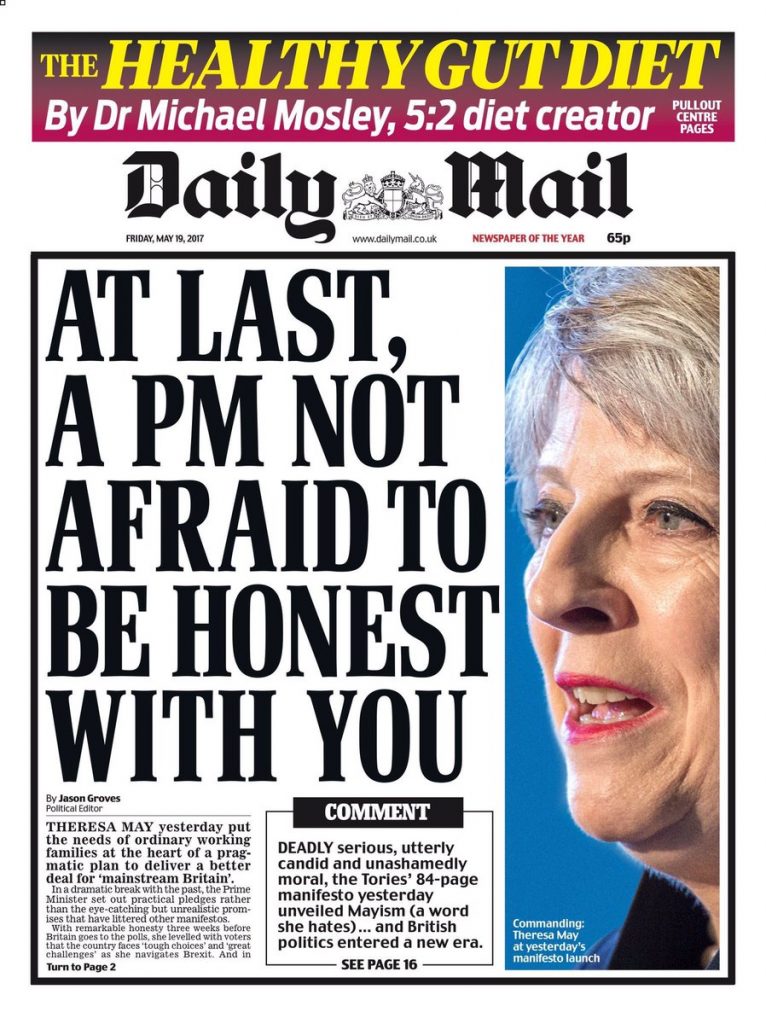 This was supposed to be a coronation, against a useless opponent the Tory media would vilify and smear. But this u-turn – the like of which no-one can remember – is particularly damaging for the Conservatives as the issue hits home to voters aged over 65, which is the very section of the electorate which turns out in the greatest numbers, and faithfully votes Blue.
Many will be Daily Mail readers, whose front-page from last week, sadly, hasn't aged well.
The dangers for a politician posturing about their own convictions is being exposed.
The desperation is tangible as her lead tumbles and the polling turns against her.
A Guardian/ICM poll shows Tory lead in Labour marginals narrowing from 20 point lead 52-32 last week to 3 point 44-41 this week. They are now panicking in full- public glare.
The problem for her team is that her track record is visible and they have a leader who has neither the oratory, charm or political nous to move quickly and confidently. Everything is choreographed, crafted, carefully measured for impact. This is a politician deeply ill-at-ease contesting an election she didn't need.
Her trademark is honesty stability and strength, yet she's visibly falling apart on the campaign trail.
Even the pliant media smell blood. This isn't something she can control, and the 'Big Gun's around her have been dispatched or sloped off. Who's she going to call on to help her steady the ship? Boris Johnston?
"Nothing has changed!"
"Nothing has changed!" she screams.
You got that?