Media, Terrorism, Democracy
So the European Broadcasting Union [@EBU_HQ] has found the UK press the least trusted out of 33 countries. Again. This wouldn't matter much, we're used to it, it's not a surprise. But then suddenly in times like these, when people are genuinely scared, and we suddenly have the army on the streets, and our democratic process has been put on hold, it matters more.
With the likes of toxic Katie Hopkins thriving on bile and hate, and the Daily Mail competing with The Sun to see who can produce the most offensive exploitation of tragedy,  the failure of the British press is a dire cultural and political problem we've just become used to. We now just take it for granted that our press is shit and is dominated by offensive, ridiculous high-profile figures free to spread hate.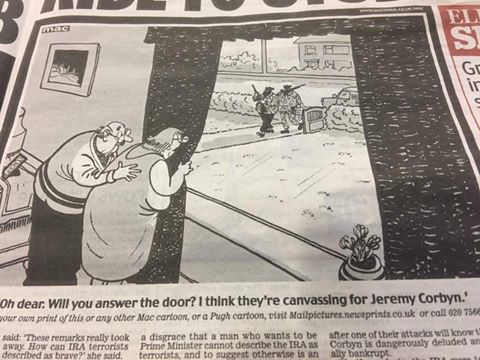 Andrew O Hagan's review of  'Mail Men: The Unauthorised Story of the 'Daily Mail', the Paper that Divided and Conquered Britain' (Who's the Real Cunt?) captures the spirit of the press:
"Dacre's paper is like the drunken lout at a party who can't get anyone to like him. Suddenly all the girls are sluts and all the men are poofs and he's swinging at the chandelier before being huckled outside to vomit on the lawn. The Mail desecrates the holy places where it likes to stake its claim, and would be a laughable rag, really, were it not for our degraded political culture taking it seriously. Look at the paper itself and you see it is not the real voice of England, but a dark distortion of it, a post-truth version that shouts about decency but doesn't exhibit any, that praises aspiration but only certain sorts. Every day in Dacre's paper, the people who make up the population of Britain, the people who teach your children and bandage your wounds, drive your trains or clean your floors, are described as aliens and forgers and scum."
As the twitter feed The SunApologies wrote:
"Who knows whether it was last night's events or legal jitters that prompted the edit but this was The Sun's disgraceful leader this morning…"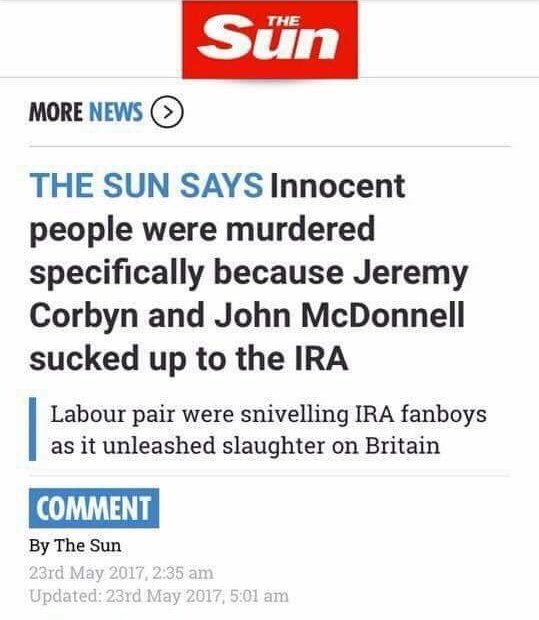 Now Corbyn is neatly aligned with terrorism and Theresa May is steadfast and strong.
The election is over.
There are soldiers on the streets and propaganda in your newspapers.
There is little more to say.
I have no idea whether, as Paul Mason says: "Tomorrow we will see troops on streets helping police. Very unusual. We should all support them. This is *not* a political gesture."
How can we know?
I can think that practically this doesn't seem to be a move that will help things, and I'm pretty sure it's a symbolic, psychological rather than a strategic response.
The complete lack of faith and trust in the media matters in this situation.
There is very little that can be said in the wake of Manchester that isn't either platitude or hysteria.
But into this vacuum comes the likes of Morrissey, Tommy Robinson, Piers Morgan or whatever gobby little racist is filling your timelines and your headspace with their ignorance and hate.
We can try and not be cynical or we can imbibe cynicism. We can point to police cuts and we can take solace in individual acts of bravery and humanity. We can try and foster solidarity, we can show care and compassion for those grieving and we can 'spread love not hate'. We can do these things but the reality is:
The election is over.
There are soldiers on the streets and propaganda in your newspapers.