The Battle for No 10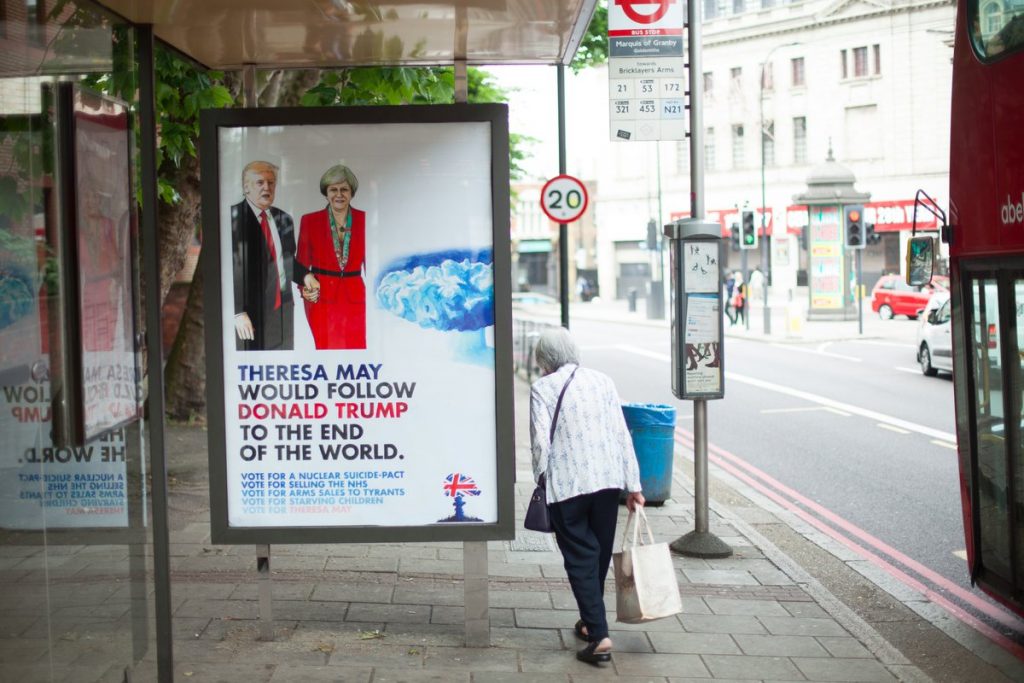 At one point in last night's awful #BattleforNo10 experience, the artist formerly known as Strong and Stable uttered the immortal lines, with teeth and fists clenched in barely restrained fury, as if to explain everything: "We have a situation where there is a devolved government in Scotland". Sadly, we do Dear Prime Minister.
The event was deemed a win for Corbyn, who, despite the odds seems to be growing into the role, and seems to be getting more relaxed in the campaigns as the energy visibly drains out of the Tory leader like a political sump. The audience laughing at Theresa May last night as she reeled in the face of Jeremy Paxman's onslaught. It was great bloody theatre even if it was terrible politics. But if this was the media equivalent of the stocks, Paxman's pantomime routine seemed to go off the rails when he came up against the unflappable Corbyn, even when, in a bizarre rant, he started attacking the Labour leader for hating the monarchy. He was berating him for something that wasn't in Labour's manifesto.
@JeremyCorbyn sidesteps Jeremy Paxman grilling on his monarchy views: "I had a very nice chat with the Queen" #BattleForNumber10 pic.twitter.com/JbjkoFVOfB

— i newspaper (@theipaper) May 29, 2017
This kind of pure ideological attack interview is just 'Gotcha'-style media infantilism.
On Common Ground
There are two election campaigns going on – and many Scottish politicos high on binary tribalism – can't really cope with this level of complexity.
If Corbyn is shaking the Tories over-confidence to it's core, as the May campaign scrambles to re-brand and re-position in the onslaught of public ridicule, the situation in Jockistan is a bit more tricky.
ON GMS this late May morning, the parties only Scottish incumbent, stout defender of the Red Bastion of Morningside spoke eloquently and solely about the referendum. Ian Murray had only that to say and indeed, its been the distinguishing feature of Kezia Dugdale's every public utterance. So imagine the gnashing of teeth as Corbyn once again left the door open to a conversation with the Scottish Government about a second referendum.
In an interview he said: "I'll obviously open discussions with the government in Scotland and listen very carefully to what the Scottish Parliament says."
'Labour in turmoil as Jeremy Corbyn says yes to indyref talks days after Kezia Dugdale said no'
Immediately afterwards Scottish labour rushed out a media release saying it had all been a terrible misunderstanding. It's becoming a bit of parlour game, but Corbyn's statements are consistent and you'd have to be a fool not to realise that there's something more than bungling and botched arse-to-elbow miscommunication going on. The statement has not just sent Scottish Labour into meltdown – it's also confused some Scottish nationalists who are mired in such tribalism that the concept of campaigning to win in Scotland, while hoping for antiTory victories in England and Wales is too much to compute. You wonder, do they hope for an SNP breakthrough beyond the 59 out of 650?
This is dangerous ground for everybody, until it happens.
The reality is that a Labour victory would send such shockwaves through the British State that everything would be off the table. It would be such a game-changer of historic proportions that Dugdale and her Scottish Labour team would be deemed utterly insignificant.
When asked if she would prefer May or Corbyn in Downing Street, Sturgeon said: "I don't want a Tory prime minister. I don't want to see a Tory government." Pushed further on that during an interview with Sky News yesterday , Sturgeon said if such an arrangement, she'd "want to get as much of SNP manifesto implemented as possible".
This is so blatantly obvious, it's surprising that some people can't get their heads around it. The are two simultaenous opportunities emerging, a strengthened renewed mandate for Scotland and social justice agenda for England and Wales alongside an alliance that explores common ground, of which there is plenty.
The SNP manifesto has a key section on #indyref2 which states simply that the party winning a "majority of Scottish seats" would reinforce the indyref mandate #GE2017 . Of course it would, and any suggestion otherwise is both disingenuous and unsustainable.
In Perth today Nicola Sturgeon talked of creating a Fairer Society, and we shouldn't be scared of finding common ground with other forces to achieve that. The are some significant and crucial policy differences between the SNP and the Labour Party and the Greens, but there are some commonalities and some space for developing an anti-Tory alliance.
We have been so riven by tribalism that the chance for alliance and collaboration seems alien, even when the opportunities are clear. Parties may have to pretend otherwise but it's blindingly obvious.