Out of the Silos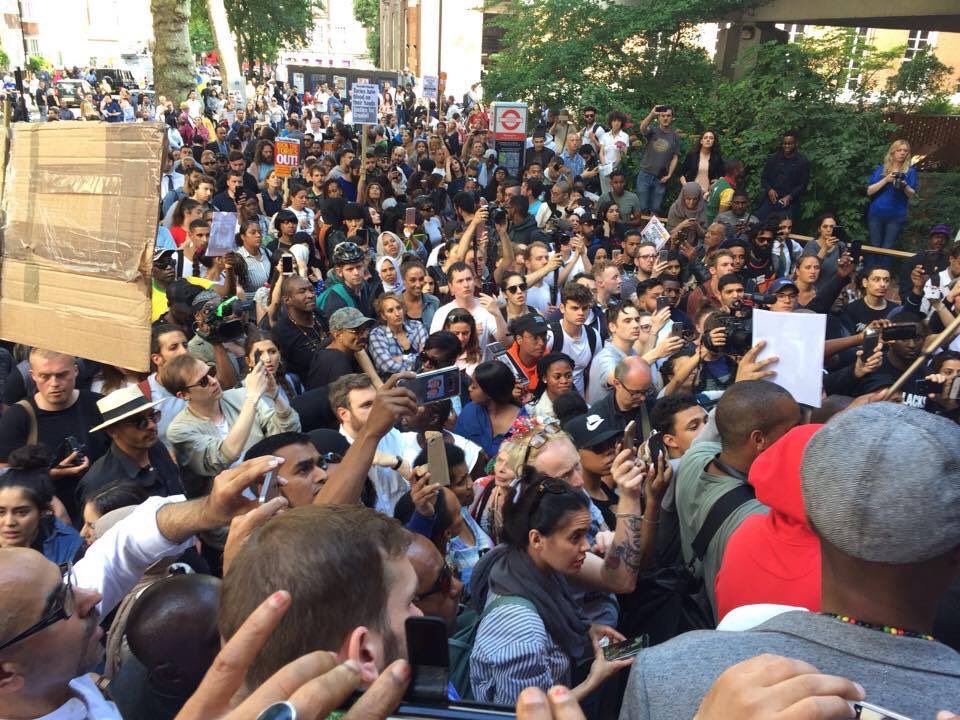 The reality of relations between the dispossessed and the elite of this country haven't been as raw and exposed since Orgreave.
But some of the characters have changed. The industrial working class is dead, morphed into a thousand powerless voices, from the workers on zero hours to the homeless and abused, the low-pay workers and the unemployed and the refugees fleeing war-zones created in part by Britain's own disastrous foreign policy.
This weekend London – and wider parts of urban Britain have a weird hallucinatory charge to them. They feel like the Black Lodge from Twin Peak, 'a nightmarish place occupied by malign spirits who travel by electricity, talk backwards and feed on a substance made up of human pain and suffering.'
If the actors have changed power relations remain the same.
But as the writer Naomi Klein noted after interviewing Alexis Tsipras before he was elected in Greece, where he said 'It is enough in this moment to say no' – it is not enough to say no any more.
Klein disagrees: "The triumph of neoliberalism is the idea that the alternative is always even worse. To overturn that there has to be a boldness and a recapturing of the utopian imagination. If we can't do that, then I really don't think we have a chance against these guys."
Klein suggests a new unity between the groups that spontaneously expressed resistance – Black Lives Matter, various green and community groups – and argues for them to come together. "To resist this we have get out of the silos," she says. "Environmentalists in one corner, feminists in one corner, racial justice in another. We don't have enough spaces where we can get together."
Klein suggests collective memory as an essential part if resistance. And watching the community organisation in the aftermath of the Grenfell disaster reminded me of Pathe coverage of the Blitz. Leadership, completely absent from the elected officials, culpable and complicit, is coming instead from the streets, the communities and the churchs.
The media reaction has been predictable.
The Times and the Mail and the Telegraph and the Express have blamed everyone but the obvious. The Express tried to pin it on 'EU regulation' while the Mail tried 'green targets'.
Two of Britain's worst newspapers despicably trying to shift the blame for the Grenfell tragedy onto their preferred targets. pic.twitter.com/plAqktzoeU

— David Lewis (@davidclewis) June 16, 2017
While a hundred scribes and underlings like Stephen Daisley bleat: "Why couldn't these Trotskyist thugs leave the Grenfell families alone to protest in peace? We don't need rampaging mobs right now." As if having your family burnt to death wouldn't be enough to make you angry?
The Times did their part.
Corbyn said use empty properties, not seize people's homes. It's not just politicians; the media are part of this. #JusticeForGrenfell pic.twitter.com/O6cSvylS3T

— After Phase One (@AfterPhaseOne) June 16, 2017
Iain Martin weighed in with a new level of smear:
Tory Times columnist Iain Martin
labels Grenfell Tower protestors
'socialist twats'
PLEASE RT pic.twitter.com/L1iJj5A7JJ

— Graham Capstick (@GrahanAndrew) June 16, 2017
How to get out of here?
Practical community solidarity, mass peaceful protest and direct action are in full flow.
What about a parliamentary route?
Can May been run of Westminster? Can we get a vote of no confidence?
Mass protest and insurgency combined with a progressive coalition could oust this grim regime. The Blitz spirit can be re-born and re-made into a force to re-make society for the many not the few. The response to this crisis must include gentrification, housing as a right, poverty and the democratic deficit that defines British society. It is a question of citizenship and rejecting subject-status.
It is not enough to say no any more.
*
TODAY: #JusticeForGrenfell Glasgow stands with you. 2pm, Buchanan St steps. (Called by the Living Rent Campaign)