Mcsmorgasbord meets the Bold Scotland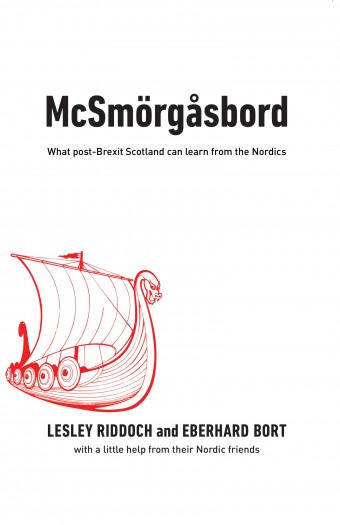 An evening with Lesley Riddoch and Gerry Hassan discussing Brexit, independence, and the state of Britain organised by Commonweal Fife. Both writers have new books out which are timely contributions to the ongoing debate about Scotland and our future.
Wednesday 21 June 19:00–21:30 at the Adam Smith Theatre, Bennochy Road, Kirkcaldy. Free admission.
===================================================
Lesley Riddoch & Ebrehart (Paddy) Bort :: Mcsmorgasbord: What We Can Learn from Our Northern Neighbours (Luath Press)
What can post-Brexit Scotland learn from the Nordics?
The unique combination of personal experience and experts' insights give this book its hands-on character: pragmatic and thought-provoking, challenging and instructive, full of amazing stories and useful comparisons, enriching the debates about Scotland's post-Brexit future as a Nordic neighbour.
===================================================
Gerry Hassan :: Scotland the Bold (Freight Books)
Scotland has changed fundamentally. This story has become a familiar one, but have we yet understood its full meaning and the resulting consequences? What kind of choices do we face as a society and nation about our future, and how can we best shape them? Scotland the Bold explores how Scotland became what it is, considers what choices and obstacles it faces, identifies signs of people taking power into their own hands and addresses what we can all do to create a radically different, democratic and better Scotland.
Scotland is now visibly different from the rest of the UK and the self-evidently bankrupt economic, social and political thinking that dominate British elites. Majority Scottish opinion is repulsed by a million people relying on food-banks and the prevalence of welfare sanctions in the fifth richest economy in the world.
However, that doesn't mean that Scotland is automatically morally superior – for in our own nation we have our own poverty, our own shames and silences, and our own elites. For self-government to have any meaning it entails addressing some hard and difficult truths about ourselves. All of this requires that we begin to talk honestly and maturely about Scotland's future and some of the difficult choices we will have to make; reflecting on where we have come from, what we are proud of, mistakes, and how we do things better in the future.