Generation Rent and Voter Intention
Abi Wilkinson on the ABCs of Labour, and the demographics of political change in 2017.
There's a critique of Labour currently being pushed that goes something like this: the party has abandoned it's core working class supporters. It gained the biggest swing from voters in NRS social grades ABC1 – commonly used by pollsters as a proxy for "middle class" – while only slightly increasing its vote share amongst C2DEs. The Tories, in contrast, increased their vote amongst the latter demographic. Thus, it's concluded, the party advocating for a £10 living wage, stronger trade unions and rent control doesn't really represent working people at all. It has been taken over by privileged, middle-class hippy types who're out of touch with traditional Labour voters' true concerns.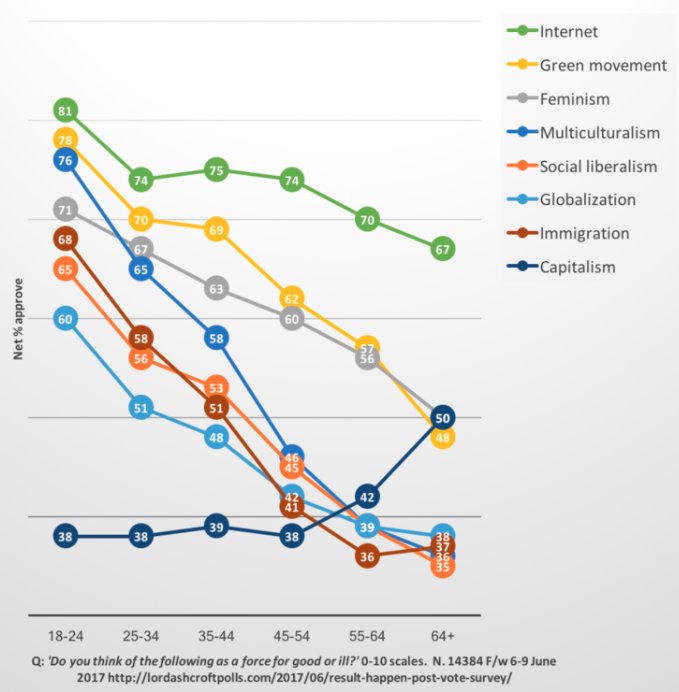 This is nonsense for a number of different reasons. Most obviously, because of issues with the data being used. NRS social grades were created over 50 years for use by advertisers. The use of ABC1 and C2DE as proxies for, respectively, middle and working class, is based on a distinction between manual work and administrative, managerial or professional roles. For much of the last century, this division made sense. In 2017, though, it leads to some odd conclusions. According to this system, a call centre employee earning £8 an hour doing repetitive tasks with little autonomy is classed as C1, and is consequently understood to be more privileged than a self-employed plumber or electrician making upwards of £40,000 a year.
Sociologists first started writing about the "deskilling of white-collar work" and the creation of a "white collar proletariat" several decades ago. It's unclear why political pollsters insist on sticking with a classification system widely recognised as hopelessly outdated.
The other elephant in the room is age. It's well known that older people were far more likely to vote Conservative in this election, and that under 50s tended towards voting Labour – with this skew being most pronounced amongst 18-24s. There has long been something of an age divide in voting preferences, but it's now far more significant than it was. There's no obvious reason this should hinder analysis focused on social class, of course, except for one thing: the NRS social grade system being used classifies the majority of pensioners as E. That is, it groups them in with "casual or lowest grade workers" and "others who depend on the welfare state for their income" to make up the bottom band of the "working class".
When you break down the data by age, a very different picture starts to emerge – and claims that Labour is unappealing to people in working class occupations are far more difficult to sustain. A massive 70% of 18-34s classed as D or E voted for the leftwing party, and 55% of 35-54s in the same category did the same. That's shop assistants and warehouse workers, bartenders and bus drivers. It's people at the sharp end of many harmful trends. Zero-hours contracts and other precarious employment arrangements. The decline of trade unions and cuts to legal aid which make it impossible to take workplace rights issues to tribunal. It's also people who're unemployed – subject to a cruel regime of sanctions and cuts, including the welfare cap a court recent ruled caused "misery… to no good purpose".
It doesn't take a genius to work out why these people predominantly voted Labour. The party offered a plethora of concrete proposals to improve the material circumstances of lower income and insecurely employed workers. And though its manifesto was frustratingly vague on certain welfare-related issues – Corbyn has a track record of fighting cuts to both transfer payments and public services. Indeed, his 2015 leadership campaign received a massive boost when he was one of just 48 Labour MPs to rebel and vote against the Conservatives welfare bill, defying caretaker leader Harriet Harman's instruction to abstain.
One likely explanation for the unusually pronounced age divide is property ownership. While the majority of pensioners own their own homes, even younger people earning above average salaries are struggling to get on the housing ladder. This would be less of a problem if the UK had stronger protections for renters, as in Germany and other European countries. As it is, renters are often treated like dirt. The Conservatives voted down a bill requiring landlords make homes "fit for human habitation", and many people are forced to move because rent hikes make staying in their existing home unaffordable.
All in all, it's hardly surprising that younger people are less likely to believe the economic status quo is working and more inclined to vote for the party offering fairly radical change.
Usually, narratives about Labour no longer representing working class interests seem to focus entirely on cultural aspects of class identity. A notional white, older, male "skilled manual" worker is held up as the platonic ideal of a working class person the party needs to appeal to – generally by being more hostile towards immigration. In reality, the working class in 21st century is disproportionately female and ethnic minority. Single mothers are hugely over-represented amongst those on the lowest incomes. Working age people are more likely to be living in poverty than pensioners.
Amongst all of the demographics most disadvantaged in the current economic context, Labour has made gains, while also picking up middle class votes. The latter trend makes sense when you consider that many professionals have experienced public sector cuts first hand. 68% of teachers voted Labour this time round, for example. In 2010 it was roughly a quarter.
The party is building exactly the sort of voting coalition it needs to win – handwringing about "traditional voters" be damned.