The Tiger who Came to Tea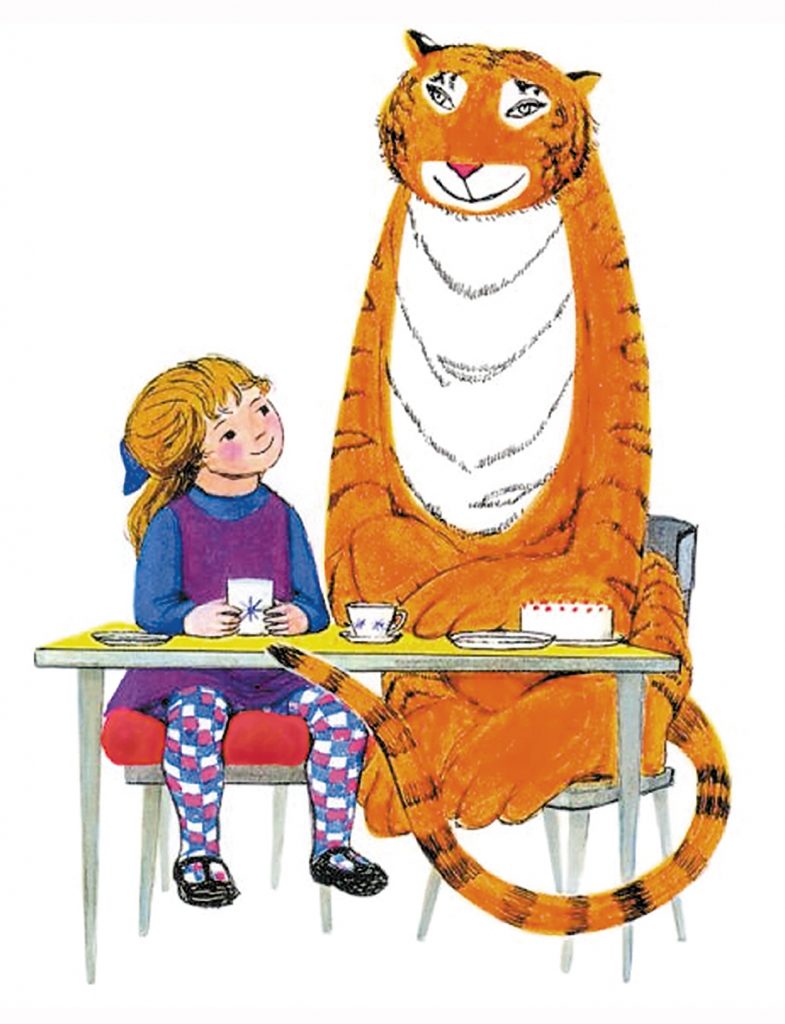 It's clear that many of our cultural institutions are not fit for purpose and are still mired in slightly weird inappropriate dispositions, a historic legacy of a political failure of leadership and decades of cultural misinformation.
We can see this in attitudes to language, visual art, in specific (and very different hostility to Scots and Gaelic), in issues about leadership and curation, in attitudes to the Gàidhealtachd, and in general expressions of self-loathing and 'cultural cringe.' There is such deep ignorance of our own culture, even to the extent of denying that it does (or could possibly) exist, that even having this discussion is one that is fraught with difficulty and likely to attract mockery and anger. However in times of both cultural renewal and a heightened British nationalism, these expressions of anglonormative vision clash with the more simple desire for self-expression and re-education.
Here's some examples of the problem.
This week we saw the former Labour MP Tom Harris tweet that:
3rd year pupils at a Scottish secondary, as part of their English course, are "translating" The Tiger Who Came to Tea into Scots. Depressing

— Tom Harris (@MrTCHarris) June 27, 2017
No doubt Tom will be reaching for the Prozac at the news that Harry Potter is to be translated into Scots. by publisher Itchy Coo (see 'Harry Potter and the Philosopher's Stane').
But what exactly is so depressing, and what attracts the ire of not just British nationalists but ordinary Scots?
'MR and Mrs Dursley, o nummer fower, Privet Loan, were prood tae say that they were gey normal, thank ye awfie muckle.'
Scots language suffers from a quixotic double-attack. From one perspective it is derided as being 'common' / not really a language / slovenly / slang. There is a strong class element to this aversion which is closely allied to both social aspiration (shedding yourself of such crudity so as to assimilate more easily further up the social ladder), and to cleaving as closely as possible to the dominant cultural force (Anglo-British). Confusingly there is also a critique of Scots as being "middle class". It's an affectation and a concern of either a peripheral rural Scotland (ie not proper urban Scotland) or a marginal cultural obsession.
The hostility to gaelic has a different dimension. It is simultaneously less and considerably more threatening to monolinguists and cultural unionists. There is also an expressly religious (ie anti-Catholic) element to this. See for example the comments below the line in the Herald here.
Highland Migrants
Some of his is about historical ignorance. Language, history and geography can't be disentangled.
BBC Scotland inform us last night they will be showing a programme in which: "Neil Oliver recounts the story of the 1773 highland migrants who left Scotland to settle in Nova Scotia. Tonight, 9pm, BBC Two Scotland".
'Highland migrants' is an astonishing phrase to use in this context. Although it's noted that refugees fleeing warzones in the past few years have been re-designated as 'migrants' so perhaps there is consistency here.
The National Museum of Scotland manages to put on a major exhibition about the Jacobite Rebellion (s) – the first for decades – without reference to gaelic language. Not only was gaelic language and culture central to the worldview of the Jacobites, their defeat led to the languages annihilation and the systematic destruction of a peoples culture.
To exclude it from the narrative is both ahistorical it is also culturally ignorant and politically retributive. It is as some have described it: an act of "linguistic and cultural erasure."
As Wilson McLeod, Professor of Gaelic at Edinburgh University and Anja Gunderloch, Lecturer in Celtic have written:
"The NMS promises that the exhibition will 'examine some of the misconceptions that have surrounded' the Jacobites, but they appear to have maintained one of the most enduring and pernicious misconceptions: that the Gaels were minor players in the Jacobite movement and that the English language suffices to tell all aspects of the Jacobite story. The physical exhibition will be entirely in English, with the Gaelic element in the 'Jacobite story' downplayed and marginalised."
None of this is new and it is played out in various fields.
Back in 2013 Murdo Macdonald wrote on 'Finding Scottish Art' for Bella. He said:
"In 2010 I presented a paper to the Rannsachadh na Gàidhlig conference at the University of Aberdeen entitled 'Reflections on the Neglect of the Visual Art of the Scottish Gàidhealtachd.' In that paper I noted the curious neglect of the visual aspect of a Highland culture that had produced both world class illuminated manuscripts in the seventh, eighth and ninth centuries and the founder figure of modern Scottish painting in the nineteenth century. At the heart of my concern was, and is, the necessity of re-appropriating such lost histories. Such concern has informed my research not just with respect to Highland art but with respect to Scottish art in general. There should be no need for such re-appropriation, yet even after the publication of Duncan Macmillan's comprehensive book on Scottish painting in 1990, it was easy to find yourself in one of those strange conversations in which your interlocutor was earnestly trying to persuade you that in fact the area you were studying did not exist. Typically people would tell me that Scotland was a literary nation and that the visual tradition, was, almost as a consequence of this, of no account. Since many of my interlocutors were themselves Scots, or others sympathetic to Scottish culture, this struck me as an intriguingly auto-destructive attitude.  But what underlay it was, of course, ignorance. A refusal to believe that any significant cultural tradition existed, if they themselves had little knowledge of it. "
MacTaggart
Into this debate comes the annual Edinburgh Festival, which frequently feels like it's an event that's not really for the residents of the city, and which seems only notionally located in Scotland.
An 'Alternative MacTaggart' is announced:
Excited to announce @rustyrockets as our Alternative MacTaggart! This is not to be missed! https://t.co/abh1XayaY3 pic.twitter.com/jMI6NrY8Yz

— EdinburghTVFestival (@EdinburghTVFest) June 27, 2017
DialMforMurdo asks: "In what world is having a multi-millionaire spend one hour addressing a room full of professional TV lovelies an alternative MacTaggart?"
The answer is of course only in a world in which the festival itself is an act of cultural colonisation, alienation and corporate self-flagellation.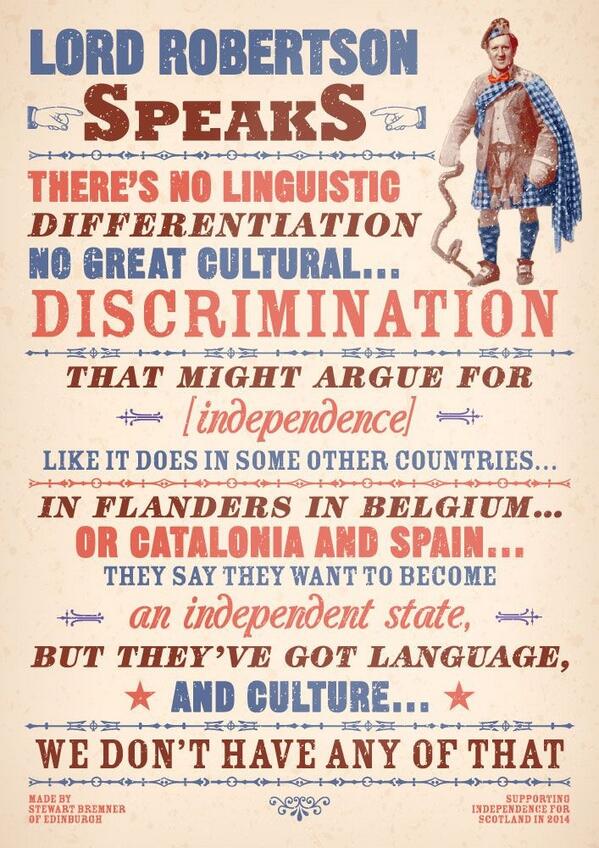 And only in a world where George Robertson can stand on a public stage and suggest that Scotland does not have language and culture to speak of.
In part this may just be ignorance, the reflexive gaze of spending a long time away from Scotland in institutions who view the world through the prism of Britishness and being weened in the comfort of the Mother of All Parliaments, or just a generational  cultural cringe.
This year the Edinburgh Festival will celebrate its 70th Anniversary. Plans are to takeover St Andrew Square for two nights celebration.
If the organisers were minded they could celebrate the various directors of the festival since its inception in 1947.
How would that look?
Of course none of the ten directors over seven decades have been Scottish, all have been men, all have been white and there is more than a whiff of aristocratic, paternalism to the roll-call:
1947–49: Sir Rudolf Bing
1950–55: Sir Ian Bruce Hope Hunter
1956–60: Robert Noel Ponsonby
1961–65: George Henry Hubert Lascelles, 7th Earl of Harewood
1966–78: Peter Diamand
1979–83: Sir John Richard Gray Drummond
1984–91: Frank Dunlop
1992–2006: Sir Brian McMaster
October 2006–2014 Sir Jonathan Mills
October 2014 – present Fergus Linehan
There now needs to follow a disclaimer which says that much of the festival is brilliant, inspiring, exciting and not least of this is brought by its internationalism. But then there is absolutely nothing whatsoever about arguing for a locatedness, a rooted sense of cultural confidence which would detract from that internationalism. It is only in a country ill at ease with its own cultural roots that you'd think that, and it is frankly inconceivable to imagine a similar festival anywhere with such a history of leadership.
The story of the Tiger Who Came to Tea is a classic by childrens author Judith Kerr. The tiger appears not as a threat but a benign and comforting (if greedy) character. If the tiger represents valuing and expressing our culture (s) and language (s) there is nothing to be scared of (or depressed) by.
The frequently expressed fear that Scots or Gaelic is being or will be "rammed down our throats" is neither desirable nor possible.
We are left instead with ongoing acts of "linguistic and cultural erasure" – acts which we are often complicit in.

Help to support independent Scottish journalism by subscribing or donating today.