We're in the Army Now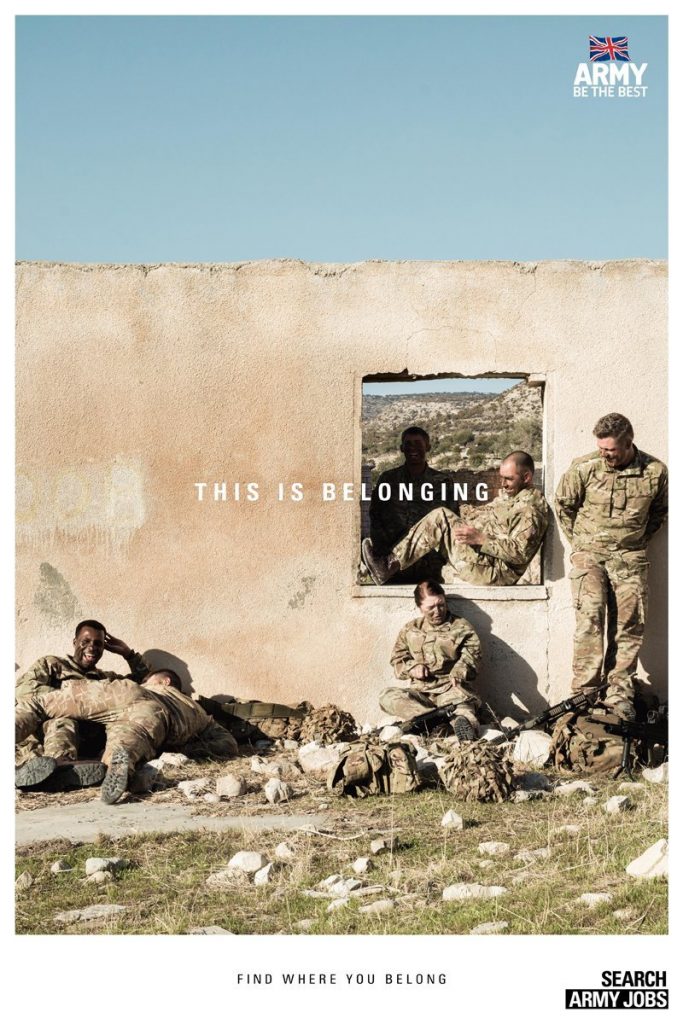 We are witnessing the Fringe, with the support of Summerhall and Creative Scotland, become the latest creative partners to support the mainstreaming of militarism within UK culture argues Catrin Evans.
The Edinburgh Fringe is here, and for all the aspects of the Fringe that I find difficult –inaccessible ticket prices, domination of white middle-class (male) voices, and hyper commercialisation, to name a few – I know that I will always experience work that astounds, challenges and inspires me. But this year I feel a deep discomfort with the presence of a new venue run, resourced and managed by the British Army.
Advertising itself as a space to explore 'what the Army is and what it stands for in 21st Century society', at first glance the 'cutting-edge performance programme' looks thematically pretty challenging. It includes shows dealing with PTSD, and there are some impressive artists and companies lined up to present work. It is only in reading more about [email protected] Fringe that my disquiet really sets in.
Located at a 'real life Army Reserve' with at least two of the shows developed in direct partnership with the Army itself, the venue will be staffed by serving soldiers. The pieces presented seem focused on the experiences of 'our' soldiers past and present, (and in one instance, the police), with little or no space for the narratives of the people affected by, or in opposition to, the actions of the armed forces. How can we genuinely have an in-depth critical debate about what the army stands for if the shows, the staff, and the entire atmosphere of the venue are being stage-managed by the military itself? At least the Tattoo is transparent in its celebration of all things military. It doesn't purport to be anything other than what it is. [email protected] Fringe on the other hand is presenting itself as something quite different; that is, a progressive, accessible institution willing to talk. However, the intention for this space is clearly less about debate and more about making the military familiar, promoting a positive image of the armed forces and impressing Fringe audiences with its ability to put itself under scrutiny.
We are witnessing the Fringe, with the support of Summerhall and Creative Scotland, become the latest creative partners to support the mainstreaming of militarism within UK culture. With their assistance, the Army is strengthening what oil and gas companies refer to as their Social License to Operate; we are being invited into a live advert for the military, rather than a discussion about its role. In fact, I wouldn't be surprised if [email protected] is part of the current armed forces recruitment campaign – This is Belonging – which exemplifies how the military is being cleansed of its associations with the horrors of warfare. Bella covered it back in January. Instead, it is being marketed as a way for young people to find a sense of home in an alienating world, whilst also working to recruit wider society into being what David Gee refers to in his excellent book Spectacle, Reality and Resistance as 'casual militarists': the average civilian who – out of respect for the troops – has come to accept wars in foreign lands as a natural part of contemporary culture, but neglects to scrutinise the agendas, geopolitical drivers and material consequences of our participation in these so-called necessary conflicts.
Cultural militarism is just one of aspect of a wider militarist agenda currently being driven by the MoD who focus large amounts of time, energy and resources into strengthening the relationship between civilians and military personnel. This has manifested in Armed Forces Day, in soldiers at high-profile events (from sports to reality TV), and in Education projects like Troops to Teachers, which is just one of the ways the government is working to reignite a military-ethos in schools. The ultimate marker of this agenda is the re-branding of Remembrance Day, from Never Forget to Support Our Troops. This has so successfully conflated past wars with current ones that critical debate around ongoing military action is increasingly met with accusations of disloyalty towards those who died in WWI and WWII. The key strategy is to humanise personnel and to make us respect and honour all soldiers – because every soldier is now labelled a hero by default. This is a means of distancing and distracting us from what it is that they actually do. We are all being recruited all the time in a variety of ways. It's a quiet bombardment and the Fringe is the latest frontline.
The UK is the second largest arms trader in the world and our armed forces have been unceasingly engaged in conflicts around the world for more than a hundred years. There is a vested interest in normalising the armed forces, in helping it be accepted as an intrinsic part of society, rather than an ideological and/or economic choice.
So, where are the raised voices against this cultural propaganda? Is it that we have now reached a point where militarism is so insidious that it can seamlessly be thrown into a traditionally liberal, anti-establishment set up like the Fringe and not only go unnoticed but actually be welcomed by major creative players? Surely this is a moment for the theatre sector to take a long hard look at itself, have some difficult conversations about the ethics of our partnerships, and interrogate why we have become spectators and cheerleaders for this deadly UK hobby.
*
Catrin Evans is a Theatre Maker and PHD researcher based in Glasgow. Her work includes Leaving Planet Earth (2013, Grid Iron/Edinburgh International Festival) and Thank You (Oran Mor & BBC Radio Scotland). She is the Artistic Director of A Moment's Peace Theatre Company.
*
We really need your support to develop though and we'd like to ask you to support us by donating to us here.
We've got big plans to launch our new site, to launch new publishing and events projects, and to extend our platform of writers – but all of this needs your support.
*
Bella Caledonia remains free (and ad-free) and takes me hundreds of hours a month to research, write, commission and edit. If you value what I do, please consider supporting with a recurring monthly donation of your choosing. GoCardless to set up a small monthly donation to support independent journalism in Scotland.
Thanks!
*
Go here to subscribe for free and get each Bella article sent to your email
Go here to follow us on Twitter @bellacaledonia
Go here to follow us on Instagram
Go here to join our Facebook Group
Go here to follow us on Spotify
Go here to write for us