Strange Fruit
When we wrote earlier this year of the potential for a neo-fascism to emerge out of the darkness of a Trump presidency we were ridiculed for being over the top. Watching Vice's 'Charlottesville: Race and Terror' makes your realise we were being over-cautious.
President Trumps ranting press conference marks a new low in a year of shameful rhetoric.
"President Donald Trump buoyed the white nationalist movementon Tuesday as no President has done in generations — equating activists protesting racism with the neo-Nazis and white supremacists who rampaged in Charlottesville, Virginia, over the weekend.
Never has he gone as far in defending their actions as he did during a wild, street-corner shouting-match of a news conference in the gilded lobby of Trump Tower, angrily asserting that so-called alt-left activists were just as responsible for the bloody confrontation as marchers brandishing swastikas, Confederate battle flags, anti-Semitic banners and "Trump/Pence" signs."
If the presence of Steve Bannon and Sebastian Gorka in the White House didn't alert you to the reality of the far-right coming centre stage in America, the public exposure of the snarling face of white nationalism surely now will do.
Trumps attempt at creating a moral equivalence between an "Alt-Left" and the "Alt-Right" is an extraordinary descent into public support for white terrorism, an attempt to re-frame the debate, to call to his base support and to 'Unite the Right'. He's been called out on it but unless the Republican leadership find a backbone they won't eject him. Veteran Republican Senator John McCain tweeted: "There is no moral equivalency between racists & Americans standing up to defy hate & bigotry" and there's been feint condemnations but it's too little too late.
We need to talk about fascism and the rise of the far-right and not just assume it's problem 'somewhere else'. We need to address what is and isn't a problem here, now.
The 'Blood and Soil' the fascists of Charlottesville were shouting about is the same that's been suggested by some is the driving force behind Scottish nationalism. Chris Deerin only yesterday, attempted to equate and connect the phenomenon of the American far-right with the Yes movement in Scotland:
"For some of us, it was an allergy to this tribalism, to the spasmodic urge to divide into us and them, that made a Yes vote in the independence referendum of 2014 utterly unthinkable. "
Gaby Hinsliff tried the same in the Guardian recently, claiming that:
"Physical intimidation became a distinctive feature of the (Yes) campaign. Posters supporting No were slashed with knives …What happened in Scotland was mirrored in an angry Brexit referendum, in which eastern Europeans were told by strangers in the street to go home".
She seemed not to have noticed the full-scale fascist-loyalist riot that took place in George Square. Its at best lazy journalism, at worst a deliberate distortion.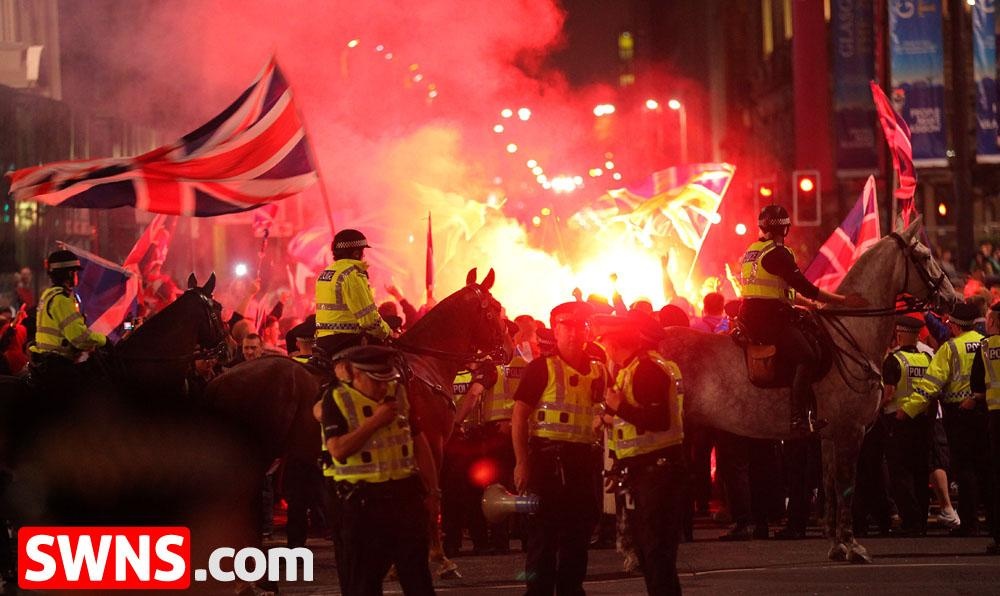 But that's not to say there isn't an issue with the alt-right and the right in the nationalist movement and in attitudes and responses to fascism.
We also need to confront the role of male violence in the far-right. It will have been a surprise to absolutely nobody to discover that James Alex Fields had a history of domestic violence. 
There's a telling part of the Vice film when one of the activists talks about Trump 'selling his daughter into the hands of the Jew'. It's a revealing combination of anti-semitism and considering your daughter as chattel.
Interesting to note that the Jewish community are now condemning Trump's inability to confront Nazism in his movement. Here the Rabbi that oversaw Ivanka Trump's conversion to Judaism slams him over his comments.
But the language of the alt-right is viral and we are not immune to it. If Scotland is largely immune to the worst electoral manifestations of the far right, and if the 'Scottish Defence League' has to arrive by bus from down south, this doesn't mean that we're not affected by the global memes of disaffection, alienation and racism.
In a recent post about the band Young Fathers being racially abused online (in which the Alt-right were definitely involved with a large Scottish contingent) Christopher Oliver  moaned on Facebook:
"The SJW levels are slowly killing the Indy movement. Have no lessons been learned?"
He was joined by another, Keith Buchanan – commenting on my article – 'Unbrits and Rich White Men' – waded in saying:
"Simply put, the article focusing on the fact that the five men were white is virtue signalling to the left that Brexit was an act of racism because it was primarily funded by 5 white men.
It ignores the facts that the philosophy of Brexit of course ties into a jingoistic sense of nationalism, and given that the native population of the UK is white then of course its highly probably that the people who identify with a campaign targetted at maintaining that demographic are of that demographic.
It ignores the fact as well that those targetted by the anti-immigration aspect of Brexit are also white by their nature as that is the largest native demographic of Europe, certainly those eastern European states that seemed to be the target and essentially boils down to a thinly veiled "Patriarchy bad, it's responsible for Brexit" message.
So Christopher, if I understand his point rightly – and this is what I agree with – is that the independence movement should not be splitting itself along social policy lines where subtextual implications that being a rich, white man is unwelcome in an independent Scotland are made i.e. Scottish Independence is all encompassing for those who wish to live here.
Given that ~48-49% of the population who will be voting on Scottish Independence are white men, the left will cause a rejection of Independence if it continues on it's insipid, inept and scientifically/economically refuted notion of "Patriarchy bad".
Got it?
Don't oppose racism because that might jeopardise the independence referendum. The alter of false unity must be used to invoked cosying up to fascists.
The obvious and instant conflation by these people of anti-racism and feminism is revealing.
This is about power and people being threatened as their traditional foothold in their world is altered, which for a lot of people is based on the subtle, or not so subtle subjugation of others.
In a recent Twitter exchange with a  leading Nationalist figure, he couldn't answer the simple question: "Would you be comfortable working with fascists in a local Yes group?"
So we have a right-wing in the nationalist movement that seeks to blame the left, and is building a narrative that the left was to blame for not winning the independence referendum and is trying to silence us.
Some of it – consciously or unconsciously – proposes mimicking the Brexit or the Trump campaigns in Scotland. This is not just politically stupid its morally wrong. Means and ends matter.
La Facosphere
Some of this is magnified by male domination of – and intimidation within social media.
In a recent article about 'France's Identity Crisis' and the rise of extreme politics, Henri Astier bursts the bubble of those who think that Macron's victory represents some kind of  defeat for right-wing populism or extreme nationalism. He writes:
"France now has by far the most vibrant online alt-right scene in Europe. According to one recent count, seven of the most popular political websites in French are far-right and much more extreme than the FN. Collectively referred to as the "fachosphere" these sites are run on a shoestring.
La Facoshphere describes an exotic land peopled with motley, and often warring tribes. Readers are introduced to the conspiracy theorists who expose the machinations of the secret rulers of the world, the identitarians who chronicle the descent of banlieues into chaos; the ultra-secularists who denounce Islam; the right-wing Catholics who inveigh against Islam and secularism."
They disagree on many things but they share a basic message: the powers that be and their subserviant media are lying to us.
Some of this may sound familiar to you.
This expression of paranoia, conspiracy and loss of male power is amplified greatly online, as this recent set of (previously unpublished) comments by 'PJ' demonstrates:
PJ
141.101.98.55
"And Mike's old mate KLitty Cat Boyd Voted for this mob. Voted to support the rape and extermination of Scotland. Voted Yoon because she's so cool.
How about an article outing her and her feminazi supporters as enemies of Scotland? Haggarty, Moyes, Strickland and the rest who put loyalty to the sisterhood ahead of democracy for their country.
Go on and post this on twitter again Smallcock. Show how much power bullying cunts like you have over ordinary people."
To which he added, now getting into his stride:
PJ
141.101.98.55
"Mikey Small A lying cuntbag. I never threatened you or that sad quisling whore KittyCat Boyd. I just expressed my displeasure at your rampant hypocrisy and double dealing on behalf of the yoons. Also if the police come to my door when you and the rest of your friends in the media encourage pricks like spanner, historywoman and gun toting reynard then it will prove exactly whose side you are on."
PJ's not alone.
This kind of vitriol rains down on Bella daily, and I'm entirely aware that this abuse is of a completely different order for women.
I post this charmer just because he is indicative of a certain strain of militant idiocy that is clearly inspired by a deep-seated misogyny. The phrase "loyalty to the sisterhood ahead of democracy for their country" is worth noting.
The End of the Fairytale
In America there is a very real danger that an openly (and legally) armed militia will rise up. As this account from a synagogue in Charlottesville testifies: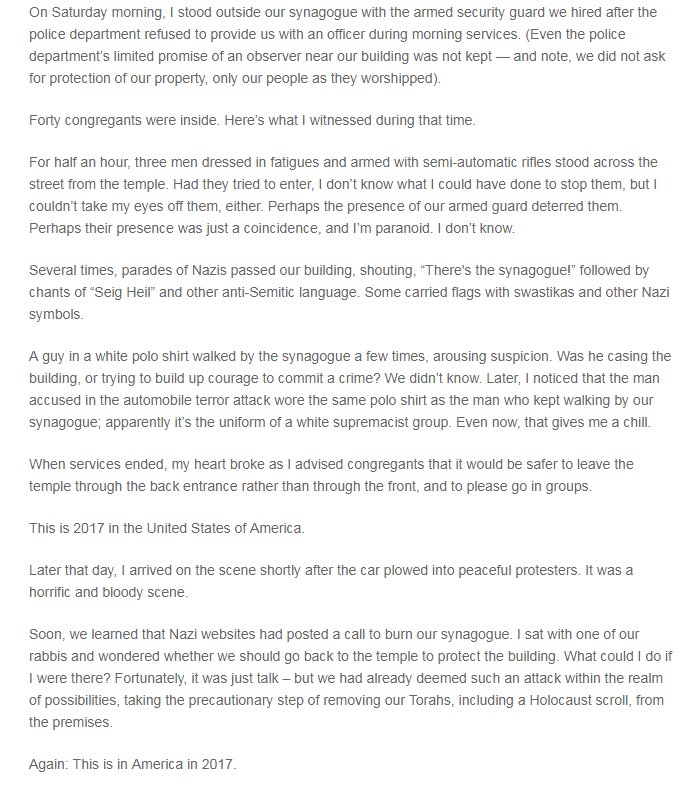 It's a toxic fusion of racism, anti-Semitism and misogyny.
Hyper-nationalism, hyper-machismo, overt racism, a language of, and deification of violence, and a hatred of the weak whilst masquerading as populist, all are present and correct in the man-child President that the world is staring at today.
As Suzanne Morre writes ("Patriarchy is the sea in which Trump and his sharks gather"):
"Patriarchy is not some men-only affair. Many women play a role in sustaining it. The far right, by the way, is not afraid of using this word. It claims it as the basis for all that is good in western civilisation. The elevation of Trump is absolutely patriarchal fundamentalism. He has swept up a lot of the Christian vote because of it. The adulation of Putin is the worship of another white power based on patriarchal rule: unapologetically anti-women, anti-gay, anti-black and anti-Muslim. It is obsessed with displays of masculinity to the point of fascist camp. The right promises the restoration of a time when men were men and women were sanctified mothers or whores. Such authoritarianism may be delivered by both men and women. As the American author and feminist bell hooks says, patriarchy has no gender. It is not situated only within the individual – which is why screaming "Sexist!" at someone only gets you so far. Were the women who voted for Trump furthering patriarchy? Yes, obviously. They may believe it can protect them. The dismantling of this power cannot possibly come from those who won't name it and spend the entire time shoring it up, largely reaping its benefits: that is, much of the liberal establishment. By assuming the culture war had been won, the myths of impartiality and neutrality have allowed far–right voices to go unchallenged. Patriarchal power asserts itself through cultural as well as economic resentment. And that is everywhere. The oft-repeated sentiment that feminism is itself an extreme movement is evidence of how liberalism bows down to authoritarianism."
The liberal voices that stood back and assured us that Trump would 'not be as bad as he appeared on the campaign trail', or that 'Brexit would never really happen' or that Scotland would 'have its place in discussions', all are part of a continuum of nonsense and denial, a sort of belief in moderation when none is visible, an outdated belief in a political system and a culture that doesn't function any more.  These are the stenographers that are just repeating a sort of folk-memory of a Britain or America that has been swept away.
Looking at the faces of the 'protestors' on the Vice film, and listening to them speak, its self-evident these are not the 'rustbelt' or 'forgotten' that people explain-away the Trump phenomena with. This was privilege on display.
As the American writer Rebecca Solnit has commented:
"Of course they gathered with torches, because the only liberty they have lost is the liberty to gather with torches and decide whose house to visit with terror. That is the right that is denied them: the right to other people's possessions, the right to be the only person in the room, the right to be the only person that the world is made for. (These are not rights. They are wrongs.) You are sad because your toys have been taken, but they were never toys to begin with. They were people. It is the ending of the fairy tale; because you were a beast, you did not see that the things around you were people and not objects that existed purely for your pleasure. You should not weep that the curse is broken and you can see that your footstool was a human being.
But to rejoice in that discovery you have to stop being a beast first, and they have not. Why would they? Trump promises to turn the world back and bring the curse again. That is implicit in his every speech, a dog whistle strong enough that every dog in America is deaf and in constant pain.
Here we are in the year of our lord 2017 and the president of the United States lacks the moral courage to condemn Nazis and white supremacists. And they are not even making it difficult. They are saluting like Nazis and waving Nazi flags and chanting like Nazis and spewing hatred like Nazis. Maya Angelou was not wrong. When someone tells you who they are, believe them. Especially if what that person is telling you is "I am a Nazi."
Remembering Heather Heyer
The language we use and the way we frame debates is essential. In the discussion about how to confront fascism, at home and abroad, the wider issue of means and ends returns and needs exploration.
For many Heather Heyer – the young women who is in danger of being forgotten in the same way as Jo Cox has disappeared – would have been derided by many as a 'Snowflake', or, worse a 'Social Justice Warrior'. This is the language of the new right, insidiously working its way into our discourse.
It's beyond time for the Yes movement to retrieve its core values, its aspiration to transform Scotland, to regain and re-articulate its vision and to distance itself from the dark populism of the right. This will need solidarity and nurturing a vision based on hope, aspiration and internationalism.
This would be a good time to start.
*
We really need your support to develop though and we'd like to ask you to support us by donating to us here.
We've got big plans to launch our new site, to launch new publishing and events projects, and to extend our platform of writers – but all of this needs your support.
Bella Caledonia remains free (and ad-free) and takes me hundreds of hours a month to research, write, commission and edit. If you value what I do, please consider supporting with a recurring monthly donation of your choosing. GoCardless to set up a small monthly donation to support independent journalism in Scotland.
Thanks!
*
Go here to subscribe for free and get each Bella article sent to your email
Go here to follow us on Twitter @bellacaledonia
Go here to follow us on Instagram
Go here to join our Facebook Group
Go here to follow us on Spotify
Go here to write for us