Playing Ball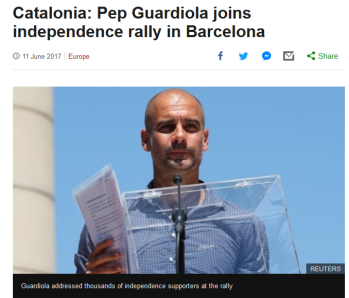 At the moment polls are still fluctuating between a small lead for independence and a small lead for staying in a rapidly failing state (I know, I know).
That obviously means just over or just under half of the Scottish population support independence, and although people who work in some industries may be more one way or the other depending on the sector, Scottish sportspeople, apart from one or two notable exceptions, seem to be remarkably silent on the matter.
Writers, musicians, poets, businessmen, people in trade unions and from many other sectors seem to have no problem declaring that they are supporters of independence, high-profile sportspeople don't seem to say anything on the matter.
Why would this be? It doesn't seem to bother them in other countries. What reasons could there be that stop people in this sector stating their opinions on the issue?
Let's have a look at some of the possible reasons…
1. Being told not to – At a Yes event, the night before the first referendum, someone who was in a position to know and who I'll just describe here as an influential person in the movement, told me that a captain of a certain football club, who is also an international player, was a strong supporter of independence but had been told by his employers to keep his mouth shut about it. Perhaps the threat of losing lucrative contracts is being used to keep people from coming out in support of independence.
2. Fear of losing funding from other bodies – Elite athletes go into a certain system in the UK. Elite athletes may fear the loss of funding. There is, of course, no reason an independent Scotland could not do the same thing, however there is some debate about if we would want to, as some have criticised the UK system of favouring elite athletes to the detriment of youth and local sports. The justification given for this elite model is usually that it helps to get more medals at the next Britnatfest, sorry, major sporting event.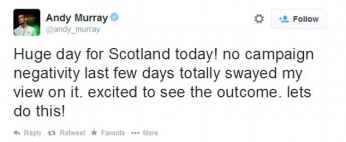 3. Fear of abuse – When Andy Murray (and his brother) came out for Indy on the day of the vote it led to some of the more, errrm, fervent unionists sending him an incredible amount of bile and hatred
I won't reproduce the sort of things they were saying about him as you've all seem them, but it was nasty. As an aside, when Murray said he supported indy it seemed like it was done in a calculated fashion, like a last-minute try to gain an extra couple of percent. If that is true (and I really don't know), then it was a miscalculation. It would have been great if Murray had declared early and people got to find out about it earlier on, instead of a tweet hours before the polls closed.
4. Fear of being made a fool of – Most of us know that in the Scottish media in general and in many sections of the UK media, apart from the usual "ungrateful b*stard" type of narrative, any sportsperson who said something on what the media see as the wrong side of this debate would probably be ridiculed on the grand scale by any number of hacks whose jobs depend on them doing just that.
5. Unionist explanation – With more or less half the population of Scotland supporting full independence, only the Murray brothers out of all the sportspeople in Scotland want to leave the UK. (I think we can rule this one out).
These are the possible reasons I can think of, and what they have in common, except number 5, is fear and some form of intimidation, and that can't be allowed to go unchallenged, by any of us. We can't allow fear to be used as a tactic to keep certain influential people's mouths shut. If we let that happen, we've already allowed them to stop one of our best lines of attack, and one that the unionist side used frequently the last time round.
In that spirit, I'd like to say this… If you are a sportsperson reading this and support indy (or you know one who does), you are welcome to come onto the Scottish Independence Podcast and have a chat about it and I'll get the story out and you will not be harassed on the show. If you'd like to tell a story about what I've suggested above anonymously, then drop me a line and provided I can verify you are who you say you are then I'll do that too, or I'll give it to someone who can get it out even wider than I can.
Contact Michael Greenwell here.
*
We really need your support to develop though and we'd like to ask you to support us by donating to us here.
We've got big plans to launch our new site, to launch new publishing and events projects, and to extend our platform of writers – but all of this needs your support.
Bella Caledonia remains free (and ad-free) and takes me hundreds of hours a month to research, write, commission and edit. If you value what I do, please consider supporting with a recurring monthly donation of your choosing. GoCardless to set up a small monthly donation to support independent journalism in Scotland.
Thanks!
*
Go here to subscribe for free and get each Bella article sent to your email
Go here to follow us on Twitter @bellacaledonia
Go here to follow us on Instagram
Go here to join our Facebook Group
Go here to follow us on Spotify
Go here to write for us