It Began In Orkney: The Making of Oceanallover's Sea Hames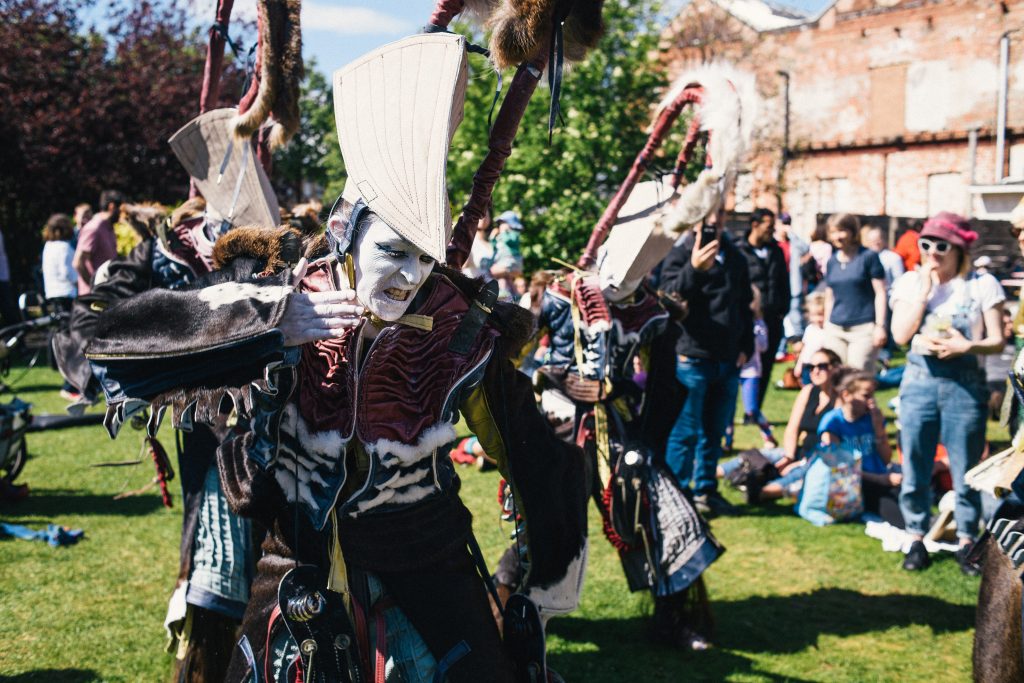 In the studio with performance artist, designer and director Alex Rigg. Interview by Bram E. Gieben 
Oceanallover's Aritstic Director Alex Rigg has produced unique, often haunting, always fascinating 'interventions' in public places for years now with his artistic collective. Whether producing outlandish, sculpture-esque costumes or the baroque, improvised music which accompanies an Oceanallover show, he is at his happiest when lost in the creation of a piece, or at its heart, leading the dance.
This week, Dalkeith Country Park will serve as the spectacular backdrop for the latest Oceanallover performance – Sea Hames, inspired by the Festival of the Horse and Boys' Ploughing Match. Taking the mysterious tradition as a jumping off point, Sea Hames explores the mythology and iconography of the horse, plough, sea and land.
Oceanallover, based in South West Scotland, have created many stimulating outdoor performances for a wide number of locations from urban sites to rural settings. We spoke to Alex Rigg, at home in his studio near Penicuik, about the genesis of the show. You can also see three filmed interviews with Alex Rigg, over at the Feral Arts Vimeo page, and below.
What appeals to you about doing site-specific work, and what challenges and opportunities does the site at Dalkeith offer?

Rule number one for making this kind of work is never to attempt to compete in any way with the place in which the work is being presented. Our job is to invite the audience to see things in a different way, at least momentarily.
At Dalkeith Estate the performance will take place with the backdrop of the marvellous Montagu bridge designed by Robert Adam in 1792. The site is an inspiring collection of mediaeval and eighteenth century interventions and plantings with an exceptional acoustic.
Our job there is not to illustrate or to articulate any of this, but simply to be there. I think this gives us a direct connection to the Horse and Boy's Festival in St Margaret's Hope… the job of just being there. The life of each human being, each animal, plant, fungus, insect, bacteria is something so astounding and so profound that we cannot see how remarkable we all are. My job as an artist is to try and help others to see beyond themselves.
You recently took part in the original Horse & Boy festival in Orkney, with Sea Hames – how was that experience?

This festival has been a key point of inspiration for the project and provides a strong link between Sarah McFadyen, her uncle Raimie Manson and my own formative years on Orkney. The festival itself is a very specific kind of event with very little contemporary reference. We are privileged to be invited there to show our work. Orkney is a place of inspiring landscapes and friendly people. It also has a feeling of great antiquity to it and a close understanding of the land and the sea.
Discussing your writing, directing and design, you talked about the role of improvisation, and being self-taught – how does this apply to your approach to the music of Oceanallover?

In choosing artists and performers to collaborate with I need to feel that an exchange of ideas is possible. As with all relationships, it requires trust and a leap of faith. I propose written ideas and present abstract concepts to musicians, along with a decision to group particular musical sounds together.

The thinking process is fairly sub-concious there, allowing ideas time to formulate and develop throughout the life of the project. I don't get involved musically myself, despite spending several years making music previously. The team who work with us are all much better at playing than I am!
Our music team are Joey Sanderson, Sarah McFadyen, Richie Merchant, Breezy Elthalion, Anders Rigg, Guy Veale, Oliver Rigg and Cammy Sinclair. Performers for sea Hames are Florencia García Chafuén, Laini Chrismas, Lewis Sherlock, Jen Cummings, Jude Milligan, Philip Alexander McDonald, Aaron Jeffry and Jane Simpson. Our team have all made important contributions in the devising process. Joey, Breezy and Anders have all written new music for Sea Hames.
Your designs for Sea Hames drew on a diverse lot of folk traditions, myths and historical research – what were the influences for the musical side of the project?

Musically the project has several strands of thinking. The first is my own words which are an attempt to articulate my sense of what the underlying narrative is for the piece. This was offered to the band as a series of poems which could be used or applied in any order or sequence.
The second is the input of Sarah McFadyen with specific links to the horses that the project is based around on Orkney. She has written several pieces of music for the project and collaborates with here
husband Joey Sanderson.
Given the range of roles you take on in the creative process for your shows and interventions, how do you see them influencing each other – how does design affect music, and vice versa?

The differing aspects of my own input certainly do combine to create something that is larger than the individual parts. When I am making a shape as a costume experiment I get excited by the prospect of wearing it to dance in. When considering choreographic ideas I need to find a way of animating the movement musically that gives myself as a performer something that I find inspirational.
The whole thing is all linked together in my head. The cast need make a collective decision when they work with me to trust to my vision of what will work, despite it often seeming improbable when we first try it out. It is important that it is a collaborative experience with the work being devised collectively. My role is to provide points of inspiration for myself as performer and for the cast to find a creative thread to work with.
Info & Tickets:
'OCEANALLOVER – Sea Hames' is a free performances on 25 and 26 August. Spots can be booked here.
Transport has been organised between Edinburgh city centre and Dalkeith, with a bus running from Dance Base in the Grassmarket at a cost of £6.50 per person.
For more info on what's on at the Park, visit www.dalkeithcountrypark.co.uk and www.restorationyard.com or check out the Park's social media channels: Facebook @DalkeithCountryPark, Twitter @RestorationDCP, and Instagram @Restorationyarddcp.
*
We really need your support to develop though and we'd like to ask you to support us by donating to us here.
We've got big plans to launch our new site, to launch new publishing and events projects, and to extend our platform of writers – but all of this needs your support.
Bella Caledonia remains free (and ad-free) and takes me hundreds of hours a month to research, write, commission and edit. If you value what I do, please consider supporting with a recurring monthly donation of your choosing. GoCardless to set up a small monthly donation to support independent journalism in Scotland.
Thanks!
* Go here to subscribe for free and get each Bella article sent to your email Go here to follow us on Twitter @bellacaledonia Go here to follow us on Instagram Go here to join our Facebook Group Go here to follow us on Spotify Go here to write for us