Christians (and others) for Assault
The backlash against the eminently sensible, long overdue and (in European terms) completely unremarkable notion that children should have equal protection in law from assault – continues. But who are the networks combining to make sure you can assault your child? Here's a handy graphic to cut out and keep. Tom Dissonance's image updated 'to reflect direct establishment and funding of BR by CI and FET, and MIP's links to Philip Morris International':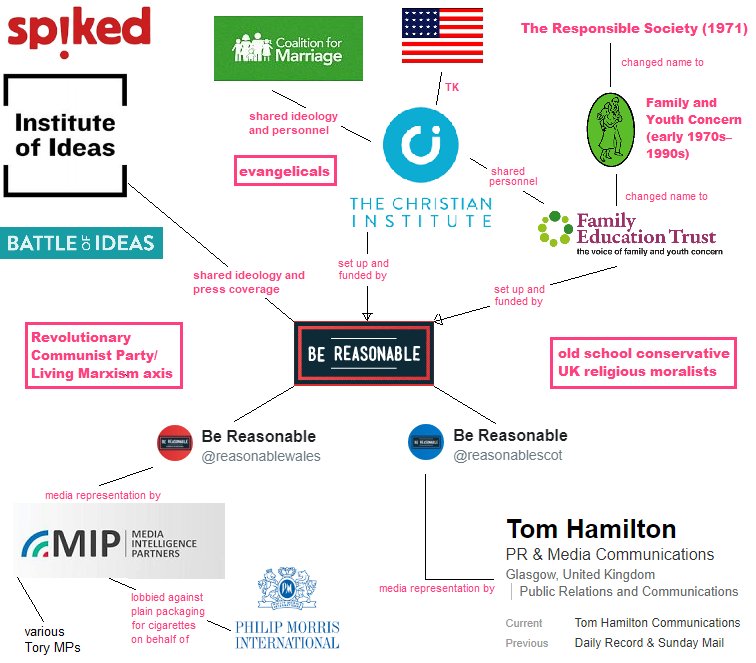 Because believe me when this legislation does kick-in the tabloids will be circling above anyone who has brought it into being – and they will thrash-out that message that comes neatly from the 'Salmond is Mugabe' song-sheet and shrieks of real fear that their power has been challenged.
[It has].
The NGOs and charities that helped pilot this will be under attack. So who are they?
Christian Institute
As one person who'd face a tabloid assault put it:
"The Christian Institute were also behind all the Named Person stuff and the Daily Mail has them on speed-dial."
As the Herald covered its opposition to the Named Person ('Fundamentalists who fought Named Person law face financial probe'):
"It has previously campaigned against gambling, abortion and euthanasia but most vigorously against homosexuality. It sought to raise the age of consent for gay people, it opposed civil partnerships and same sex marriages as well as legislation to allow gay couples to adopt. As a charity it has been censured by the Charity Commission for breaching rules on overt political campaigning. Most notoriously it produced an organ-donor style plastic card that read: "In the event of my death, I do not want my children to be adopted by homosexuals".
Nice.
In fact to be honest there's ample evidence that despite all of the hangers on it's the CI that are the main Smackers in town:
The Christian Institute admitting they set up pro-smacking Be Reasonable campaign – and other highlights from their accounts: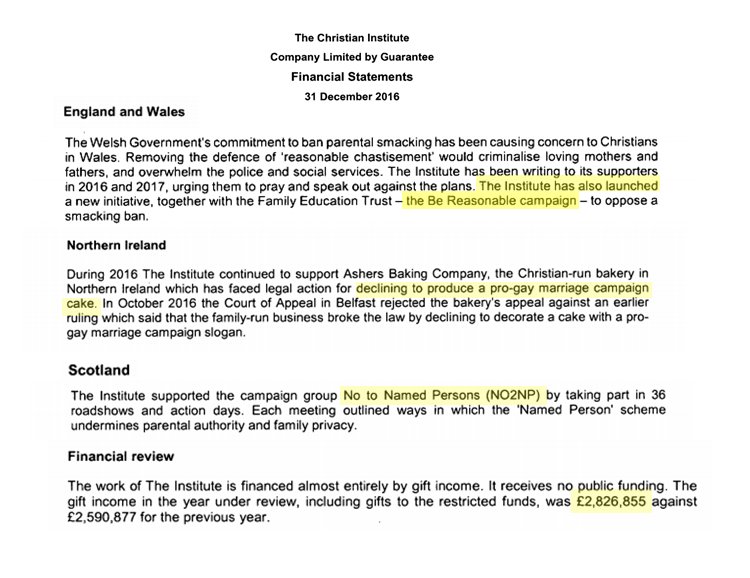 It's worth noting also role of the Tobacco lobby.
What's the tobacco lobby got to to with hitting children?
Well, in the world of libertarians and slightly desperate lobby groups – its one for all and all for one. They've got the lolly and nowhere to put it anymore.
Money is what unites fundamentalist Christians, "Communists" and "traditional family" advocates, that and a distinct feeling that their time has gone.
Of course the Media Intelligence Partners (MIP) "was founded in 2004 by Nick Wood, who is a former Communications Director for the UK Conservative Party, who worked for the MPs William Hague and Iain Duncan Smith.[1] MIP still works for the think-tank which was set up by Iain Duncan Smith in 2004, the Centre for Social Justice.[2][3] The company's website highlights the political and media experience of its staff: "With backgrounds in Downing Street, the White House, national newspapers and international campaigning our staff bring a wealth of experience to a client's campaign," it says."
The group was active to oppose the introduction of plain packaging in – in fact  Media Intelligence Partners acted as media contacts for Phillip Morris International, reiterating many of the tobacco industry arguments against plain packaging.
The Family Education Trust
The Family Education Trust is one of only two named supporters for the Be Reasonable – [hit your kids] – campaign.
They work under the slogan "for the family, for the youth, for the future" – and their Free Download page has this doozy: 'A reasonable approach to discipline' (cheap at 15p):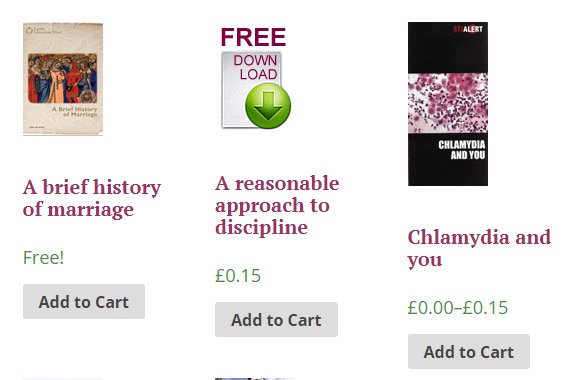 Well I'm sure you can imagine how this is all going, but here's Vice-chair of the Family Education Trust: Eric Hester BA and here's the Chair of the Family Education Trust: Arthur Cornell MEd, F.Coll.P.
Also present are the Coalition for Marriage.
As Adrian Tippets has written:
"Just who the Coalition are, beyond a list of over 130 core signatories, is not entirely clear, as Guardian columnist and science author Ben Goldacre has discovered.
There are links with a number of religious lobby groups. Board members of Coalition for Marriage Limited are prominent members of the Christian Institute, CARE, Family and Youth Concern and Christian Concern. Of these, the Coalition's links with the Christian Institute are particularly close. Coalition for Marriage Limited is registered to the Institute's Newcastle-upon-Tyne premises;  its website is registered to the Institute's office manager, John Errington, and the Institute's co-founder, Colin Hart, is a Coalition spokesman.
The Christian Institute has campaigned viciously and relentlessly against every single piece of LGBT rights legislation in the 22 years since its founding.  As a charity, it has been reprimanded by the Charities Commission on a number of occasions, most notoriously for producing organ-donor style plastic cards, that read: 'In the event of my death, I do not want my children to be adopted by homosexuals'.
It also came in for criticism for it publication Bankrolling Gay Proselytism: The case for extending Section 28, for being an exclusively political activity with relation to its supposed aims. It was one of several positioning papers – whose publication often coincided with related parliamentary debates –  using research often criticised by academics for being methodologically flawed, depicting gay people as diseased or dangerous and more likely to be paedophiles."
Essentially here we see a convergence of homophobic, far-right christian groups coalescing around the Scottish Conservatives.
The similarity of modus operandi between these groups and the LM Network isn't a coincidence. A series of front groups and astro-turf activism belies a debilitating small base of support, reducing annually. A palpable loss of credibility can be countered only by subterfuge.
The media's urge for false equivalence and the masque of websitery allows this nonsense to proliferate.
But several questions remain hanging from a Scottish perspective.
Who will defend the NGOs and charities representing children's rights when the tabloid hacks come to smear them?
Who will interrogate what ACTUAL demographic these groups represent?
At what point will the LM network's Scottish contacts be revealed?
How will progressive christians and faith groups respond to distance themselves from this propaganda and to stand up for social justice and human rights?
Conservative and reactionary Scotland is not confined to their cheerleaders in the Tory Party but is part of a hate-filled network of people operating against – in this case – our children's human rights.
*
We are holding our annual fundraising appeal to try and raise £35,000 to continue and develop Bella Caledonia. If you enjoy this site we need your support to continue.
We can't continue without more of our readers supporting us.
The money will go towards developing Bella as a platform for writers, filmmakers and artists, something that no-one else is doing in Scotland.
Please go here and make a donation.
Thank you.