Defend Democracy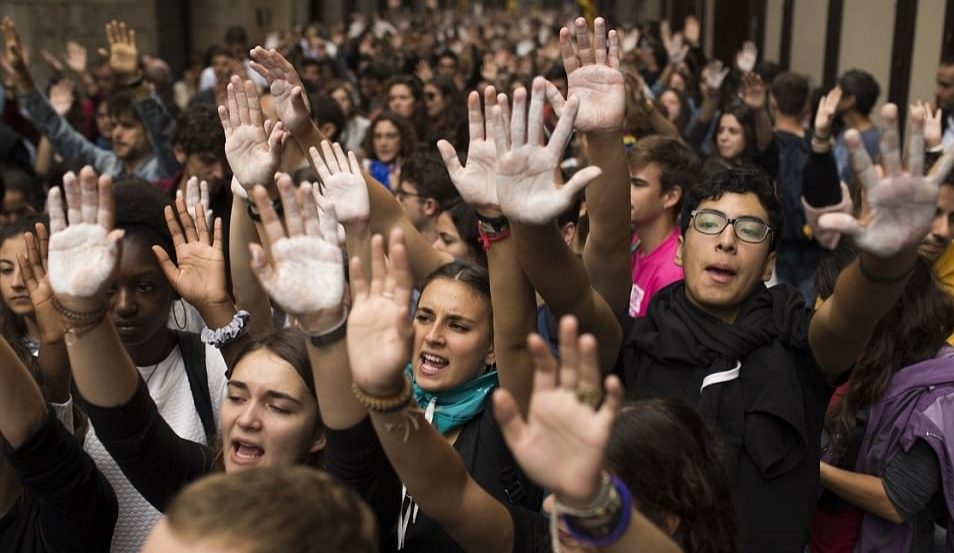 As the situation in Catalanonia develops over the next few days it's vital to send out a message of solidarity from across Europe. That's why the  the Catalan Defence Committee Scotland has been established.
You can add your name in support HERE today.
" The behaviour of the Spanish state is an outrage to all democrats across Europe. The peaceful and courageous action of millions of Catalans has been an inspiration. But this movement requires international support…"
As Iain Macwhirter wrote this week:
"What happens in Catalonia is not just an internal matter for Spain, and it is time this was recognised by the international community. There is an important legal context to bring to bear on the crisis. As  it says in the United Nations Charter, "all peoples have a right of self-determination". That applied mainly to anti-colonial movements but the Canadian Supreme Court's 1998 ruling on the question of Quebec's secession from Canada confirmed that self-determination can also apply to regional movements in democratic states. While unilateral secession is illegal, "a clear majority vote in Quebec on a clear question in favour of secession would confer democratic legitimacy on the secession initiative". The Clarity Act in 2000 put this into legislative effect and has been the starting point for all considerations of the law on regional separatism, including the Edinburgh Agreement in 2012."
He concludes: "Suppression of democratic participation and denial of self-determination should be of concern to all democratic nations that subscribe to international law and human rights conventions. The EU should have condemned the actions of the police in the October referendum."
Anna Arque – who will be speaking at the SIC Build 2 conference was interviewed for Newsnight here:
.@anna_arque says it's not going to be easy to arrest president Puigdemont "as he's been democratically elected by this nation" pic.twitter.com/3SVKUlqv9c

— BBC Newsnight (@BBCNewsnight) October 26, 2017
Defend Democracy – join the Catalan Defence Committee here.
*
We are holding our annual fundraising appeal to try and raise £35,000 to continue and develop Bella Caledonia. If you enjoy this site we need your support to continue.
We can't continue without more of our readers supporting us.
The money will go towards developing Bella as a platform for writers, filmmakers and artists, something that no-one else is doing in Scotland.
Please go here and make a donation. 
Thank you.