Sign Language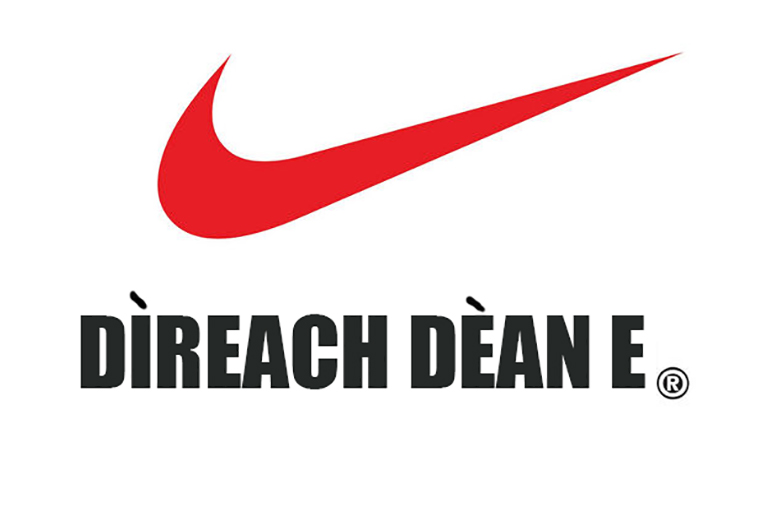 I had a somewhat sobering thought this morning, next year I will have been driving for forty years. Being brought up with a step-father in the car business I was around cars almost all of my young life. Much of this was spent sitting in cars with my step-siblings outside country pubs, our only sustenance being the occasional bottle of ginger and packets of crisps, whilst our parents topped up their daily intake of fighting juice. Days were spent at exhaust pipe level in crowded auction sales in places diverse as Corstorphine, the meat market in Glasgow, Carlisle and predominately the 'new' auction out at Ingliston. I became a connoisseur of auction cafes, where a succession of surrogate mothers would keep me fed in pies 'n' beans and cups of milky tea, whilst my step-father took part in the battle of sly winks, barely discernable nods and the odd raised index finger with the barely coherent auctioneer, who could give his rapt audience a complete history of a shark-toothed 1966 Rover 2000. Everything from mileage, to leather interior and the doctors wife who had only driven it as far as the local shops and back on a Saturday morning, all delivered as if he was falling off a cliff, at speed. Bargains were spotted, bids were made, and I grew up as the first among my peers to have pop-up biceps as I was consigned to teenage years that saw me compound, T-cut and polish the faded paintwork of many a car into showroom condition.
My first proper driving experience outside of a forecourt was during school holidays aged 14 when the replacement driver had failed to show up at Ingliston, (you may recall seeing these guys, forlornly standing at motorway entrances, a set of trade plates tucked under their arm as they thumbed a lift home from dropping off a car.) With a no-show driver and a profitable Volvo 164E needing transportation back to the garage I was called from the subs bench. It was a three speed automatic and the drive was as smooth as a baby's bum. I was instructed to stay one cars length behind, sit tall in the seat and don't eyeball other drivers. The approach onto the M8, particularly the roundabout at the Marshall's chunky chicken factory was fraught, as experience of bumping a Land Rover around an old quarry or reversing a Lancia Fulvia onto the ramp at the garage, wasn't really proper preparation for suicidal commuters departing rush hour Edinburgh with a night of Z-Cars and Mike Yarwood taking the piss out of Harold Wilson ahead of them. On the home stretch, I decided to open it up a bit and left the step-father raging… plus ça change. It was on this very first drive that I noticed the enormous road signs that help drivers out with direction, distance, recommended speed and destinations. In those pre-SatNav days, on every drive after either as a passenger or as a learner driver, I took note of them recognising they were a distraction from trying to make names out of passing registration plates or listening to 'The Sound of Water' on an endless loop on the trusty four-track…
A few years after passing my test I drove off the ferry at Calais in a 1966 VW camper, a Devon conversion with the pop up roof, no less. It took a few minutes to adjust to driving on the wrong side and translating schoolboy French on the new different coloured signs into practical driving information, Kilometres into miles is still a speciality. Out on the autoroute with the hitherto undiscovered péage somewhere ahead, a couple of toots from behind woke me from my reverie, as recognition that I was ambling sedately along in the fast lane much to the ire of speedy Renault and Citroen drivers. Over the years I've driven countless thousands of miles, memorable trips being a return trip from Glasgow to the Turkish – Syrian border in a dinky Fiat Uno 45 and the ultimate, abandoning Scotland to drive around Europe, with no destination in mind, in a left hand drive Dethleffs i6900 motorhome. Throughout those many miles, I've used the road signs and advertising boards to add to my vocabulary in French, German, Italian and Spanish. A drive through southern Yugoslavia and my first encounter with the South Slavic Cyrillic alphabet garnered me a speeding ticket in what was eventually renamed Macedonia. My attempt to argue with the cop in German fell on deaf ears and my ex-wife worked out that the fine was roughly 85 pence…
So the reason for this long preamble is that throughout my driving life, I have found road signs, informative, it is what they are for. A sign glanced at 70 mph sticks in the mind information is processed and with repetition is retained. I can comfortably recognise my Salida, Sortie, Uscita and the one that always amused by boys, the Ausfahrt, when indicating for an exit is required. On a similar note I can also tell you that the Danish word for 'cruise control' is 'fartpilot', this information doesn't add anything to the article, but it does amuse me and I hope you.
The point I'm labouring to make is that I have learned components of other languages from road signs, I suspect we all do.
Living in Assynt, I'm surrounded by Gaelic, this is the heart of the Gaeltacht. Every place name has its origins in Gaelic or Norse. The etymology of towns, villages, settlements, hills, rivers, lochs, woods is fascinating. A personal favourite is the ever so descriptive 'Torr nan Cnothan' also known as 'Hill of the hazel nuts'. That's the thing I love about Gaelic it is lyrical, it's submerged in the poetry and people of the land. For example, over by what is sometimes referred to as 'Black Loch' we find 'Loch Dubh Meallan Mhurchaidh' which translates into the 'The Black Loch of Murdo's Small Round Hill.' Could you ask for a better description of a loch, hill and person all rolled into one place name?
The continuing stooshie over Gaelic road signs is astonishing and horribly politically motivated.
Those looking from afar, who celebrate Hogmanay around the world with cries of Slainté, must think we are nuts to allow this attack to continue with such visceral fervour. The language is derided, the culture ridiculed and the people shamed into silence. I remember reading a really moving account about a settlement of Gaels in Nova Scotia, where their use of the mother tongue had been diminished by the preponderance of English media, when one of the older folk put it in the most simple terms for their community, "We're six graves away from killing the language." They now have a Gaelic primary school producing, bright, articulate bi-lingual pupils. How far are we from such a scenario if this all-out attack on a language is allowed to continue with such venom in our daily newspapers and the dribbling cesspit of social media, where adherence to one flag and one language is the default setting? We're told it has no use in the modern commercial orientated world, can the same be said of our neighbours to the north; Iceland, our Scandinavian chums, Hungarians, Poles or the continent with highest linguistic diversity in the world, Africa, where there are an estimated 1500-2000 distinct languages? People are by nature bi-lingual. Note the way we easily skip between Scots and English. I love that we can have a speedy conversation in Scots that eludes those from the land of few spoken consonants. My default retort when an English pal tells me I'm speaking too fast is simple, 'think faster'.
Here's one example of this monoglot stupidity that raised a chuckle. One Twitter user held up the road sign for Clachtoll as an example of the madness of Gaelic road signs. It's an old sign probably 30 years old at least, the Gaelic translation, no doubt carried out by someone long retired from the roads department in Inverness, it reads 'Clach Toll'. The lovely Union flag clad avatar, declared somewhat incoherently, "Its all made up garbage, these places don't have gaelic names ! so they make them up !." Thankfully someone was on hand to correct him and patiently explained that "the name was Anglicised. Its original name in Gaelic is A' Clach Thuill in reference to the split rock on the shore." This further inflamed chuckles, "So why does the sign not say that …..sherlock ?" he fumed. The reply straightforward and incisive with only the slightest insult, "Do you have difficulty understanding English, gòrach? It was Anglicised by the Vestey family who owned the estate until a community buyout." No reply was forthcoming… It strikes me as odd that some folk like this feller see Gaelic as entirely alien to them, yet they use Gaelic words that have been subsumed by English on a daily basis without recognising it, words like; Glen, bog, galore, clan, ceilidh, Loch, smashing, trousers, slogan, whisky, gob or even the word for our everyday domestic animal, the humble pet.
The thing about signs, and particularly advertising ones, is that even though we like to think they have no impact on us, they do. The power of subliminal exposure is with us all the time. We are attuned to advertising slogans, our brains finish the cliché and the tag line long before the speaker has uttered the last word. Global brands spend a fortune telling us to 'Just do it', 'I'm loving it', 'Probably the best beer in the world' and even the one from my youthful driving days, 'Put a Tiger in your tank.' This constant repetition works and can help us learn. I've never seen a global brand advertise in Gaelic, something I've decided to remedy and hopefully to show that learning or at very least gaining a little bit of understanding about the indigenous language of Scotland is not that difficult, not something to be afraid of and instead is something to celebrate. So when you're out on the road this summer and encounter the dreaded bilingual road signs, why not try and work out what they mean, what commonalities there are in place names etcetera. Probably over 90% of us can't count to ten in our indigenous language, but we're a bright intelligent people with an incredible history of learning, so how difficult can it be to put our phones down for a few minutes and work out the origin of most of our towns and cities names?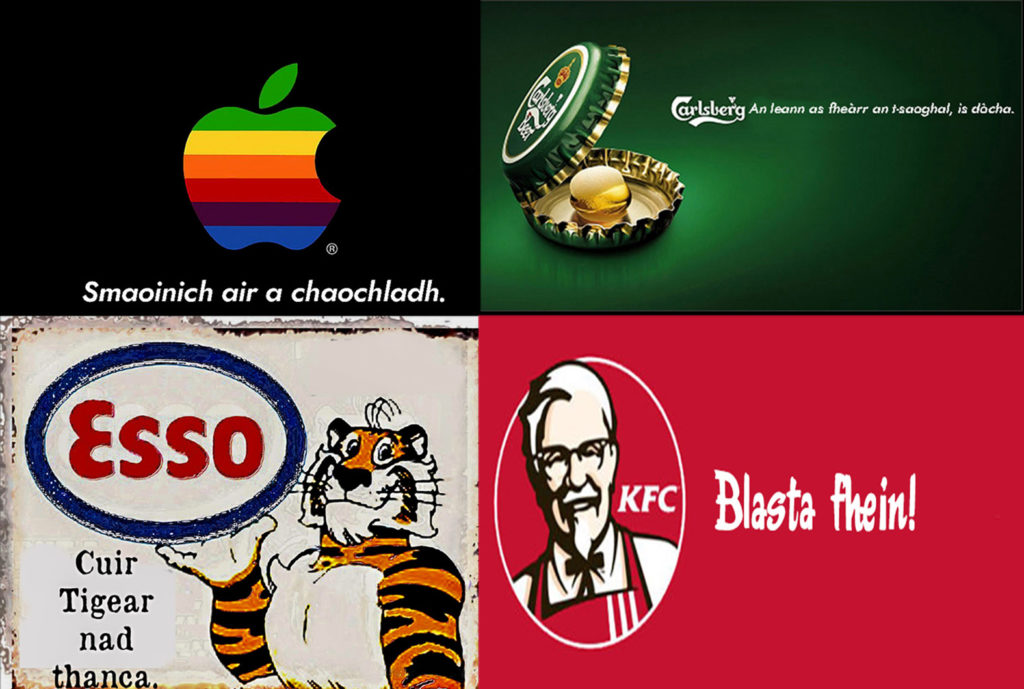 Other beer, shoes, burgers, computers, and petrol are available…